Ochberg Journalism Fellows, Trauma Experts Convene
October 22, 2012
Representing ten countries and five continents, the Dart Center's Ochberg Journalism Fellows began a weeklong workshop at Columbia University exploring psychological trauma and other issues they face in the field.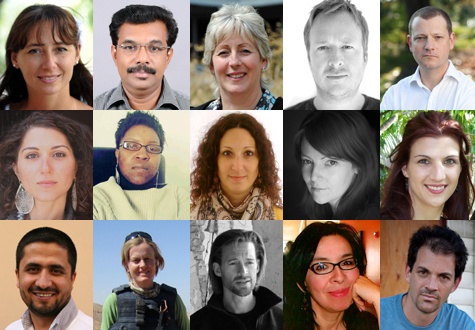 Representing ten countries and five continents, the Dart Center's 2012 Ochberg Fellows arrived in New York over the weekend to begin a unique weeklong seminar exploring the dimensions of psychological trauma, ethical and craft challenges and to forge relationships with colleagues who share their interests. These accomplished journalists who face danger and trauma in their work will attend seminars with leading experts in trauma science and journalism practice. 
Among those leading the program this week is the man for whom the fellowship is named. Frank Ochberg, M.D., is clinical professor of psychiatry at Michigan State University and a pioneering figure in the definition and treatment of post-traumatic stress disorder, Stockholm Syndrome and other responses to violence, trauma and terror. Winner of the Lifetime Achievement Award from the International Society for Traumatic Stress Studies, he is chairman emeritus of the Dart Center. 
The Ochberg Fellowships were established in 1999 by the Dart Center for journalists seeking to deepen their coverage of violence, conflict and tragedy, ranging from street crime and family violence to natural disasters, war and genocide.