Record Typhoon Hits Philippines
A powerful typhoon that may be the strongest tropical cyclone to make landfall in recorded history has hit the Philippines with millions in its path. The Dart Center has resources for journalists covering natural disaster.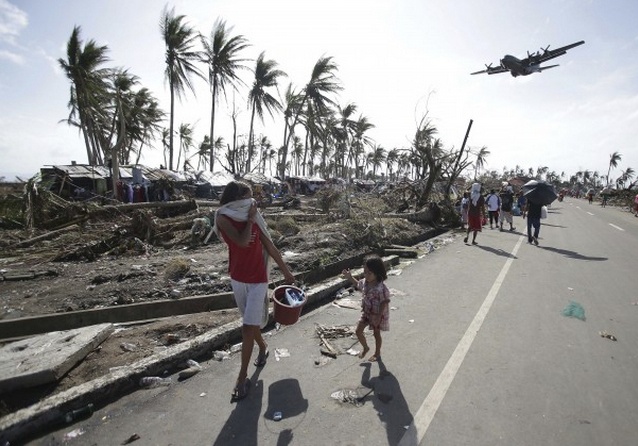 Thousands are feared dead after Super Typhoon Haiyan swept across the Philippines. 
The storm, one of the biggest ever recorded and one of the Pacific nation's worst natural disasters, flattened entire coastal villages. Philippine president President Benigno Aquino said the disaster had left him ''speechless'' and warned Filipinos to expect mass casualties. 
On Monday morning the super typhoon, its winds weakened to 120 km/h, crossed into northern Vietnam, making landfall south east of Hanoi. More than 600,000 people had been evacuated, schools closed and boats ordered back to shore. 
As the storm moved into China, the nation announced its highest alert. More than 13,000 people were evacuated from a major tourist resort on the southern island province of Hainan. 
In the Philippines, Tacloban, a city of 220,000 on the island of Leyte, 580 kilometres south-east of Manila, appeared to have borne the brunt of the typhoon, known there as Typhoon Yolanda. 
According to regional officials, the region suffered most of the fatalities. "On their estimate, 10,000 died," regional police chief Elmer Soria told Reuters. He said about 70 to 80 per cent of the Leyte province had been destroyed. Relief efforts had not been able to access more remote areas. 
Survivors on Leyte described tsunami-like storm surges, driven by 315 kilometre per hour winds and as high as the coconut trees, sweeping away buildings and drowning people. 
Philippines Interior Secretary flew over the Tacloban area on Sunday. ''From the shore and moving a kilometre inland, there are no structures standing. It's like a tsunami," he said. 
Australian Broadcasting Corporation South-east Asia Correspondent Zoe Daniels was one of the first foreign journalists into Tacloban. She reported that bodies lined the town's main road, which had been partially cleared to allow survivors to evacuate via the airport. 
In her report Daniels said: "Even to walk down the road is extremely difficult. You're climbing over cars and buses that have been tossed by the wind and swept in by the storm surge. 
"There are still bodies littering the sides of the roads that have not been collected. People are sheltering under whatever they can find. There's a real sense of frustration among people because they don't have enough food, they don't have enough water.

 
"There are navy ships off the coast here now to deliver rice. We were told by one of the military radio operators last night that a navy ship just off the coast here at Tacloban counted 5,000 bodies on the beaches yesterday. So, the death toll remains difficult to pin down at this point." 
Authorities say more than 4.5 million people in the Philippines have been "affected" by the typhoon across 36 provinces.
Relief efforts in the Philippines are stretched thin after a magnitude 7.2 earthquake in central Bohol province last month and displacement caused by a conflict with Muslim rebels in southern Zamboanga province. 
Haiyan was the 25th typhoon this year in the Phillipines.
The Dart Center has a host of resources for journalists covering natural disasters.
Dart Resources
The Dart Center's quick tips, in-depth resources and links to other organizations on "Covering Disasters."
"Tragedies and Journalists": the Dart Center's comprehensive guide for reporters, editors, photographers and managers on every aspect of reporting tragedy.
An interview with Irving Redlener, M.D. on the role that news media play in aiding recovery and drawing lessons to better manage future catastrophes.
Guidance on mental health issues and how they evolve in regions devastated by natural disasters, from psychiatrist Alexander McFarlane.
Guidance on working with emergency services from Dr. Anne Eyre, specialist in trauma and disaster management.
Guidance on reporting natural disasters from Manoucheka Celeste, Haitian-born journalist and media scholar.
"Best Practices in Trauma Reporting," drawn from a decade of Dart Award-winning stories.
Tip Sheets on how to effectively cover a disaster and self-care amid disaster from Joe Hight, director of information and development for The Oklahmonan/NewsOk.com.
Scientific consensus, made readable, on the effects of traumatic coverage on journalists, on media consumers in general and on children in particular.
Dart Centre Australasia's self care tips for news personnel exposed to traumatic events, staff care tips for their managers and editors and reporting tips for dealing with victims of tragedy.
See John Pope's tips on "Covering hurricanes." 
LESSONS FROM THE 2004 TSUNAMI
Reflection and advice from six international reporters who were on the ground (Yulia Supadmo, Indonesia; Mehul Srivastava, USA; Shahanaaz Habib, Malaysia; Shahidul Alam, Bangladesh; Pia Sarkar, USA; Mona Khanna, USA), as well as Australian photojournalist Patrick Hamilton and correspondent Kimina Lyall.
Transcript and individual reports from a Frontline Club discussion of tsunami coverage, with former Dart Centre Europe Director Mark Brayne, BBC developing world correspondent David Loyn and clinical psychologist Bill Yule.
EXTERNAL RESOURCES
The International Center for Journalists's two-part guide on Disaster and Crisis Coverage and Journalism and Trauma. 
Natural Disaster resources assembled by Google, including Google's person-finder.