Covering School Shootings
Student journalists and advisers from Virginia Tech and Northern Illinois University show how they reported on mass-casualty attacks on their campuses. Video, timelines and tip sheets for student journalists and educators.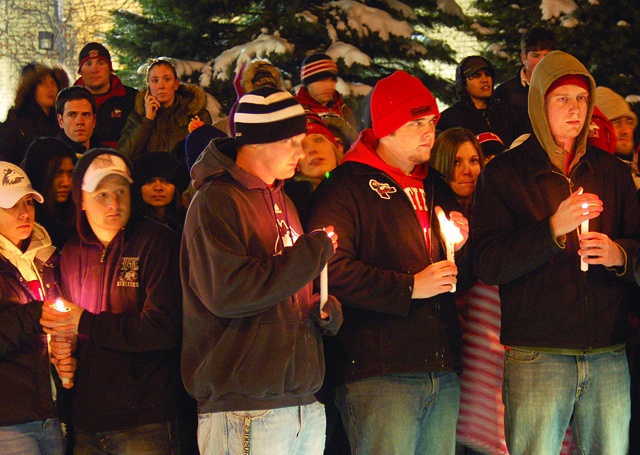 Mass shootings and other attacks at schools and universities present a grim yet classic challenge for even the most seasoned media workers. How do journalists insure accurate, informative, ethical and sensitive coverage in the midst of danger and chaos, on the most emotional terrain for students, parents and journalists alike?

And if mass-casualty attacks at schools are horrifying for all journalists, the challenges are even more profound for student reporters and editors. The nightmarish 2007 shooting spree at Virginia Tech University and a similar tragedy at Northern Illinois University less than a year later immediately involved student journalists and their faculty advisors in frontline crisis coverage, and in news choices of deep consequence.

At Virginia Tech on April 16, 2007, Collegiate Times staff began working the story immediately after hearing early rumors of shootings in a residence hall. Their first account posted at 9:47 a.m., with hours of non-stop coverage to follow. Likewise, NIU student journalists were at the scene of the 2008 Valentine Day shooting minutes after hearing the first call on the Northern Star newsroom scanner.

In both cases, student media workers faced a crash course in maintaining professional journalistic standards under dangerous conditions and intense emotional stress. Student news staff not only covered the tragedies, they were part of the news themselves. Student media workers lost friends, colleagues and teachers. Northern Star advertising representative Dan Parmenter died in the shootings. At Virginia Tech, Collegiate Times photography editor Shaozhuo Cui was briefly detained as a suspect.

In this special report commemorating both events, as well as the 10th anniversary of the Columbine High School shootings, Northern Star and Collegiate Times staff members share lessons learned from covering a campus tragedy. Through personal narratives, timelines, and tip sheets, these students and their advisers have compiled examples and advice important to any newsroom in planning how to cover a sudden and traumatic local event.
Meg Spratt, Associate Director of Academic Programs
---
Virginia Tech: Narrative of a Tragedy
Monday, April 16, 2007 began as a cold, windy, sunny morning. It was just a normal morning; however, it quickly became a day which will be marked as the most tragic day in Virginia Tech history.

That morning, Seung-Hui Cho, a 23-year-old English major opened fire, taking the lives of 32 students and faculty and injuring 29 more. The shootings became the deadliest mass murder by a single gunman in United States history up to that point.

Cho began his rampage early Monday morning when he entered West Ambler-Johnston Hall. At 7:15 a.m., he shot and killed Emily Hilscher, a freshman animal and poultry sciences major on the fourth floor, and then shot and killed her resident adviser Ryan Clark, a senior majoring in biology, English, and psychology.

Almost two hours later, at 9:01 a.m., Cho posted a multimedia package to NBC News containing 43 photographs, 27 video clips, an audiotape describing his motives, and a manuscript of approximately 1,800-words. He then barricaded the main doors to Norris Hall, located next to Burruss Hall.

At 9:28 a.m., more than two hours after the shooting began, the university administration released an email. "A shooting incident occurred at West Ambler- Johnston earlier this morning," the e-mail read. "Police are on the scene and are investigating."

Less than 15 minutes later at 9:40 a.m., Cho opened fire on four second-floor classrooms in Norris Hall, killing 30 students and faculty with a 9-millimeter Glock and a .22 caliber Walther P-22. Cho then took his own life with a gunshot to the head.

Altogether the deceased included 27 students — both undergraduates and graduate — and five faculty members.

At 9:54 a.m. the university administration sent out a second email. It read, "A gunman is loose on campus.  Stay in buildings until further notice.  Stay away from all windows."

Administrators released a third e-mail at 10:26 a.m. This message read, "Virginia Tech has canceled all classes. Those on campus are asked to remain where there are, lock their doors and stay away from windows. Persons off campus are asked not to come to campus."

At a press conference held at noon in the Holtzman Alumni Center in the Inn at Virginia Tech, Associate Vice President of University Relations enumerated the victims known at that time:  22 victims dead and 15 wounded.

President George W. Bush spoke to the nation at 4:15 p.m. He said that he would be "praying for the victims and their families and all members of the university community."

The number of casualties and fatalities escalated over the remainder of the afternoon to 32 dead and 29 wounded,  announced at a 4:30 p.m. press conference. Classes were canceled, campus traffic was restricted and Gov. Tim Kaine declared Virginia to be in a state of emergency.
 
---
Virginia Tech: A Timeline of Coverage
The following is an minute by minute timeline of how the Collegiate Times — Virginia Tech's student-run, daily newspaper — covered the 2007 campus shooting.
Monday,  April 16, 2007
9 a.m.
Collegiate Times staff member calls editor Amie Steele to report rumors of shootings at a residence hall. Steele dispatches reporters and photographers to the scene and notifies the web staff.
9:26 a.m.
University administration sends a mass e-mail to all students about the residence hall shootings.
9:30 a.m.
Steele hears about shootings at another building across campus and dispatches reporters and photographers there.
9:47 a.m.
The Collegiate Times publishes its first online post about the residence-hall shootings.
9:50 a.m.
University administrators send a second e-mail reporting that a gunman is loose on campus. The student union that houses the Collegiate Times newsroom is locked down.
10:15 a.m.
Collegiate Times online director Chris Ritter arrives at the newspaper's off-campus business office and begins leading online operations there.
10:16 a.m.
University cancels classes.
10:30 a.m.
The Collegiate Times photo editor Shaozhuo Cui, taking pictures of the events unfolding outside the classroom building, is ordered to leave the scene. As he begins to do so, police officers tell him to get on his knees. He complies, and officers then cuff his hands behind his back and, according to Cui, they say over the radio that "We've got a suspect matching the profile."
11:01 a.m.
Trying to process 168 connections per second, the Collegiate Times Web server fails.
11:30 a.m.
Traffic from collegiatetimes.com is redirected to collegemedia.com, the Web site of the newspaper's parent company.
11:36 a.m.
The Collegiate Times begins posting updates online again.
Noon
University holds its first press conference, announcing 21 killed and 28 injured. Two Collegiate Times reporters spend the rest of the day and much of the rest of the week at the media staging area at Virginia Tech's alumni center.
12:30 p.m.
Cui is released from police custody, but without his cameras, camera bag, driver's license or student ID. Officers tell him they would contact him about his possessions.
1:45 p.m.
The Collegiate Times Web staff arrives in the newsroom.
4:40 p.m.
University officials confirm that 33, including a gunman, have been killed.
5:38 p.m.
The Collegiate Times Web site uploads a redesigned format specifically for the shooting coverage.
Tuesday, April 17, 2007
1:09 a.m.
The newspaper sends the first of 16 pages to prepress.
6 a.m.
The Collegiate Times puts the newspaper to bed.
9 a.m.
The newspapers are delivered.
---
Virginia Tech: Tips from a Newsroom Adviser
Collegiate Times staff members and advisers were interviewed dozens of times about the newspaper's coverage of the April 16 shootings at Virginia Tech. One of the universal questions we were asked: "How do you prepare for something like this?"

The truth is, you don't. You can surely mitigate emergencies with disaster manuals, phone trees or even drills. Unfortunately, many procedures become out of date the moment they are created, and being too rigid in your response could leave you blind to new ideas. Plus, in reality, emergencies never go they way they are planned.

When we sat down to develop our list of lessons learned from watching students cover a tragedy, it ended up not being so much about procedures that should have been in place, as it was about information we should have had. That being said, another key factor in responding to an emergency is simply knowing what you believe. While there may be time to debate the finer points of an ethical decision, any organization without a clear mission and purpose is going to struggle making on-the-spot judgments.

The following tips include roadblocks we faced in trying to provide coverage, as well as mindsets that helped get us through the week.
It's all about the readers. It sounds like a simple notion, but when big news breaks, sometimes journalists worry more about headlines and deadlines than readers. It's important that the focus of the staff's efforts remains on the community in all aspects of production, from newsgathering and online updates to photography and page design.
Talk to third parties on whom you rely. The Collegiate Times was six hours late sending files to the printer, yet newspapers were still in the racks before 9 a.m. The union where student media is housed was locked down for several hours, yet university personnel allowed news staff members inside to do their jobs. Communication, both before and during the crisis, ensured that everyone was on the same page about how operations could continue.
Chaos is fine, as long as it doesn't get published. Working amid pandemonium keeps the adrenaline flowing, but the readers lose confidence if it doesn't seem as if the staff is in control of the situation. Dropped stories, botched facts and copy editing mistakes may seem like a natural result of a hectic situation, but maintaining a copy chain and redundancies in internal communication can limit those failures from being distributed to the community.
Have contact information for all your staff members and ensure they have yours. Keep the information in redundant places. Addresses and phone numbers aren't enough. Midway through the crisis, I picked up my office phone and couldn't dial out because all circuits were busy. I tried my cell phone, but there was too much congestion. Virginia Tech's e-mail server was lagging by about an hour. The answer? Instant messaging. All your students have it, and so should you. Our news reporters were able to send quick updates to our Web staff via IM, and several reporters used it to ask me questions.
Allow staff members to shine, regardless of their position. Probably the unanimous MVP in the Collegiate Times' coverage was a sports reporter who had, prior to April 16, written about five stories. Yet during the week, the top editors gave him a lot of latitude, and he came back with about a dozen pieces, almost all enterprise and investigative.
Have press passes for key personnel, and be prepared to make more. We think one of the factors that led to our photo editor's detainment by police (and having his equipment confiscated) was the fact that he didn't have media identification. Student leaders usually create press passes in August, but this year it had slipped through the cracks.
Remember, everyone deals with tragedies differently. Our staff heads announced early on that only people who wanted to work should do so. While we encouraged everyone to seek counseling, we never pushed the issue.
Have policies in place for dealing with outside media. Perhaps our biggest failing during the crisis was our inability to handle the barrage of requests from outside media. We had national news outlets seeking stringers. We had more than 100 requests for interviews. We had dozens of other publications seeking permission to reprint photos or stories. We had other news organizations seeking space and computers. Every phone in the newsroom was ringing (not once with a news tip, and always with someone wanting something), so the staff ended up forwarding all the phones to the editor's office. Yet every time she would hang up the phone, it would literally begin ringing again. At 11 p.m. on the day of the shootings, she decided to leave the phone off the hook.
Being part of the story while trying to report the story is never a good combination, but during the crisis it also impeded the work. Television producers trying to interview our editor inside the newsroom would tell other students who were working to be quiet. At one point, an adviser was talking with a student when the camera operator came over and told them to move, since they were in his shot. The lessons? Consider who can have access to the newsroom -- whether for coverage or to work. You may decide that working with professional publications may foster good relationships later down the road, or that other student media operations deserve a helping hand if they are in an unfamiliar environment. Regardless, set ground rules for all your guests -- and your own staff members -- that ensure your publication takes priority.
Consider how you will handle photography that is in great demand. We were overwhelmed with more than 100 calls from different media and agencies. If you are an AP member, the terms of your contract may dictate that photos go on the wire. Will you put restrictions on them, such as no magazine and broadcast use? Will you reserve the magazine and broadcast rights for possible sales? Will you distribute freely over AP to maximize exposure of your students' work? We ended up dealing with an outside vendor to license our photography except for some early photos we sent out on the AP wire. It was probably the only way to handle the number of reprint requests we were getting, but we also lost a lot of flexibility in accommodating other college newspapers or trade publications. Be ready to specify in an agency photo contract the length of time the rights belong to the agency to sell and what uses, such as fellow college papers, are allowed.
Be prepared if your offices are inaccessible. Prepare staff at orientation with designated alternate meeting places. Make arrangements with your printer, other newsrooms, or even labs with computers to share space. Have an off-site copy of a cloned computer so you could transform alternate computers into newsroom computers. Know how to access your servers from alternate sites. Have an off-site backup of your server that is updated regularly.
Don't lower your expectations. It's easy for a tragic situation to make excuses for poor writing, lackluster designs or sloppy copy editing. But students will maintain a higher sense of pride if, weeks after the event, they can point to what they did — instead of what they could have done.
---
Virginia Tech: Tips from Student Journalists
I would have been more aggressive in finding people to talk to. And I don't mean that I would have hounded people into talking. , AI was talking with friends and family of people who were killed, I realized that more often than not they were very happy to tell their loved one's story. No one blew up at me and the only time someone turned me down was because they were too upset. As long as there is mutual respect, which starts to be built from the moment you contact these relations, there is the potential for great story telling.

I would just stress that in any situation -- but more importantly one like this – it's important to gather as much information as possible. Your role as a reporter far outweighs your role as a writer. It's really not about your voice but the voice of the people who were immediately affected. This is something that can be overlooked when a journalist is so close to the tragedy, but something that is so important to remember when telling someone else's story.
—Michael Berger
The most important thing I kept in mind when reporting for my memorial article was to be empathetic with everyone I interviewed, but at the same time distance myself from them. I do not know what it feels like to lose someone close to me in such a horrific way. It was crucial that I listened to the victim's friends and families, but didn't speak to them as if I understood exactly what they were going through.

I found people were more than willing to speak with me about their loved one. They weren't reluctant or hesitant like I thought they would be, and most were happy to recall memories of their friend.

I will admit that I probably shed at least one if not more tears during all my interviews. Don't be afraid to cry. Speaking to people who knew the victim brought me closer and made me think about the shooting more than I would have wanted or felt comfortable with, but I stayed focused on my work. I had to keep reminding myself that even though each interview was difficult, I was doing this in honor of someone's life. I've never taken on a story that meant that much to me or to someone else and that kept me motivated and strong throughout the entire process.
—Teresa Tobat
As a student journalist, and now as a reporter for a daily newspaper, I take great pride in journalistic ethics and the foundation they provide for quality reporting. It is very important to me to always keep my emotional distance from the subject when I'm working on a story or project.
But April 16, 2007 was different. I still believe the Collegiate Times produced an extremely professional newspaper and provided an immeasurable service to the community, but I know a lot of the staff, including myself, had to realize that it was OK to be upset and personally traumatized while also being a reporter and news provider for the campus.

It's often hard to balance fair reporting, especially when something affects you on such a personal level. But in the face of that tragedy, there was no getting around it. It's not like the newspaper could just assign reporters who weren't affected. Because they all were. The best way I can sum up my approach to stories and obituaries I wrote that week is I had to make myself accept that it was OK to admit to people that I felt their pain. I let my guard down and approached people by saying, "I am distraught and am having trouble sleeping and that doesn't compare to what you must be experiencing. I can't even imagine how many times that feeling is magnified for you in the loss of your loved one, but I'm here to listen if you want to tell me."
—Ellen Biltz
I had to psychologically separate myself from the situation in order to focus on work. While I was obviously deeply affected emotionally by the event, in order to do my job fairly and well, I had to try and force myself to look at everything in two different ways: the mourning student and the professional journalist. In terms of the obituary, that was something completely different. I had never had to write something like that before, and at first I felt uncomfortable — calling someone about their dead child was not something I wanted to do. But I was polite and tried to adopt a sympathetic tone.  The families worked well with me and were willing to discuss anything I wanted to know.
—Kevin Anderson
I had just started on as a news reporter a couple of weeks prior to April 16 and being thrust into this situation and called into the newsroom was a bit daunting. It did, however, force me to overcome whatever feelings might have debilitated me from doing work and helping out. At the time, I didn't really know what I was feeling or what I was supposed to be feeling, let alone what I was supposed to do after such a horrible tragedy. Being asked to come into the CT office to get to work actually helped me by giving me something to do and something to focus on.
 
What I pulled away from the experience in regard to how to cover the situation —it was probably how to speak with other people that I'm interviewing. Being a student and being in the same situation as the people I had to speak with — other students, faculty and community members — helped a lot because yes, I was trying to gather information, but I could also understand, at least in part, what they might have been feeling. We had conversations instead of interviews, and the phone calls I made and the meetings I had with people were more like discussions and helped me personally as well. I hope I was able to help a little bit in return — just speaking about things is helpful sometimes.
 
What I didn't want was have people turn me away or refuse to speak with me. I also didn't want to sound utterly desensitized to the events because of my position as a reporter, and I didn't want to come across as demanding to them or nosy or completely focused on just collecting information.

I tried to think about where the people I was interviewing were coming from and how they might have been impacted, relate that to myself and commiserate. As a student trying to cope as well and with the need to know more myself, I tried to make that come across in the questions I asked, tried to phrase them in ways anyone passing by the interviewee would ask such a question—that's pretty much how I looked at the ordeal as a whole. I was just another student in a position to gather information and share it, and I was speaking to these other people because they might know and might want to share that information as well.

It also helped me do the work by thinking of it as being a voice of the student body and then relating the facts I'd been able to gather to my peers. It's how I look at all of the writers for the CT — I don't think of them as nosy or news-hungry. They're just letting us know about what's going on.
 
Looking back on it now, listening to how other students remember that day and the weeks and months following it, hearing about how they felt bombarded and suffocated by the onslaught of media attention and their presence on campus, I don't feel a part of the media group but of that of the students.
—Michelle Rivera
One moment that I remember very clearly from those weeks came from writing an obituary.

That whole week had been spent running around, worrying about stories, Web updates, headlines, interviews and the like. I think a lot of the staff members never took a step back and thought about the emotional toll the shootings would have on us. We were so concerned with coverage that we never took time for ourselves to deal with our own grief. While counseling was readily available to all of us, many of us were so busy that we didn't take the time to talk about our emotions.

I wrote the obituary for Jocelyn Couture-Nowak, who was a French instructor at Virginia Tech. It wasn't until I was interviewing one of her students that the enormity of it all "hit me." It was a day after her funeral, and student was obviously emotionally distressed. It took a long time to get through the interview because he needed to stop several times and cry. He had had Jocelyn for all four years of school and thought the world of her. He told me fantastic stories – about how she interacted and energized her students and her contagious love for the French language.

When I walked out of the interview, I had to go to my car and cry. I sat alone, parked in a campus parking lot and cried for close to an hour. I remember thinking how surprised I was that my emotions hadn't "hit me" until that moment. I had cried several times since the shootings and thought that I had fully realized the enormity of what had happened, but it was clear that I hadn't. I suppose it was because it had finally become real – instead of just faces and names, I realized there was a story behind the victims. And while we had our notebooks and recorders out during those weeks writing about people's emotions, we weren't dealing with our own.

Journalists are too often covering heartbreaking, emotional stories. At the end of the day, I think it is important for journalists to come to terms with the grave things they may see while covering a story – not only for their sanity, but for their reporting. While it is important for you to tell that person's story, your health is important too.
—Amie Steele
On the morning of April 16, I was excited to begin my first official day as managing editor for the Collegiate Times. As any leader who comes into his or her new position, I was full of ideas and excited to get them going. So excited, that I stopped by the newsroom a little after 9 a.m. That is when I walked by the office of our adviser, Kelly Furnas.

He put down the phone and said, "It is confirmed."

"What's confirmed?"

"There's been a shooting on campus."

My life hasn't been the same since.

The "day" finally ended at around 5 a.m. the next morning. I then walked quickly across campus to be interviewed by FOX. The interview ended, I walked back to the newsroom to gather some stuff and relax for a little. After a two-hour nap in my apartment, it was back to the newsroom until 4 a.m. (We inched a little closer to deadline every day that week).

The rest of the week was a haze, as we were tired, emotionally exhausted, angry and numb. As a leader in the newsroom, my peers and I were faced with the task of standing strong but also letting ourselves step back from the chaos.

Wednesday was the toughest day for me.

After a combined total of four hours of sleep in two days, I dragged myself to the newsroom to help put together the newspaper. I was exhausted, I hadn't talked to many people and I hadn't let myself think.

The general manager of our media organization called a meeting to talk about a special Monday issue. I remember thinking to myself: Why can't we slow down? Why can't we call it a week and head home? Why can't we just let the national media cover this? Why can't I go be with my family?

Emotionally beat up in this meeting, I left. I left the newsroom. I left the building. I left the campus. I left the town.

And I cried.

It was the first time I had let my emotions back into my life. I had stood numb for the past 48 hours. Finally, I let myself feel. I let myself ask questions instead of trying to answer them in newsprint. I let myself relax.

During that afternoon, I ignored some calls from the newsroom (which were all very supportive as everyone was checking up with me). I also went to church and got to hang out with my brother, who went to school close to Virginia Tech. It was a great afternoon and certainly one I needed desperately.

By 8 p.m. that night, I had answers to most of my questions from earlier.

Why can't we slow down? The campus community needed us. The students, faculty and town depend on the Collegiate Times for their news. If we don't ask questions and find out answers, maybe nobody will.

Why can't we call it a week and head home? Of course it is important in this instance to stress the fact that people can go home. People can and are encouraged to go be with their families in these tough times. But we can't all go. We need to stay on top of the story. Some need to step up while others take much-needed time off. As a team, we can keep covering the stories for all the important reasons.

Why can't we just let the national media cover this? Just about everyone on campus was sick of the national media roughly 10 seconds after they started arriving. With bulbs flashing at the sign of a tear, many Hokies wondered why the media couldn't just leave them alone. These same Hokies will look toward the Collegiate Times to see how their peers cover the stories.

The coverage is a lot different when it comes from a fellow student. We (the local news source) understand what life was like before the tragedy. We understand what the readers are going through. We understand how to cover the story wholly, yet sensitively.

That week was the most difficult in my life, but the difficulty did not stop right away.

About a week after the events, we knew that it would be important to have a tribute to those killed in the tragedy. This special section was an assortment of obituaries. None of us had ever written these before, nor did we know where to start.

Furnas, our adviser, put together a rough tutorial on how to write these obituaries. Stressing sensitivity, he urged us to contact families and friends and immerse ourselves into the stories. These people lived beautiful lives and it was our job to paint that picture to the entire community. Although they were tough to write, these pieces became one of the most rewarding to write for a lot of the staff.

After such a difficult semester, the staff became a lot closer together and learned a lot about themselves and the importance of journalism.

We each took away a number of different lessons, and we each became better journalists because of covering such a monumental and tragic event:
Take time to breathe. For many people, the way to cope with such a troubling and difficult event is to work harder. It is very important to take a step back every once in a while to make sure you are doing well. Talk to somebody and tell that person how you really feel. One of my regrets is not talking to a counselor during the weeks after the shootings. I kept too much bottled up and tried to overcome my emotions on my own.
Keep the newsroom organized and on task. During such a chaotic event, it can be difficult to communicate and keep the newsroom up to speed. We used large printouts of each of the 20-something pages and wrote the stories that would be included on those pages. We had photo assignments given out to each photographer and included them in our rough-draft layout.
Have one defined voice of the paper. During the first few hours of the story, many outside media outlets wanted to hear the voice of the Collegiate Times. Unprepared, and with no public relations staffer, we had many people saying many different things. Eventually, we had the editor-in-chief handle all media questions and she was able to speak with one unified voice.
Set up and practice an emergency plan. With lines of communication clearly defined, it can help get a story efficiently onto the Web site error-free. An emergency plan should include a way to get all available staffers (and photographers) onto many different leads quickly.
Do not force anyone to stay in the newsroom. A staffer may need time to cope with the tragedy. During the tragedy at Virginia Tech, we actually forced the entire newsroom to vacate in order to partake in a candlelight vigil. Although we lost two hours of production, it was a time where the staff was able to remember those lost and to reconnect with the community.
Write with pride. The community looks to your story for guidance, insight and answers. Make sure you deliver. As journalists, remember that your work will be saved and read for many years. You should never breeze through any story, especially not one of such importance.
—Bobby Bowman
Attempting journalism in the aftermath of April 16 was at the same time one of the most rewarding and one of the most wrenching experiences I have ever been through.

On the one hand, the energy and alertness that makes good journalism possible was simply drained away. With blow after blow from the television and from the knowledge gleaned from other reporters, the emotional fatigue was intense. And you couldn't escape. The entire campus wasn't a crime scene, but the abject terror that was unleashed that afternoon didn't confine itself to Norris Hall. While adrenaline could get you through the first day and perhaps some of the second, as time went on these feelings only got deeper.

There's no great lesson to learn from that, I don't think. You will be crushed emotionally. You will wake up in the morning and you will cry. You will more than once wonder why the hell you're even bothering with all this newspaper business.

But what most surprised me about the aftermath of April 16 was that student (and a strong emphasis on student) journalism became an integral part of healing. As insiders to the events, when I picked up the phone at 2:30 a.m. to call the boyfriend of a girl who had reportedly been killed, I didn't get yelled off the phone. Rather, those we so often see as "sources" were our friends and speaking was a sort of catharsis – the knowledge wasn't just theirs anymore but had been absorbed by the community.

Personally, remembering that reporting amidst tragedy is a truly community effort is absolutely vital. You are asking questions that your entire community needs asked now. By being respectful of that purpose, the other things fall into place.

Professionally, what is there to say? There aren't any magic tricks. Having strong lines of communication already established make it possible to react to an event, but without the same hard-nosed journalistic instincts and perseverance that we put to use on a daily basis the story won't get told - at least by you. That said, building some sort of community forum in which people can interact and share their feelings is both an immense community service and a way to gauge the way your community is reacting to the event.
—David Grant
 
---
NIU: A Timeline of Coverage
The following is an minute by minute timeline of how the Northern Star — Northern Illinois University's student-run, daily newspaper — covered the 2008 campus shooting. 
Thursday, Feb. 14, 2008
About 3:10 p.m.
Newsroom scanner picks up DeKalb Fire Department personnel being directed to "shooting in Cole Center." As chatter continues, news staffers realize the shooting is in Cole Hall, about 400 yards from the Campus Life Building where the Northern Star is located.
3:15 p.m.
About a dozen Northern Star staff arrive outside Cole Hall. Most come from the newsroom; others from nearby classes. They are the first journalists on the scene, arriving just after rescue personnel. Yellow crime-scene tape is being stretched around Cole and surrounding sidewalks. Rescue workers are tending to wounded students on sidewalks near Cole. A class period has just ended, so hundreds of students are milling about, adding to the general chaos.

The student journalists huddle briefly, then fan out to nearby buildings to gather information. Some encounter wounded students and help apply First Aid.
3:45 p.m.
Several Star staffers return to the newsroom. Someone has pulled the fire alarm in the Campus Life building. There's no one immediately available to turn it off, so the deafening, screeching noise continues for about 45 minutes. Every newsroom phone is ringing, with national and Chicago media wanting information.
3:55 p.m.
The Star's first story is posted to www.northernstar.info. Numerous updates follow closely behind. The Star is the first to report that the gunman is dead.
5 p.m.
Northern Star photos have been sent to The Associated Press and already are appearing all over the world on network television and news Web sites. Every phone continues to ring, with interview requests for national and Chicago evening newscasts.
6 p.m.
Students and advisers decide to produce an eight-page paper for the following morning, and to remove all advertising.
7 p.m.
The Northern Star learns that one of its student employees, advertising sales representative Dan Parmenter, was among those killed.
Evening
The staff assembles Friday's edition, finishing well after midnight. Media calls from all over the world continue throughout the night.
Friday, Feb. 15
6-8 a.m.
Papers are delivered around campus and the cities of DeKalb and Sycamore.
8 a.m.
A half-dozen Star reporters and editors attend the NIU press conference, where the shooter's identity will be announced. A few minutes earlier, acting on credible tips from several law-enforcement officers, the Star has posted an online update naming the gunman.
Online updates continue all day and all weekend.
Sunday, Feb. 17
3 p.m.
News staffers and advisers gather to decide whether to publish a print edition for Monday. Classes are canceled and most faculty and staff will be gone. After lengthy discussion, the staff decides to publish online-only for Monday and throughout the week when students are gone.
Sunday, Feb. 24
Staffers cover NIU's memorial service and prepare a 24-page special edition for Monday. This time, advertising is included; many ads contain messages of support and condolence.
Monday, Feb. 25
The Star resumes its daily print edition and NIU classes resume.
---
NIU: A Student Editor's Story
I didn't grasp how real the shootings at Northern Illinois University were for at least an hour or so after learning of the situation. Five fellow students had been shot and killed in a classroom I'd been in dozens of times. I knew it, but I didn't feel it.

Acting as the editor of the daily campus newspaper, it seemed too easy, sending reporters here and there to cover the various aspects of a developing story. Fielding hundreds of calls from the national media, one after another, while our building's fire alarm system blared in our ears, didn't even seem particularly difficult.

Then I called my mom.

As I was dialing and as it was ringing, I didn't figure the conversation would be anything more than telling her that I was OK, but busy, and had to get back to work. Upon her answering her phone, I realized she hadn't heard the news. In a flash, I understood how lucky I was to be able to tell her I was OK even before she saw the news of the shootings on her local TV news evening broadcast.

Then I realized there were parents out there who still hadn't heard from their children on campus, and who were probably going nuts trying to reach them.

Then I realized there were parents out there who would never speak to their children again.

That's when I lost it, crying into the phone, thankful to be talking to my mom yet painfully sad thinking about parents who would have to face the ultimate tragedy of losing a child.

For the hour or so that passed between the shootings and that phone call, adrenaline had kept me focused on being a journalist. Talking to my mom hit me like a freight train. All I wanted to do for the moment was hug her and lose myself in the serenity and security only a mother can provide.

In a matter of 30 seconds I had gone from a capable, collected and competent young journalist to a 22-year-old wishing he could hug his mommy.

I don't remember how we finished the conversation, but I went back to work. And somehow the work made things easier. As sad as I'd felt just minutes before, I was relieved to get back to work; to be in the position of providing my peers and their parents answers as this story developed. I knew the overwhelming majority of my fellow students were on the highways and interstates en route to their homes, but the people I wanted to be around were all still in town. Still in the newsroom, working and healing together.

I don't think my mom will ever truly know the side of me that allowed and motivated me to commit myself to that story on that day. To her, I am happy and content being the first son who's just making it in this world all on his own. But to myself, I'm just another young journalist doing my best under some tough circumstances.
 
---
NIU: Tips for Advisers and Teachers
At a time like this, your students may look to you as a pseudo-parent. Hold yourself together. Your calm, collected demeanor will go a long way toward your students remaining calm and collected.

Before doing anything else, contact loved ones. Between the time we heard the police scanner to the time I ran out the door with students, I made two calls. One was to my oldest son, who was an NIU senior living in Neptune Hall, adjacent to Cole. Thankfully, he was on his way to Naperville to see his fiancé. And I called my wife, to tell her what little I knew about what was happening, and that I was OK. Those calls took two minutes, but they saved my family and me a world of worry.

Resist the urge to take charge. Advisers with newsroom experience – and especially those who have been editors – may act instinctively at first. Check yourself. Quickly find that line between teaching / role modeling and supervising, and stay on the role modeling side.

Many student journalists will run to the story, and receive glory for that. A few will disappear. Don't hold those few in judgment. They're young adults; some will not be able to handle this. In fact, this may be an epiphany for some who decide journalism is not for them.

Find a short time or two to pull the news staff aside for decompression. Give them a chance to be students and friends – not just journalists. On the day after the shootings, we cleared everyone out of the newsroom, went to a room with no outside journalists or ringing phones, and just asked everyone how they were doing. It's OK to cry, to hug, to talk about anything.
We also went to a restaurant and had dinner together one night that first weekend. It was an opportunity to be normal for a while.
Pay attention to everyone, not just those who are on the front lines of reporting. Photo editors, copy editors, designers may think they have no right to experience emotional troubles or PTSD symptoms. Make it clear to everyone that it's OK, and normal.

After several days, when you're not running on adrenaline anymore, you as the adviser will have times when you feel overwhelmed and emotionally exhausted. Take care of yourself. Know your support systems and use them. For me, that was my faith community, Northern Star alumni and adviser friends at other college newspapers. If they aren't reaching out to you, reach out to them.

Write about it. Chances are, you're an adviser because you're a good journalist. But you don't have a creative outlet in your student paper. At the end of each day, I processed my thoughts and emotions by writing an e-mail to our alumni group and to the College Media Advisers list. They appreciated the updates, but it helped me even more.

Expect a letdown in the coming weeks. The NIU tragedy happened Feb. 14. Nothing the paper covered the remainder of the semester seemed very important or urgent. As advisers, it's often our job to challenge the students, to push them if things get a little lax. My approach became more measured than it otherwise would be. After what the students had been through, they needed a less-intense atmosphere as the term wound down. So did I.
Also – and true to what Dart told us to expect – some of our student journalists began experiencing PTSD symptoms weeks or even months after the shootings. The remainder of the school year for me became more about taking care of kids than challenging them.
Handling outside media
Before you even know fully what's happening, the world is watching you and hanging on your every word. You are everyone's story of the day. The most surreal moment for me was walking into the editor's office as he was talking on the phone, then hearing his voice come out the newsroom TV on CNN. In interviews: Say what you know and what you saw. Don't speculate. Don't generalize.

Especially during those chaotic first couple of days, designate a couple of student editors to return media calls, rather than everyone returning them.

If space allows – and it did for us – open your newsroom to outside reporters looking for a place to write and file. Not only does this help your professional colleagues, it also allows the sharing of information. We also reluctantly accommodated reporters who wanted stories about us.
But … monitor closely, especially TV crews. At one point on the day after our tragedy, you couldn't walk three feet in our newsroom without bumping into a camera crew. I was close to announcing that all outside media had to leave for a while, but I think they realized it, too, and gently backed off.

Get thee behind me, CNN. Beware the ego trip from appearing on national TV or being quoted in national newspapers. Realize that some students may not handle this well and may start feeding off the publicity. Gently tell them to cut way back on the number of interviews they are giving.
And be glad when the circus moves on to the next town.

Realize that, for a few days, there will be a big difference between the public reception of local media vs. out-of-town media. They love you and, at best, tolerate the outsiders. And then be ready for life to get back to normal fairly quickly in a few days.
Editing
Suggest that the editor in chief designate several point people: one for distilling what the reporters are coming back with; one for planning the paper; and another for updating the Web site.

If you're a daily paper, consider dropping all advertising for the next day's issue. If not that, be especially sensitive about what's used and where.

Accuracy above all. The world is not only watching, it's stealing your stories. They'd better be accurate. This is make-or-break time for your paper's credibility.
Don't let AP become your photo editor. Despite the external pressure to deliver images, take a few minutes and apply ethical standards to what you're going to show the world. Our students did a very good job with this.

A fantastic piece of advice we received from Virginia Tech: Be careful about signing away rights to your photos. We had people on our doorstep and on the phone the morning after, offering to market our photos if we'd sign over exclusive rights. We went with AP, because we're members, and we stipulated free use for student media.
In the days and weeks to follow
Watch for signs of event fatigue. Short tempers. Sarcastic answers to TV reporters. Squabbling. Facebook flaming. We saw it all. When needed, pull aside a student or two, ask how they're doing and tell them what you're seeing.

A few weeks after, host a session for area media who covered the tragedy. We invited area newspapers to a Dart Center session with Bruce Shapiro and Deb Nelson. It was an opportunity they would not have otherwise had, and I still hear people thanking us for that.

Pay it forward. Virginia Tech and the Collegiate times staff were a huge support to us. What a fantastic example they set. The best way we can redeem all that's happened is to use the experience to help others – in our case, other journalists.
 
---
NIU: Tips from Student Journalists
Immediate coverage
Write down everything you hear: A full half-hour probably passed between when I heard that there was a shooting in the building next door and when I realized how serious and grave the situation really was. In that time, I was scratching notes all over the pages of my notebook, piecing things together based on what was coming from the lips of the students who were in the room and building. This process of piecing things together based only on what I was hearing from fellow students allowed my mind and personal thoughts to stay out of the way of the work at hand.
Let autopilot kick in: Despite the enormity of the situation and story at hand, the fundamentals of covering the story still applied. By keeping the journalist hats on and personal feelings and thoughts aside, student journalists for the Star were able to focus on doing interviews and other work the same way they would for a more routine story.
Call, text, or e-mail loved ones to tell them you are OK. After the events of Feb. 14 it took me about six hours to tell my family I was OK. They were hysterical during this period of time, wondering if I was all right.
Always be prepared: pen, paper, press pass, voice recorder. Cell phone camera or something better.
Work hard to develop good working relationships with police and rescue workers BEFORE anything like this happens. This will pay off immediately by the access you get, and by preferential treatment granted  local journalists whom the sources already know.
Accuracy above all. The world is not only watching, it's stealing stories from your website. They'd better be accurate. This is make-or-break time for your paper's credibility.
Doing the work
Remember who you work for: the people in the community. As students fled town and parents all over the state searched for answers and found www.northernstar.info in the process, the Northern Star took on a powerful responsibility. People wanted and deserved accurate answers and information as soon as possible. The Northern Star provided the message board for the community, providing all sorts of organizations the avenue to get their message out to students and community members. People from within and beyond the NIU community expressed their feelings and messages of solidarity in the pages of the Northern Star.
Remember what you are covering. Never let the adrenaline of covering a big story become a thrill. In our case, one of our own student-newspaper colleagues was among the students killed, and two others had escaped that classroom. That immediately made the story personal.
Support your co-workers: The weight of the work of covering a shooting was enormous, and required incredible teamwork from everyone involved. Specific job titles and descriptions were almost totally arbitrary; everyone did anything they could to help one another. Everyone was helping each other, doing whatever they could to distribute the weight of the responsibility as evenly as possible.
At some point you have to pull yourself away from what is going on and get some sleep. I stayed in the newsroom or was covering events after the tragedy for 13 hours. I finally drew myself away from the office and found how exhausted I was. I got about four hours of sleep, and it was very much needed, because the next day there was just as much work to do as the day before. There's no way I could have pulled an all-nighter.
Work as a team. You can't do everything by yourself. Take time, sit down and make a game plan in which you delegate responsibilities. Make sure to include everyone who wants to be included. Those who are sitting around in the newsroom want to be doing something; otherwise they wouldn't be there. So give everyone a job.
Be sensitive. Watch how the national media acts, and don't act that way. Don't be vultures. Don't do or ask anything that makes you uncomfortable, and keep your voice down.
Think of the victims and their families; be careful not to glorify the killer or the bad in your coverage.
Remember you are a student, too. This gives you an advantage in coverage by having connections with the campus and community that outside media does not.
Outside media
In a high-profile event, before you even know fully what's happening, the world is watching you and hanging on your every word. You are everyone's story of the day. In interviews: Say what you know and what you saw. Don't speculate. Don't generalize.
Designate one or two editors to answer media requests. Otherwise, the whole newsroom can be consumed with it and you can't get your own work done.
After the story
Take time to socialize: A couple days after the shootings and after putting what seemed like a million hours into the work of covering this story, a dozen or so Northern Star staffers and editors went out to eat and share a few drinks. The release and uplift this provided us was so helpful and really gave us renewed energy and purpose in doing a good job.
Be sad: After the immediate work was done, it was important to realize that what happened was a tragedy, and was horribly sad. No one should have to feel like their job as a journalist is to not be affected by tragedy they may have to cover. While it is a journalist's job to cover the tragedy, the journalist is also a person who must reconcile the two separate approaches to the situation. Emotion is important to recognize, and to allow for the sake of moving on as a person.
Once you have finished covering the event, and things begin to go back to normal, you have to talk about your experience. By reporting what is going on, sometimes you aren't dealing with what has been happening. While everyone else in the world has been experiencing the event, you haven't. So once things go back to normal, it's almost like you realized what just happened.
Don't get so lost in your work that you completely distance yourself from what has happened. You have to distance yourself to an extent to cover the event for your readers, but you are also experiencing it too. If you completely escape from it into your work, then recovering will become extremely hard. It's OK to escape for a bit, but not forever.
Keep an eye on your coworkers. Everyone copes differently. Some may be dealing with the incident by hiding their feelings. If you notice something, ask if everything is OK. Sometimes just talking to someone who is going through what you are can help a great deal.
Don't ever take for granted the camaraderie that can be found in the newsroom.
Be sensitive with images. Graphic photos of the carnage may be legit for a day or two. After that, your community does not want to see them.
---
Video: Covering the NIU Tragedy