Sotloff Foundation, Four U.S. TV Networks Sign onto Safety Principles
October 6, 2015
New security information sharing, training, insurance and communications initiatives also launched.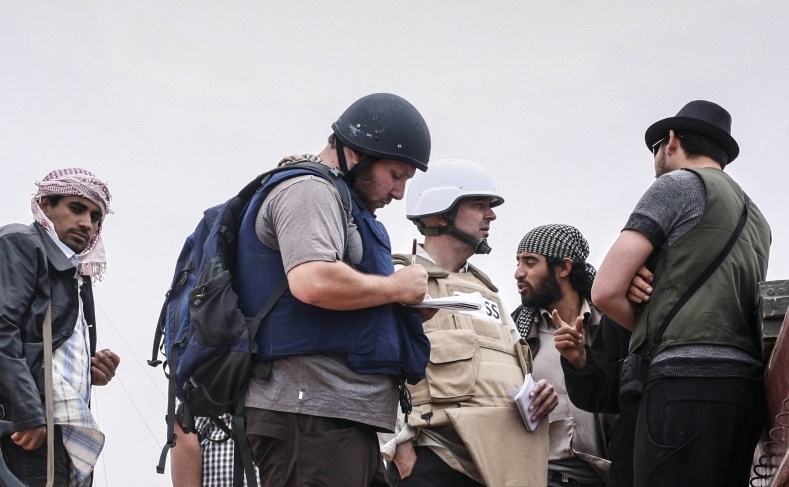 NEW YORK, Oct. 5, 2015 -- A foundation honoring the memory of murdered freelance journalist Steven J. Sotloff and four major U.S. television news networks signed onto the Global Safety Principles and Practices at a meeting at the Columbia School of Journalism in New York on September 30th and October 1st. 
The group -- an alliance of news organizations, freelance reporters and non-profit journalism groups to promote safety -- also announced unprecedented initiatives to share security information; provide subsidized safety training to freelancers; conduct a census of freelancers that could reduce their insurance costs and better inform journalism students of grants and other resources available to freelancers. 
The 2LIVES/Steven Joel Sotloff Memorial Foundation, ABC News, CBS News, CNN and NBC News were among ten new signatories to the safety principles announced at the meeting. Article 19, Global Radio News, Kyodo News, PayDesk and the World Association of Newspapers (WAN-IFRA) signed on as well. 
"We believe in this initiative," said Frank Urrutia, a member of the 2Lives board who attended the Columbia meeting. "It is worthy of recognition and support."
Since the safety principles were unveiled in February, more than 80 organizations have signed onto them, including the overwhelming majority of global wire services, non-profit journalism groups, U.S. television networks and the Frontline Freelance Register, a London-based group that represents over 500 freelancers who regularly cover conflict.
"This initiative marks a turning point," said Tina Carr, Director of the Rory Peck Trust, an organization dedicated to the support of freelance journalists worldwide."The combined efforts of such an experienced and diverse group, with its clear aim and concrete objectives, will have a significant effect on the future safety of freelance journalists. After 20 years of helping freelancers in dangerous situations, we are very excited by this."
The initiatives announced at the meeting, which was hosted by the Dart Center for Journalism and Trauma, included:
Agence France Press will lead an effort to conduct the first-ever census of freelancers worldwide to determine if a freelancer insurance pool can be created. David Millikin, Agence France Press's North America Director, is heading the effort. 
BuzzFeed will lead an effort to create the first-ever private, informal group where security directors from U.S. news organizations can confidentially share security information with one another. Freelancers will have access as well to the information, which would include immediate concerns and new developments in a given region. The initiative is being headed by BuzzFeed 's Global Director of Security Jason Reich. 
The Committee to Protect Journalists announced that Levick Communications, a Washington, D.C. based communication firm, will provide pro bono communications assistance to the safety principles. 
The Frontline Freelance Register will continue supporting freelance journalists in their work and will propose a set of standards for training journalists that will ensure freelancers are adequately trained and more employable. 
The GroundTruth Project will put 20 independent journalists through a safety training course for covering climate change and infectious disease in the first quarter of 2016. GroundTruth developed the training module in partnership with Global Journalist Security and has already put nine reporters and editors through the course as a part of a three-year climate change reporting initiative. 
The International Press Institute, a Vienna-based press freedom group, will encourage news organizations worldwide to sign onto the safety principles as it prepares for IPI's March 2016 World Congress in Doha. John Yearwood, the Miami Herald's foreign editor and IPI's Executive Board Chairman, will lead the effort.
Reporters Without Borders (RSF) will lead an effort to distribute to U.S. journalism schools a 17-page inventory RSF has compiled that lists where freelancers can receive safety training, medical insurance, travel grants and other support. Delphine Halgand, RSF's U.S. Director, is heading the initiative.
Reuters and Hawthorne Proactive, the security firm that trains Reuters journalists worldwide, will provide a five-day Hazardous Environment and First Aid Training (HEFAT) course in Belfast, Northern Ireland to 14 freelancers in November. Reuters is covering all costs of the training – accommodation, food and the course itself – but not travel to Belfast.  The Pulitzer Center on Crisis Reporting and other groups will cover travel costs for applicants who can demonstrate a clear financial need but the budget is limited. Applications can be submitted here.
The Rory Peck Trust (RPT) will run more refresher safety training courses, providing individual bursaries and working with partners to enable freelancers to update their skills. RPT will expand support around trauma, creating a pool of practitioners so that it can respond to freelancers in a timely and affordable way; negotiating and contributing to treatment fees. And RPT will run risk assessment surgeries, based on the RPT Online Resource templates for safety and security, providing accessible and free guidance to freelancers.
The safety principles leadership group – known as the Task Group – along with other attendees  also unanimously adopted the following non-discrimination statement: 
Violence, harassment and discrimination against any journalist based on gender, race, sexual orientation or disability should not be tolerated under any circumstances. Editors and news organizations should employ a zero tolerance policy. Media organizations should clearly delineate consequences for engaging in these behaviors; create a safe and confidential environment for reporting such incidents and take immediate action to investigate and hold appropriately accountable the perpetrators of such acts under their employ be they staff, fixers or freelancers. It is best practice to apply the same anti-discrimination policies to freelancers as to staff.
EDITOR'S NOTE:
The call for Global Safety Principles and Practices was launched on 12 February 2015 in response to the murder of James Foley and Steven Sotloff in Syria and rising attacks on journalists worldwide. Additional meetings were held in Washington, D.C. in April 2015 and London in June 2015. 
The principles have now been signed by over 80 organizations. The full text of the principles and a list of signatories can be found here.
Danger for journalists has reached record levels in many parts of the word as documented in the Committee to Protect Journalists 2015 Attacks on the Press report. The report is available here.
For more information and interview requests please contact David Rohde of Reuters at: [email protected]