Swept Away: The Albert Pike Flood
The story of a flash flood that killed 20 people — eight of them children — is told in an in-depth, three-part series focusing on the experience of two families. Originally published in the Arkansas Democrat-Gazette in November, 2010.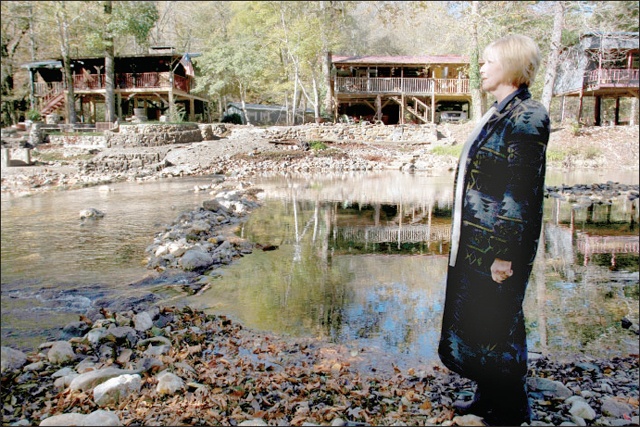 ALBERT PIKE RECREATION AREA — As the Little Missouri River churned through the campground, uprooting trees and carrying away RVs, Kerri Basinger turned to her husband Shane.

"I think this is it," she told him. "We're fixin' to die."

"No, we're not," Shane declared, his eyes reflecting a grim determination. "Don't scare the kids."

Only moments earlier, roused by their husbands from a deep sleep, Kerri and her best friend, Candace Smith, had grabbed their four young children and fled their Wildwood RV.

The two families had made a run for the Smiths' Chevy pickup, hoping to escape floodwaters that seemed to grow higher with each frantic step. The truck started, but water gushed into the cab.

Now they huddled in the bed of the pickup, soaked and shivering. The swollen river roared, prompting the children to shriek in terror.

A surge of water slammed a red truck into the Chevy and pinned it against two trees. Seconds later, an RV crashed into the red pickup. Kerri could hear the people trapped inside, banging on the door and screaming in desperation.

Shane crawled across the red pickup and onto the trapped family's RV.

Kerri could see her husband only when flashes of lightning illuminated the terrifying scene: Shane, pounding and clawing at the roof, the people inside crying for help.

Kerri begged him to come back.

She admired her husband's courage, but at the same time, she worried that she wouldn't be able to hold onto both of their daughters if the water continued to rise.

"I'm not letting these people stay in here!" he yelled, and continued to beat his fists against the RV. When his efforts proved futile, Shane reluctantly retreated.

Kerri lifted her daughters — Jadyn, 8, and Kinsley, 6 — to the top of the pickup's toolbox. She grabbed the girls' beloved baby blankets and wrapped each one around their small, trembling shoulders.

"Something really bad is going to happen, and I'm so sorry," Kerri sobbed. "I'm so sorry. I love you so much."

A towering swell of water swallowed the Smiths' truck.

And as the turbulent water swept her away, Kerri held tight to her girls
ALWAYS TOGETHER
Less than 12 hours earlier, on June 10, the Basinger and Smith children had romped gleefully along the banks of the normally placid Little Missouri River. Dark clouds, pregnant with rain, hung low. But the looming promise of bad weather didn't diminish the children's enjoyment.

Jadyn, her face dotted with tiny freckles, wore a black two-piece decorated with peace signs; Kinsley a polka-dotted tankini.

The calm water barely reached Jadyn's waist. In most places, it lapped at the children's ankles, even those of the youngest two, Joey Smith, 5, and his sister, Katelynn, almost 3

The Basinger and Smith children had grown up together, their devotion to one another a testament to their mothers' close friendship.

Katelynn, with her mop of curls, looked uncannily similar to Kinsley. She toddled after the older girl each weekend when the two families got together for cookouts. Joey, a madcap little towhead, considered Jadyn his best friend.

Kerri and Candace's friendship went back nine years. The women met at a dental practice, where Candace managed the office and Kerri worked the front desk.

Kerri married Shane in 2000. When Candace wed Anthony in 2003, Shane was part of the ceremony.

The two men had forged a strong friendship, despite their many differences.

Anthony favored crisply ironed preppy clothing, while Shane's usual attire consisted of Carhartt jeans and a cap. Anthony appeared reserved at large gatherings, becoming jovial only when hanging out with small groups of people he knew well. Shane, on the other hand, relished his role as an outgoing prankster no matter the setting.

While the men didn't appear to have much in common, they shared a love for the outdoors and an intense devotion to family.

Anthony and Candace lived on a 358-acre cattle farm outside of Shreveport. Shane worked at the farm, but he and Kerri lived in town, where Shane held a second job at Intier Automotive.

In their free time, the men either fished or careened along trails on their Mule ATV. Sometimes, they told their wives they had to work on a fence, which meant they were heading to "The Man Spot." The little outdoor hideaway boasted a wooden spool, which served as a table, a couple of chairs and a stash of beer.

Shane and Anthony also both had sons from previous relationships. Kyler Basinger was 14; Austin Rachal, Anthony's son, was 13.

When the new babies started arriving, the two families relished their weekends together even more. Candace and Kerri loved watching their children grow and play together.

And every summer, the Basingers and Smiths vacationed together at the U.S. Forest Service's Albert Pike Recreation Area.
A CHANGE OF PLANS
Cradled by the rugged Ouachita Mountains and bisected by the Little Missouri River, the 260-acre park and campground draws generations of families year after year.

Children spend hours at the swimming hole while their parents enjoy the soothing sounds of a lazy river and the solitude of a remote campsite.

The campground offers 54 campsites in four designated areas:

Loops A and B, which offer only tent or primitive campsites, are on the west side of the river. Loops C and D are upstream on the east side. Loop D's eight sites have electric and water hookups for RVs. Loop C, in the midst of a renovation that includes hookups for 12 RVs, has been closed for several months.

A trip to Albert Pike means truly getting away. Cell phones don't work there. Nor does the Internet. Weather radios became operable only within the past month.

Volunteer camp hosts, usually retired couples, are responsible for registering guests. The hosts answer campers' questions and report any problems to the district ranger's office in Glenwood, about 26 miles away.

The Smiths and Basingers usually didn't stay at the federal campgrounds, instead opting for the privately owned Lowery's Camp Albert Pike RV Park and Cabins, which straddles both sides of the river just south of the federal land.

Lowery's attracts many of the same families each year. Some take their RVs. Others own cabins there.

By day, the families swim and picnic together. At night, they gather on decks strung with ropes of festive lights or wander from cabin to cabin, illuminated by tall lamps placed on poles throughout the area.

The Basinger and Smith families pulled into Lowery's on Thursday afternoon, June 10. But the older boys wanted to sleep in a tent, and Lowery's didn't allow tent camping.

That meant moving the families to Loop D at the federal campground. Everyone felt a pang of disloyalty, but Jesse Lowery, who ran the RV park and liked hanging out with Shane and Anthony, told them not to worry. They could return the next day.

The families set up camp at Loop D's site No. 2.

While Kerri and Candace cooked dinner, Shane and Anthony took the kids swimming. After supper and showers, the children settled into the Wildwood RV, where they watched Madagascar and played video games.

As usual, the two mothers laid down with their excited brood, soothing them to sleep with whispers and lullabies.

The women then went back outside, but returned to the RV after Anthony found a large, ugly insect and teased Kerri with it.

"I'm going to bed," she said, knowing from experience that Anthony wasn't beyond putting bugs on her.

"Me too," Candace chimed in.

By the time the women crawled into their beds, it was 11 p.m. The men joined them soon after.

As Candace and Kerri slept deeply, the day's intermittent rain became a downpour.

Shane dozed fitfully.

Thunderstorms made him nervous.
GROWING DANGER
At the National Weather Service office in North Little Rock, forecaster John Lewis settled in front of a trio of computers when his shift began at 11 p.m.

Even though the office monitored weather for more than half of the counties in Arkansas, the overnight shift usually held little excitement.

But Lewis expected this night to be more harried.

He and other forecasters had been tracking a large, slow-moving storm system as it crossed Texas over the previous two days.

On June 9, the system ravaged parts of central Texas along the Guadalupe and Comal rivers. It dumped at least 10 inches of rain there, inundating packed campgrounds and flooding neighborhoods.

Flood alarms along the Guadalupe sounded as those waters rose, triggering evacuations of people camped along the river's banks. Despite the evacuations and rescue efforts, one tourist drowned.

The next morning, the storm pounded the east Texas city of Tyler with 8 inches of rain before plodding toward Arkansas.

Recognizing the potential danger, the North Little Rock office issued two flash-flood watches on June 10 for the next day.

The first went out at 11:58 a.m. and warned of overnight showers. The forecaster on duty hoped that if he put a watch in effect before the noon news, more people would be aware of the possible danger.

The second watch went out at 10:06 p.m. and noted that the greatest chances of heavy rain were in the southwest and central part of the state.

Both watches covered 45 counties and lasted through Friday, June 11.

By the time Lewis arrived for work the night of June 10, it had been raining off and on for hours in southwest Arkansas.

Little happened during the first two hours of his shift.

Just after 1 a.m., however, Lewis noticed a thunderstorm and heavy lightning over Polk and Montgomery counties. As rain thrashed the area, Lewis grew concerned that the already saturated ground would lead to a flash flood.

At 1:57 a.m. he issued a flash-flood warning for portions of Garland, Pike, Polk and Montgomery counties, saying flash flooding was "likely." Of most concern were areas near the cities of Glenwood, Caddo Gap and Langley — the latter only about 8 miles uphill from the Albert Pike campgrounds.

Immediately, the warning was posted online, broadcast on weather radios and sent to all law enforcement agencies and emergency offices in the state.

Lewis then walked five steps to the microphone that connects the Weather Service to a statewide emergency radio network and issued the warning again, just in case people weren't paying attention the first time.

In years past, the Forest Service had notified campers of flooding dangers when it had advance warning and the alerts were issued during business hours. Its primary focus, however, was the threat of forest fires. Employees monitored the weather 24 hours a day only during dry spells. Severe weather or predicted flooding didn't prompt such vigilance.

So on June 10, when the National Weather Service issued the two flash-flood watches, District Ranger Gloria Chrismer didn't pay them much attention. She would later tell officials that she was not required to notify anyone about flood watches. The Weather Service issued them often, she would say, and they were usually of little consequence.

Even when the skies unleashed an unrelenting torrent, neither Chrismer nor any other employees with the Forest Service felt compelled to keep an eye on the worsening weather.

But in an office more than 100 miles away, Lewis and another North Little Rock forecaster hunkered down for the night with their radar and computers.
'WE'RE IN TROUBLE'
A few minutes after Lewis issued the warning, state police Sgt. Brady Gore awoke to the steady thrum of a downpour on the tin roof of his family's cabin near the Albert Pike campgrounds.

He had decided at the last minute to meet his wife, Gina, there. His grandparents had owned the cabin — which sat on Lowery land — since the 1960s, and Brady had spent every childhood summer there that he could remember.

Man, it's really raining, he thought groggily. Bet the river is coming up a bit.

Brady had seen it rain that hard before, but he'd never known the river to significantly escape its banks.

Even the Lowerys, whose family has owned the property since President Rutherford B. Hayes signed their land grant in the late 1800s, had witnessed only one significant flood.

In 1968, heavy rain triggered a flash flood that washed away cabins. No one was injured or killed. Lowery family lore held that a big flood occurred about every 50 years.

Brady told himself he'd drive by the river to see how high it had gotten when he left for work in a few hours. Then he rolled over and fell back to sleep.

Bill Paxton, who owned a cabin at Lowery's, also woke about 2 a.m. He ventured out to move his truck and lawn mower to higher ground.

As he sloshed back to his cabin, water swirled around his calves. Bill figured he'd better keep an eye on the river level. He turned on his outside lights and put on a pot of coffee.

At that moment, a flood gauge about 8 miles downriver — the closest to the campground — marked the river level at 3.81 feet.

Back in North Little Rock, Lewis pulled a state atlas off the shelf and began studying the terrain near Langley, which was being pounded by the storm.

Immediately he noticed that several creeks and streams emptied into the Little Missouri just north of Albert Pike Recreation Area.

He also noticed that the river and campgrounds were in a valley, meaning water running off the mountains could contribute significantly to flooding.

Unbeknownst to forecasters, the river already was rising rapidly.

In 15 minutes, it had risen by nearly a foot.

At the Paxton cabin, Bill stood on his balcony with a cup of coffee. His cabin stilts were 8 feet tall, but Bill now wondered if he should have set the cabin a little higher.
CRISIS AT LOOP D
Reuben and Kathryn Cleveland, 70 and 78, were the volunteer camp hosts at Albert Pike. Nothing in their camp host instructions had prepared them for a raging river and terrified campers.

So when a group of people banged on the door of the Clevelands' 1985 Toyota motor home about 2:30 a.m., they weren't sure what to do.

"Call somebody!" a man yelled. "We're all gonna drown!"

The Clevelands had arrived May 24 at Albert Pike. Having worked as camp hosts before, they knew the drill:

Register campers as they arrive.

Call in problems to the Forest Service.

Keep the campsites clean and maintained.

But there was a lot the Clevelands didn't know, like the fact that Loop D sat in a 100-year flood plain. And that a number of flash floods had occurred over the years, one of them just three days after Loop D opened in June 2004.

In the mid-90s, high water in what would become Loop D had trapped more than 40 Boy Scouts as they returned from hiking the Eagle Rock Loop Trail. After the Scouts were rescued, park employees assured a scoutmaster that they planned to put in a flood alarm system. Such a system was never installed.

Like many campers, the Clevelands were unaware of the area's tendency to flood. The Forest Service had never put up flash-flood warning signs, so threats of rain or storms went largely unheeded by visitors.

During their orientation, the Clevelands were given maps, an emergency phone list, registration envelopes, a first-aid kit and a telephone connected to a landline.

Because of the nonexistent cell-phone service, the Clevelands' landline would be their only means of communicating with the outside world.

Reuben and Kathryn had worked as camp hosts all over the country. Usually, rangers or park personnel remained close to campgrounds. At Albert Pike, however, the Ranger District Office was nearly a 40-minute drive away and closed at 5:30 p.m.

Rangers didn't patrol at night.

On weekends, a designated deputy from the Montgomery County sheriff's office made rounds at the campgrounds.

The Clevelands were unaware that the storms predicted for June 10 and 11 could cause flash flooding.

No Forest Service employees told them about the flood watches that had been issued. Even if someone had, it's unclear how much that would have helped. The Ouachita National Forest didn't have an emergency plan or evacuation plan for such an occurrence.

So when people began beating on the door of the Clevelands' motor home, the couple panicked. The district office was closed, leaving them with no employees to turn to. Kathryn decided to call 911.

It was 2:38 a.m.

As she headed for the phone, Kathryn felt the motor home move.

"Get somebody out here in a hurry!" she yelled to the 911 dispatcher. "We're all gonna drown!"

The dispatcher asked her to stay on the phone.

"We're already floating!" Kathryn cried. "I'm hanging up."
A MAJOR SITUATION
Six minutes after the Clevelands' 911 call, at 2:44 a.m., Montgomery County deputies began heading toward Albert Pike.

Meanwhile, Bill Paxton still stood on his balcony, anxiously watching the water's rapid rise.

That's when RVs started floating by. Frightened, Bill called Lowery's owners Denver and Janice McRae, who slept soundly. The McRaes' home, while on Lowery land, sat well above the river and away from the cabins.

Bill went back out to the balcony. An RV appeared to be headed straight for his cabin. Bill could see people, illuminated by flashlights, inside.

The motor home hit a tree and became wedged against Bill's porch stairs.

An elderly man inside managed to wrest the door open 18 inches. He squeezed a 9-year-old girl through the narrow opening.

"Take my granddaughter," he begged Bill.

After Bill pulled the child to safety, the man and his wife escaped through the small opening just before the RV shifted and closed the door for good.

Everyone breathed a collective sigh of relief — until the furniture in Bill's cabin started floating.

Bill called the McRaes again.

"The water's coming in the house," he told them.

Janice called 911. She spoke to a Montgomery County dispatcher.

"Get the helicopters! Get ambulances!" she ordered. "We have a major situation here."

Because the Albert Pike area is so remote, the McRaes had cleared a portion of their property so that helicopters could land in the event of an emergency.

But the dispatcher said crews couldn't get a helicopter in until morning.

Rescuers, the dispatcher assured her, were on the way. But he didn't sound that concerned to Janice. After hanging up, she thought immediately of an elderly couple who owned a cabin that didn't sit on stilts.

She and Denver rushed toward the cabin. Water skimmed over the eaves. Janice's heart sank.

The couple, however, had fled to the Lowerys' store. They were safe.
'GET OUT NOW'
By then, forecaster John Lewis had keyed in on the Albert Pike Recreation Area, guessing correctly that warm weather had drawn campers to the area for a long weekend.

He issued a flash-flood statement — an update to the earlier warning, which referred to Albert Pike specifically — and then began calling the sheriff's offices in the hardest-hit counties.

The Montgomery County dispatcher confirmed what Lewis suspected: Water had begun to inundate Albert Pike.

But the dispatcher seemed unalarmed, acting as though flooding at Albert Pike was normal.

If the dispatcher understood the severity of what was happening, he did not convey that to Lewis.

By 3 a.m., the Langley gauge recorded a water level of 9.87 feet — 4 feet higher than it had been 30 minutes earlier.

Within 15 minutes, the level increased nearly 3 more feet.

Creeks overflowed, blocking the roads leading to Albert Pike and preventing rescuers from getting any closer.

At 3:30 a.m., the gauge hit 13.91 feet.

That's when Sgt. Brady Gore and his wife, Gina, were jolted awake by someone pounding on their back door.

"Get up! Get out now!" a voice yelled. Profanities laced the command.

Gina shot up.

Fire! she thought.

When the Gores opened the door, they heard the rush of water. Two wet and disheveled strangers stood on the deck under the glow of the family's porch light, cussing and shouting.

"What is the problem?" an irate Gina demanded of the two men. She wondered if she and Brady were about to be robbed.

One of the men pointed his flashlight at the deck.

"That's the problem," he said.

The Gores' cabin sat on a ridge, three rows back from the river, yet water lapped at the deck.

Gina screamed.

The couple dressed and ran out the front door, which faced away from the river. They ran for their cars, which they'd parked near their cabin.

The couple heard loud noises. POP! BOOM!

Brady turned toward the sound and saw the cabin just below his tear away from its foundation and float away.

Then an arc of electricity flashed below them.

And everything went black.
---
'Get Everybody and Get Out!'
ALBERT PIKE RECREATION AREA — The water's powerful current splintered families camped along the Little Missouri River.

Two children clung to a tree as their mother was swept away. Aging childhood sweethearts, married for decades, were yanked apart. Those able to keep their heads above water became targets for chunks of concrete, vehicles and upended trees launched by the turbulent river.
Kerri Basinger clung to her two young daughters as the engorged river tossed and tumbled its human cargo.

But the same current that pulled up slabs of asphalt the size of swimming pools eventually ripped the little girls from her arms.

As the river swept Kerri away, she could hear Kinsley, 6, calling for her.

"Mommy, come get me, please come get me, Mommy please!"

"I can't!" Kerri yelled even as she tried feverishly to reach Kinsley.

"Mommy!"

Through the darkness, Kerri saw her oldest daughter, Jadyn, 8, go by, frantically dog-paddling as she struggled against the current, too far away for her mom to save her.

"Keep your head above the water, baby!" Kerri screamed. "Keep your head above the water!"

Again and again, Kerri swallowed water, choked, gasped for air. She became entangled in her pajamas until the current tore her clothes away. Debris pummeled her. Unknown objects banged repeatedly into her head.

Broken bones. I've gotta have broken bones.

How strange, she thought, that she felt no pain.

Kerri grabbed at trees, but the branches kept breaking. And then the river would push her down, down, down, into its murky depths.

This is it, she told herself, echoing in her mind the words she'd said to her husband only minutes before the floodwaters consumed them.

Then, she popped back up to the surface.

Are you kidding me? If I'm gonna die, let me go now.
FATALLY FLAWED
The Basinger family camped by the Little Missouri River every summer, along with their friends, Anthony and Candace Smith, and their children.

Usually, they stayed at Lowery's Camp Albert Pike RV Park and Cabins, owned by Janice and Denver McRae. They liked the camaraderie that permeated the place.

But on June 10, when the two families arrived at Lowery's, they'd made an impulsive decision to spend their first night at a nearby federal campsite in the Albert Pike Recreation Area's Loop D. The couples' teenage sons wanted to sleep in a tent, and Lowery's didn't allow tent camping.

The Basinger clan consisted of Kerri; her husband, Shane; his son from a previous marriage, Kyler, 14; and Kerri and Shane's two daughters — Jadyn and Kinsley.

The Smith family consisted of Anthony and Candace; Anthony's son from a previous relationship, Austin, 13; and the couple's two younger children — Joey, 5, and Katelynn, who was about to turn 3.

Austin had brought along his friend Brady Pate, 15.

That night, the three teens bunked down in their tent at Loop D's campsite No. 2. The adults and younger children slept in a Wildwood RV.

But neither the Smith and Basinger families — nor any other family there that night — should have been in RVs.

Nearly ten years earlier, when the U.S. Forest Service began making plans to allow camping at Loop D, a soil specialist advised longtime District Ranger James Watson to build only primitive and tent camping spots there because Loop D was in a 100-year flood plain. The specialist worried that RV-camping would disturb the terrain.

"Things such as electricity, water and sewer hookups should not be planned," the specialist said in a letter to Watson.

He also strongly recommended that flash-flood hazard signs be placed there.

But Watson pushed forward with plans to include electricity and water hookups at the new Loop D campsites. He didn't include the soil specialist's warnings in his environmental reports about the expansion.

A review team appointed by the U.S. Department of Agriculture to investigate the flood would conclude that Watson intentionally disregarded the scientist's recommendations "because he wanted the sites to be developed rather than primitive in nature."

Watson did this, investigators would say, because he wanted to meet perceived public expectations for the popular campground.

There also were problems with a hydrologist's elevation reading, which led to confusion about where the flood line was.

The district ranger also failed to tell architects and engineers working on the project that Loop D routinely flooded at least a couple of times a year. As a result, no special precautions were taken to elevate or move campsites to make them safer.

Shane Basinger knew none of this, but he still felt uneasy as a thunderstorm hovered over the campground after his family went to bed. He woke repeatedly to check on the weather.

Though there had been Forest Service employees at the campground that day, neither Shane nor any of the other campers had been told of two flash-flood watches — and later, a flash-flood warning — that had been issued for the area.

As the storm continued, Shane grew increasingly worried. He got up, telling Kerri, "I'm fixin' to tell the boys to get out of the tent."

He gave them a choice: The RV or Anthony's pickup. The boys chose the truck. Most of the other tent campers staying at Loops A and B just across the river also abandoned camp.
Their nylon shelters had proved too flimsy for the weather.

After Shane returned to the RV, Anthony went outside to check on the teenagers.

Water swirled around his ankles.

He ran back to the RV and flung open the door.

"Get everybody and get out!" he yelled.

Kerri and Candace gathered their children and stumbled outside in their pajamas. By the time they got to Anthony's pickup, water covered their knees.

The river gushed into the cab, forcing the two families to seek shelter in the pickup's bed.

There was nowhere else to go.
A RIVER UNLEASHED
At first, trees and debris served as small dams, restraining the river. But when those blockages dislodged, the Little Missouri surged forward.

The result was a mountain tsunami, one that seemed to devour Loop D in one greedy gulp.

As the river consumed the campground, some people awakened only after their temporary homes began floating. Several found themselves trapped by doors and windows they could no longer open.

The water coursed over Anthony's pickup, washing the two families away.

Like Kerri, Candace became separated from her children. The current slammed her into one tree, then another.

Cars and RVs passed her in the river. One had its flashers on.

Anthony managed to hoist Shane's son, Kyler, into a tree.

"Mr. Anthony, don't let me go," the teenager begged.

"I'm not gonna let you go," Anthony reassured him. "It's gonna be OK, buddy. Just hang on."

By then, Kerri had lost sight of both of her girls. Water filled her lungs.

Then, suddenly, the current slowed.

Kerri saw a cabin in the middle of the river's newly forged path. As she approached it, the river loosened its grip, allowing her to swim to the house.

Kerri grabbed at a windowsill, but it wasn't big enough to hold onto. With renewed resolve, she busted the glass with her arm to get a better grip.

Clinging to the window, Kerri screamed for help, straining to be heard over the river's roar.
EVACUATION AT LOWERY'S
Most of the people staying in cabins on Lowery land had been roused from their beds shortly after 3 a.m. by two wet and disheveled strangers, Matt Whatley and J.D. Quinn, 20-somethings up late drinking beer when the Little Missouri swallowed its banks.

The pair had waded through the rapidly rising water, banging on the doors of 10 cabins and urging bleary-eyed residents to head for higher ground.

By the time they made it to Brady and Gina Gore's cabin on the ridge above the river, the raging water had submerged some of the cabins below.

The Gores, who had parked on high ground behind their cabin, made it out just in time to see an arc of electricity streak below them. Then the power failed.

Despite the inky blackness, they made their way to a small store uphill from the cabin where other cabin owners had gathered out front.

It was 3:45 a.m.

The closest river gauge, about 8 miles south in the town of Langley, measured 15.66 feet.

The Little Missouri had risen nearly 6 feet in 45 minutes.

And it wasn't done.

The sodden group of survivors huddled together in the driving rain, fretting about whether the other cabin owners were safe.

Only later would they hear about a cabin owner across the river who ran through Lowery's RV park rousing sleeping campers. He crammed about 30 people into his cabin, which sat well above the river's reach.

Thanks to him, to the two young men up late drinking and to a series of small miracles, everyone at Lowery's — the cabin owners and families in RVs — made it out.

But a bend in the Little Missouri had turned Lowery's into a receptacle for the remnants of Loop D
'DON'T LET GO'
Janice and Gina were the first to hear Kerri.

"Was that a scream?" one of them asked.

A second cry pierced the night. It sounded as if it came from one of the cabins below. Had they missed someone?

Brady Gore, a sergeant with the Arkansas State Police, ran for his patrol car. He'd driven it to the cabin because he had to work the next morning. After being awakened by Matt and J.D., Brady had driven the car up to the store.

Now he hopped back in, following the two young men as they ran toward the screams.

When Brady pulled up, he joined Matt, J.D. and several other survivors standing on a hill, maybe 40 yards from the window that had become Kerri's fragile lifeline.
Water coursed between them.

We can't reach her. It's impossible.

"Hang on! Hang on!" the cluster of spectators yelled over and over again.

That's what Kerri needed to hear at that moment. She would come to think of the men as her angels.

Brady ran back to his patrol car, turned his spotlight on Kerri and then picked up his police radio.

The dispatcher wrote down Brady's 4 a.m. message: Camping at Albert Pike and the water is rising, people are on their cars and campers — they need assistance because the water is still rising and all he has is his radio — someone is in the river calling for help.

By that time, the water at the Langley gauge had hit 17.70 feet. Fifteen minutes later, 18.98 feet.

At 4:30 a.m., the gauge marked 20.57 feet.

It would finally peak an hour later at 23.39 feet.

Kerri held onto the window, her battered body dangling in the water.

"Don't let go!" a voice called out.

"Don't let go!" a second voice yelled.

A piece of floating furniture inside the cabin smashed into Kerri's curled fingers. Pain shot through her hands.

And Kerri let go.

Once again, she was in the swirling, brown water.

"There's a pole behind you! POLE!" everyone cried.

Kerri grabbed a wooden utility pole and bearhugged it.

By then, the young mother felt certain that her daughters were forever lost to her. No way could two little girls have survived that awful, churning, debris-laden water.

Still, Kerri held on, hoping her husband and stepson had made it. From the ridge, survivors hurtled words of encouragement.

As the water finally began to recede, Kerri heard renewed vigor in the shouts from above.

"Water's going down! You're going to be OK!"

J.D. did most of the yelling. He had the loudest voice.

"Ten more minutes!" he called. "Just 10 more minutes!"

Brady's wife, Gina, watched for rescuers. But 10 minutes passed, and then another 10, and then another.

She turned to her husband in frustration.

"Where are they?" she demanded. "When are they coming?"

Brady, who knew from radio traffic that rescuers were stuck behind a rock-slide on the only road into the campground, grabbed Gina's face and locked eyes with her.

"They're not," he said.

And Gina realized they were on their own.
---
Dawn Reveals Magnitude of Loss
ALBERT PIKE RECREATION AREA — Reuben and Kathryn Cleveland strained to keep their heads above water as the Little Missouri River gushed into their 1985 Toyota motor home parked at the federal campground.
"Lord, if it be thy will and we have to go, let us go together," Kathryn, 78, prayed aloud. "But please, spare the children."
That's all Kathryn could think about as the water rose — all those children she had seen playing in the campground hours earlier.
We've lived our lives, she thought. But those babies ...
The Clevelands were volunteer hosts at the campground's Loop D. No one had warned them of the flash-flood watches and warning issued for the area June 10-11. They had no idea the Little Missouri was flooding at a level that hadn't been seen in more than 500 years.
Kathryn had barely managed to make a 911 call before the motor home began to float.
"I'm hanging up!" she'd shouted at the dispatcher, who wanted her to stay on the line.
The river tugged at the Clevelands' bobbing RV. Wedged against an iron-gate pole, it remained providentially moored to its campsite by a water hose.
A devout member of The Church of Jesus Christ of Latter-day Saints, Kathryn recited passages from the Book of Mormon and sent fervent prayers up to God as the water grew deeper.
This, she thought, is what it's like to look death in the face.
A SURREAL SIGHT
Dispatchers had radioed search-and-rescue teams about 3:30 a.m., after receiving at least two 911 calls from the Albert Pike campground.
Two people were standing on top of a camper with flashlights.
Veteran firefighter Roger York figured a couple had hooked up their RV, tried to cross a low-water bridge and got swept off.
That sort of thing had happened before. Usually rescuers made it to the campgrounds quickly, and no one got hurt.
This call had sounded no different.
Roger, assistant chief for the Langley Volunteer Fire Department, sprang from his bed and hit the road within a matter of minutes.
When he reached Little Blocker Creek on Arkansas 84, Roger discovered 4 feet of water covering the road.
He could not cross.
Neither could U.S. Forest Service Patrol Capt. Jimmy Hicks and a handful of other rescuers from Montgomery and Pike counties.
Pounding, relentless rain had kept Jimmy to only 35 or 40 miles an hour as he headed from his home in Glenwood toward the campgrounds. As he approached Little Blocker Creek, Jimmy had tried to navigate his Ford Expedition through the water, but the nose of the large SUV veered slightly, making him worry that it would start floating.
So he backed up and waited. More than 30 minutes passed before the water receded enough for rescuers to continue on.
Roger met two more firefighters at the Langley Fire Department, just 6 miles from the Albert Pike Recreation Area.
Jimmy drove ahead.
A caravan of vehicles snaked along Arkansas 369, weaving around fallen trees and boulders.
Ditches along either side of the road had turned into fast-moving channels of water. The rescuers made it around two mudslides by scraping their vehicles along the road's left guardrail.
Topping the hill closest to the campground, Jimmy spotted a third mudslide — and a tree — across the road. He put his Ford in four-wheel drive and tried to press on. But the tree became lodged under his door.
Once again, rescuers found themselves blocked.
Jimmy grabbed an ax from the back of his vehicle and chopped away at the wood, creating an opening just wide enough for the caravan to pass through.
At 5:34 a.m., Jimmy made it to Loop D, the campground that had suffered the brunt of the Little Missouri's surging waters. Roger wasn't far behind him.
Glittering specks of light dotted the area.
Fireflies, Roger thought, bemused by the unexpected sight.
But as the caravan drew closer, he realized that the pretty sparkles came from flashlights dropped by fleeing campers when the water overtook them.
Screams echoed from the surrounding treetops.
A bleeding, barefoot man ran by.
"Debbie!" he yelled, preparing to leap into the fast-moving water separating him from several survivors stranded on a flood-created island.
"Debbie!"
A firefighter grabbed him and pulled him away from the water.
Meanwhile, Reuben and Kathryn Cleveland pried open the door of their motor home. Dazed and injured campers wandered aimlessly.
Reuben took a moment to thank God. Then he approached Jimmy. He wanted to help.
The small group of rescuers was shaken by what they saw.
Surrounded by panicked survivors, debris and floodwaters, only then did they realized the magnitude of what had happened.
A SOBERING THOUGHT
Downstream, at the privately owned Lowery's Camp Albert Pike RV Park and Cabins, Kerri Basinger clung to a partially submerged utility pole, her lifeline after being washed away from the federal campground.
A new channel of the Little Missouri surged between the frightened woman and a group of people standing on the ridge above. They urged her to hang on just a little longer.
One of the onlookers, state police Sgt. Brady Gore, discreetly pulled his wife, Gina, aside.
He wanted to know if she'd driven through the federal campground the day before.
"Yes," Gina replied.
"How many people were over there?"
"A lot," Gina said, puzzled by her husband's sudden interest.
"Like how many?" Brady pressed.
"It was full."
Brady fell silent.
Gina didn't get it. Like everyone else, she was focused on Kerri's plight. And Kerri, she figured, must have been sleeping in a cabin near the utility pole.
The federal campground had only briefly crossed Gina's mind, and her worst imaginings involved wet and cold campers sitting on a mountainside, waiting impatiently for the water to go down.
Then she bumped into elderly Loretta Wiley whose cabin had been nearly submerged.
"I wish the sun would come up," Gina told her neighbor.
Loretta shook her head. "Oh, honey," she sighed. "When that sun comes up, it's going to be a whole lot worse."
LETTING GO
Umpire-Athens volunteer firefighter Cohen Davis was among the first group of rescuers to arrive at Lowery's.
He took one long look at Kerri's precarious hold on that pole and put on a life jacket. He grabbed a second one for Kerri.
"You ain't going in," one of the onlookers told the 26-year-old firefighter. "You're crazy."
"I'm going in," Cohen declared.
Cohen didn't know what kind of injuries Kerri had suffered. If she passed out or let go of the pole, she was a dead woman. She would be no match for the current.
Cohen tied himself to utility lines strung between two sweetgum trees. Then, hand-over-hand, above the water, he worked his way toward Kerri. When he reached her, she broke down.
"Are you hurt?" he asked.
"My arm's broken," she sobbed.
Cohen could see Kerri's arm had a bad gash, but it wasn't broken.
"Where were you camped at?" he asked.
"Loop D," Kerri told him.
Cohen was shocked.
Her campsite was nearly a mile away.
"Where's my two little girls and husband?" Kerri asked.
"I don't know," Cohen said, tying a rope around her.
Despite the rope and life jacket, Kerri refused to let go of the pole.
"I can't go across this," she whimpered.
"You have to trust us," he urged.
At that moment, in the distance, a man called for her.
"Kerri," she heard the voice say.
"That's my name," she told Cohen.
There's someone else left, she thought.
"Kerri. We're OK!" the voice called again.
With renewed hope, Kerri let go, allowing Cohen and the current to take her toward higher ground.
Rescuers rushed her to the hospital, where doctors determined that in addition to the deep gash, Kerri had suffered broken ribs and a concussion.
While there, Kerri learned that her husband and daughters were dead. Her stepson, Kyler, had survived.
In the days and weeks after the flood, Kerri would tell herself she must have imagined the voice calling her name.
Months later, she would ask Cohen about that moment.
He had heard the voice too.
...
As the water went down, Candace Smith, Kerri's best friend, gradually slid down the tree she'd managed to grab when the river swept her away.
Like Kerri, Candace had become separated from her husband, Anthony, and their two young children, Joey, 5, and Katelynn, almost 3.
For the longest time, she could hear only the rush of water. But as the roar faded and the sun began its rise, she heard voices.
They belonged to her stepson, Austin, 13; Kerri's stepson, Kyler, 14; and the boys' friend Brady Pate, 15.
Candace called out. Then she and the teenagers stood there, in the woods, waiting for the helicopters. That's what would happen in the movies, Candace thought. Surely they would hear them any minute now, or see them, plucking other survivors from the treetops.
But there was only silence.
Overwhelmed, Candace collapsed.
The three teenagers wandered away, with Kyler and Austin calling out for their dads.
"Do not leave!" Candace shrieked. "Come back!"
When the boys returned, they brought a survivor with them.
The boys left again. Came back with two more survivors.
Despite Candace's protests, they continued to search for their missing family members.
It was Austin who broke the news to Candace.
"I found Joey," he said.
"Where?" she cried.
Austin simply shook his head.
"I know, baby," Candace said. "I know. Just take me to him."
Austin began walking. He stopped, then pointed toward the ground with his thumb.
There's my Joe Joe.
The little boy lay utterly still, this sprightly towhead who had once gleefully painted himself banana-yellow after getting into Candace's craft supplies.
Katelynn's body would be found later. The river had claimed her too.
For nearly an hour, Candace sat with Joey, disbelieving.
She heard shouts. On the other side of the water separating Candace from the rest of the campground, a group of rescuers waved and hollered. They wanted to come and get her.
"I'm not leaving my baby here!" Candace yelled.
"Ma'am, we gotta get you out!" one of the men replied.
"I'm not leaving him."
A rescuer crossed over the rushing water by rope.
He pleaded with Candace to put on the life jacket. Still, she balked.
"I promise you, I will get your baby," he said. "But we've got to get you out of here."
As the volunteer firefighter helped pull her across the river, he made a confession: "I just signed up to shoot a water hose. I never knew I'd have to do anything like this."
'I KNEW IT'
National Weather Service forecaster John Lewis had spent the night tracking the storm system that caused flash flooding at Albert Pike.
In the days before, the system had triggered flooding along the Guadalupe and Comal rivers in central Texas, killing one tourist.
Realizing this scenario could unfold in Arkansas, Lewis' colleagues had issued two flash-flood watches on June 10.
But Forest Service employees never relayed news of the watches to the camp hosts or campers at Albert Pike. And the closest tower that would have carried the information to weather radios had fallen down nearly two years before.
Though the flood threat increased throughout the night, no one from the Forest Service had monitored the storm. So when Lewis issued a flash-flood warning for portions of Montgomery and three other counties just before 2 a.m., it went unheeded.
Over the next two hours, Lewis had called sheriff's offices in those areas, including Montgomery County. Dispatchers there assured him they were aware of — and responding to — flooding at Albert Pike.
The Montgomery County dispatcher hadn't seemed alarmed.
Neither he nor Lewis had any idea Loop D and large portions of Lowery's now sat underwater and that campers were fighting for their lives.
Another forecaster working with Lewis had made one last call to the Montgomery County sheriff's office about 4:45 a.m.
The dispatcher described the same situation as before: flash flooding and some high-water rescues.
Not wanting to interfere, the forecasters didn't call again. When the sun rose at 6:04 a.m., Lewis was nearing the end of his shift.
He drove home to watch a little television so he could unwind before going to bed. Between bites of cereal, he flipped through the stations.
Lewis stopped on Channel 4 just long enough to see the breaking-news alert about an unfolding tragedy. As soon as the news anchor said "Albert Pike," Lewis' heart sank.
He picked up the phone and called his boss, John Robinson.
"I knew it. I knew this was going to happen," he told Robinson.
Lewis felt like nothing he'd done in the hours before dawn had made a difference. To a man in the business of saving lives, that was a devastating thought.
Months after the flood, he'd say "I would have liked to be the guy to drive down there with a bullhorn and wake those people up."
Co-workers and family reassured Lewis, telling him he had done everything he could to warn the campers.
But that morning, he couldn't be consoled.
And for the first time in his career, he cried.
...
For the next several hours, Candace and Austin sat on a bench outside the Lowery's store, waiting.
Surely Anthony, a rugged outdoorsman, had survived. Any minute, he'd saunter out of those woods.
Time crept.
Austin thought he heard his dad calling for him.
"No, baby, I didn't hear that," Candace said.
The truth slid through her mind, unbidden.
He's not coming back.
"This is it," she finally said aloud. "This is all we have."
"No," her stepson protested. "Dad's coming."
"Austin, look at me," Candace ordered.
She struggled for composure, for the right words.
"It's just us."
...
Since the flood, Candace and Kerri have returned to Albert Pike many times.
In years past, when the two mothers walked these woods, they were followed by their rough-and-tumble brood.
Now it's the butterflies that tag at their heels.
The first time Candace and Kerri were able to laugh over memories of their children, one of the delicate insects danced above them.
When they sat at a picnic table on a brisk November day, crying and aching over the loss of their little ones, yellow butterflies swirled around them.
And once, as the two friends stood before a makeshift memorial to their families, an orange-and-black butterfly landed on Kerri.
After a brief rest, it flitted to the wooden plaque and settled on the word "family."
The butterfly next skimmed a cluster of flowers before alighting on Candace.
When it returned to the plaque, it once again landed on "family."
For Candace and Kerri, that precision conveyed a simple message:
We're still with you.
EPILOGUE
Twenty people died in the flood.
Eight were children.
All but three of the victims came from Loop D.
Like Kerri, Candace lost her husband and two youngest children. Both of their stepsons survived.
"It's a comfort knowing our babies are with their daddies, that they're not alone," Kerri says.
To this day, she and Candace struggle to understand why they were left behind. Their husbands were so much stronger than they were. Why didn't the men make it?
The two friends finally concluded that Shane and Anthony expended all of their energy helping others.
And now Kerri and Candace feel they must do the same.
They believe it's their responsibility to make sure Albert Pike, a beloved campground for generations of families, is made safe.
"We don't want Albert Pike to close forever," Candace says. "We want it to be opened for thousands of people to enjoy like our families did. We want what should have been done, done now."
After the flood, neither woman could imagine returning to the homes they once shared with their families.
So they are each staying with relatives until the house they plan to share is completed.
Janice, the owner of Lowery's, has closed her RV park for good. She says she would never sleep well again knowing people were camping there. She has commissioned a memorial for those who lost their lives.
The U.S. Forest Service hasn't decided whether Albert Pike will ever reopen to campers.
---
20 Lives Lost in Albert Pike Flood
SHANE EDWARD BASINGER, 34, of Shreveport made his family - wife, Kerri, son Kyler, 14 and two daughters, Jadyn, 8, and Kinsley, 6 - the center of his life. Heworked at his friend Anthony Smith's farm and at Intier Automotive. He spent his free time fishing, barbecuing and hunting. Shane was a Dallas Cowboys fan, the life of just about any social gathering and a daddy who doted on his little country girls.
JADYN RHEA BASINGER, 8, of Shreveport was born on Cinco de Mayo. She was her daddy Shane's shadow, tagging at his heels whenever he was outside. Jadyn loved putting on makeup and painting her nails, but shunned frilly clothes in favor of mismatched jeans and T-shirts, and her beloved boots. Her parents called her JJ.
KINSLEY ANN BASINGER, 6, of Shreveport was a St. Patrick's Day baby. She was a sweet and quiet little girl who, like her sister, Jadyn, loved wearing boots. She also adored hair bows. Kinsley still slept with her baby blanket, which had been patched and sewn back together so many times it was barely possible to make out its moons, stars and bears. Her nickname was Anny.
JULIE FREEMAN, 53, of Texarkana, Texas, lived next-door to her granddaughter, Kylee Sullivan. She loved shopping for and spoiling the little girl. Julie also was her daughter Amanda Willis' best friend and "the smartest woman alive." She was a training coordinator for the Defense Logistics Agency and a member of Highland Park Baptist Church. She was married to Gerald Freeman.
KADEN JEZ, 3, of Foreman loved wearing yellow boots and helping his beloved Nana, Sheri Wade, paint. He shared his grandmother's fondness for barrel-racing and rodeos. The minister of the Foreman Church of Christ, where Kaden attended church and Vacation Bible School, described the little boy as "the sunshine of everybody's life," according to the Christian Chronicle. He often left Sunday School singing "Jesus Loves Me."
LESLIE JEZ, 23, of Foreman was a devoted mother to her son, Kaden, and the wife of Adam. Relatives say that walking into the Jez home evoked smiles because it brimmed with love. Leslie was a country girl who embraced a simple lifestyle, riding horses and camping, according to the Texarkana Gazette. She was close to earning a college degree in elementary education.
DEBRA McMASTER, 44, of Stamps taught geometry and algebra at Spring Hill High School near Hope. She left her career as a pharmacist because she felt she was called to teach. Co-workers said that during the flood, Debra helped her husband place their daughters in a tree and then helped a mother and young child get to safety before being swept away herself.
GAYBLE MOSS, 7, of Texarkana, Texas, had just finished first grade at St. James Day School, where she was known for her sunny smile and helpful nature. Relatives describe her as impish and always looking for her next adventure. She especially loved a trip to New York. She had been looking forward to camping at Albert Pike with her best friend, Kylee Sullivan.
KAY ROEDER, 69, of Luling, La., was born in Stamps, according to the New Orleans Times-Picayune. Every summer, she spent two weeks at Albert Pike, a place she adored and had visited since age 9. Kay was there with her son, Bruce, his wife, Debbie, and several other relatives on June 11. Kay, who retired as a maintenance administrative assistant at Occidental Chemical, had five grandchildren and two greatgrandchildren.
BRUCE ROEDER, 51, of Luling, La., had joined his mother, Kay, his wife, Debbie, and other relatives on an annual camping trip to Albert Pike. A family friend told the New Orleans Times-Picayune that Bruce woke up the morning of the flood and ushered many relatives uphill to safety. But when he turned back to get those who remained, the water was too high. He was the vice president of Aegis Construction Co. and the father of two.
DEBBIE ROEDER, 51, of Luling, La., was born in Oklahoma, according to the New Orleans Times-Picayune. She was at Albert Pike with her husband, Bruce, her mother-in-law and several other relatives. She worked as a production planner for the Coca-Cola Co. in Louisiana. She and Bruce had two children.
ERIC SULTZ, 38, of Maud, Texas, was easygoing and a die-hard fan of the Oakland Raiders football team - a fondness he developed growing up in California. His identical twin brother described Eric as a role model for him and for Eric's three children. "He was my mentor, and he showed me a lot of things," his brother said. "He was a great guy." Eric was camping for the first time at Albert Pike with his girlfriend, Sheri Wade, and her family.
NICHOLAS SHUMAKE, 8, of De Kalb, Texas, was a second-grader at James Bowie Elementary School and a member of Pinkham Memorial Missionary Baptist Church. Family members called him "Nic" and described him as a little firecracker who loved spending time with his grandparents, Robert and Wilene Shumake. The three were camping at the time of the flood. Friends on R.I.P. Nicholas Shumake's Facebook page describe a boy who offered hugs and smiles freely, both in school hallways and at church.
ROBERT SHUMAKE, 68, of De Kalb, Texas, was married to his childhood sweetheart, Wilene. The couple grew up in the nearby community of New Hope. He was a retired leaderman in shipping and receiving at the Red River Army Depot, and a member of Pinkham Memorial Missionary Baptist Church. He and Wilene had been camping at Albert Pike for decades and loved taking their grandson, Nic, with them.
WILENE SHUMAKE, 67, was a retired accounting technician at the Red River Army Depot and a member of Pinkham Memorial Missionary Baptist Church. She wasmarried to Robert Shumake, her childhood sweetheart.
KYLEE SULLIVAN, 6, of Texarkana, Texas, had just finished first grade with her best friend Gayble Moss, and couldn't wait to vacation at Albert Pike with the girl she calledher "sister." Like Gayble, Kylee loved to sing and dance. She adopted only rescue animals as pets and doted on three dogs, two gerbils and 10 fish. Family members say she had a big heart.
ANTHONY KEITH SMITH, 30, of Gloster, La., loved playing the guitar and singing with his wife, Candace, and children, Austin Rachal, 13, Joey, 5,and Katelynn, almost 3. He worked on his family's 358-acre farm and belonged to the Louisiana National Guard. Like his buddy, Shane Basinger, Anthony loved to fish, grill and roam country back roads around the farm. He was a New Orleans Saints fan.
JOEY SMITH, 5, of Gloster, La., was a daddy's boy by day and mama's boy by night. He looked up to his older brother, Austin. Joey loved playing T-ball but announced at his kindergarten graduation that he wanted to be a football player when he grew up. His parents called him Joe Joe, but Joey chose a second nickname for himself: "J-dog." He said it was his "cool" name.
KATELYNN SMITH, almost 3, of Gloster, La., was a country girl who adored tutus. Her favorite one was hot pink, and she wore it with everything. She loved to sing with her daddy, Anthony, while he played his guitar. Her top two requests were "Twinkle, Twinkle, Little Star" and "You Are My Sunshine," which her mother, Candace, sang to her at bedtime. Everyone called her Katybug.
SHERI WADE, 43, of Ashdown was camping at Albert Pike with her family, including daughter, Leslie Jez, and her grandson, Kaden; and Sheri's boyfriend, Eric Sultz. Sheri, whom Kaden called "Nana," loved rodeos and devoted much of her time to her family. Friend Cherie Trowler described her as, "a tough, free-spirited person with good morals."