Untold Aftershocks
A year after the Sichuan earthquake, Chinese journalists are still burying their pain.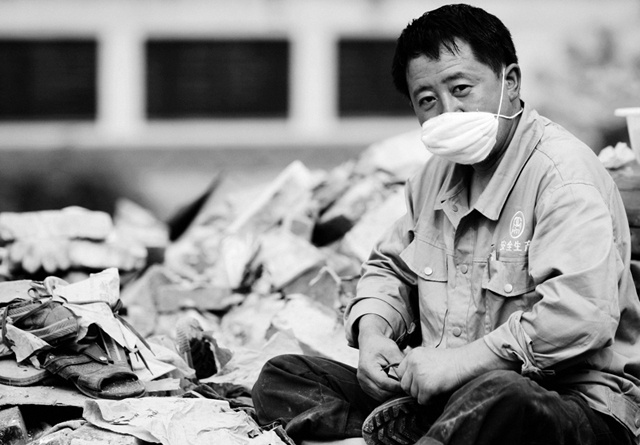 "After Serious Earthquake Damage, Qing Cheng Shan Mountain is Still Beautiful."
"On the One Year Anniversary, Immortal Name and Everlasting Love to the People's Liberation Army and the Armed Police Force."
In the Chinese media, it is easy to find positive and heroic stories on the earthquake that devastated Sichuan province and claimed nearly 90,000 lives in May 2008. More difficult to find are stories of the psychological trauma that still remains.
Talking about trauma or mental illness is not part of Chinese culture. Dr. Lin Hong from Beijing University's Institute of Mental Health says that while this kind of reticence is also found in the West, in China the situation is worse and exacerbated by an absence of media coverage. As a result, seeing a psychological professional is shameful in the minds of most Chinese, let alone journalists. 
One year after the earthquake, there have been only a few back-page articles on its psychological impact, while the intensity of anniversary coverage has done much to rekindle trauma among victims and journalists alike.
In the initial period after the disaster, the Chinese government allowed journalists unprecedented access to the ravaged areas. As a result, many journalists worked non-stop to get the story. Beijing-based Eliot Gao of the Los Angeles Times survived on apples while filing one or two stories from the quake zone every day for a month following the disaster. For him and many other colleagues, this was their first encounter with death on such a scale:
"People of my generation never experienced the Tangshan earthquake in 1976, and we never really witnessed [the Tiananmen Square massacre of] June 4th in 1989: We have never seen so many corpses before."
Gao knows three media professionals who resigned because of the pressure, but things only got worse after returning to Beijing. "White plastic bags in the streets, instinctively I thought they were corpses." Reactions ranged from group binge drinking and seeking fights, as Gao saw other media colleagues do, to isolation.
Photojournalist Den Wang says he didn't meet anyone for over a month after his return to the capital from the quake zone.
"I pushed the victims to remember how their children died. What did they feel when their children died. I made them cry over and over again, and I felt I was too cruel. I feel seriously guilty."
While Wang was offered counseling from the Red Cross — for whom he also volunteered — he refused to go:
"I am not the people who have directly suffered from the earthquake, I think I could stand the suffering. I should just put all my effort into helping the earthquake victims. I am not a weak person anyway."
Others admit stigma as a factor in refusing help. Said Gao, "Many of us were affected very much, but very few of us go to counseling. Many of us think that it is shameful to have psychological problems." Whether out of selflessness, bravado or pride, this refusal of counseling coincides with the refusal of interviews by several journalists approached for this article.
"If someone doesn't want to talk about the earthquake, it means they haven't really accepted it. It brings them a lot of pain and the pain is not really treated properly," said Hong. And with the pace of change in China, journalists have precious little time to process their pain.
Shortly after returning from the quake, Wang was commissioned to shoot video footage for the upcoming Olympic Games in Beijing. "I shot so many smiling and colorful images, which were in stark contrast to the earthquake," he said. "And I felt everything was so fake, so ironic and ridiculous."
Burying the pain under work does little to relieve it. Especially when work forces journalists to revisit their trauma in unpleasant ways. A year after the earthquake, Gao returned to the quake's epicenter of Beichuan for the anniversary story. "I pushed the victims to remember how their children died," he said. "What did they feel when their children died. I made them cry over and over again, and I felt I was too cruel. I feel seriously guilty."
The angle of the anniversary's coverage tends to reinforce the pain-burying approach, Hong suggested:
"Chinese media tends to report a lot of stories related to selfless and diligent work. But there were people who worked very hard and then suddenly committed suicide. They worked hard to avoid their pain, but this didn't help them release it."
Last October a forum was set up by Beijing University with the help of the World Health Organization to discuss the problems of journalists reporting on earthquake. Hong, one of the main organizers, said journalists attending the conference found it very useful, but it was very difficult to work with them. "They are very busy and their work is very stressful," Hong said. "They tend to focus on something for a period and then change very quickly." The forum apparently overlapped with heavy coverage of the launch of the Shenzhou 7 spacecraft, and Hong said the forum had to pay journalists to attend.
Dr. Rob Blinn, psychologist and Director of Family Counseling Center at Beijing United Family Hospitals and Clinics, has initiated the China Earthquake Relief Project, a multiphase training program designed to educate healthcare providers, school personnel and others to help heal children from the potentially devastating effects of trauma. Blinn says journalists doing disaster-related anniversary stories should try to ask positive questions like: "When was the first time you felt safe? What helped you survive? What helped you go through during the past year?" Blinn suggests journalist try to include stories of strength and resilience.
Bringing the psychological dimensions of trauma and resilience to journalism, besides sparking a wider public discussion, could help journalists protect and restore themselves while avoiding re-traumatizing the victims they interview. Hong affirms, "It's good for everyone.  This discussion is just a start, and there are a lot of things we can do. There is a long way to go."
For English-language journalist-to-journalist narratives, tip-sheets, exemplary articles and more see the Dart Center's Tips & Tools pages on Disaster, Tragic Anniversaries and Post-Traumatic Stress Disorder.
For Chinese-language, see the Dart Center's Global Resources page.
For more of Den Wang's photos of the Sichuan earthquake, see his Flickr.