Women Reporting War
February 5, 2005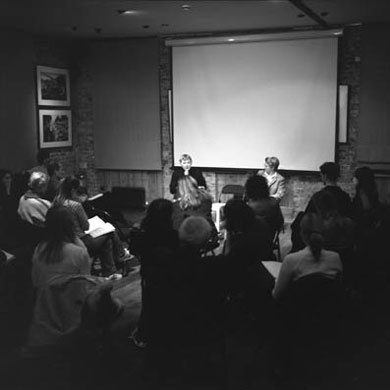 LONDON — Women who report war gathered in London to discuss their safety concerns at a recent forum arranged by the International News Safety Institute and the Dart Centre.
The session, which drew about 40 women conflict reporters and other interested parties to the journalists' Frontline Club, was a follow-up to INSI's first-ever international safety survey on Women Reporting War.
The survey was aimed at determining and identifying specific safety concerns that women might have on conflict assignments, and reported last year that a high number of women war reporters had suffered physical attack or intimidation.
More than half of respondents reported sexual harassment and a significant number said they had experienced sexual abuse.
This was underlined by women reporters, producers, camera operators, academics and others who took part in the vigorous debate on 20 January.
CBS correspondent Elizabeth Palmer, who has covered several wars for CBC and CBS, said fear of rape and sexual harassment constantly accompanied women journalists in conflict zones.
"In Afghanistan we used to sleep in a house that wasn't secure," she said. "All the time I had to think that someone could creep in and be armed and rape me. There was no protection."
Palmer, who chaired the discussion, urged women war reporters to discuss their fears with male colleagues. She had been struck by how many men in the business were completely unaware of their female companions' concerns — including their specific needs involving female hygiene, and such simple challenges as finding somewhere to pee.
Judith Matloff, a former correspondent for Reuters and the Christian Science Monitor and now a professor at Columbia Graduate School of Journalism, said women journalists were afraid to discuss fears of rape with their male bosses in case they suffered career setbacks.
She also asserted that females covering war encountered more sexual harassment in the field from their male colleagues than from news sources.
She and others said the newsroom culture had to change to address such concerns. News executives and bureau chiefs had to make clear that harassment of female colleagues was unacceptable.
Karen McMenamin of Risk Consultants International, a private security company, said her organisation used to provide a session on rape and assault within its safety training programme but dropped it because men were uncomfortable with it. She said RCI would look at it again in light of the discussion.
Jennifer Glasse, correspondent for the BBC's US news programme "The World", said the first concern of any woman covering conflict was her own physical wellbeing.
She welcomed the idea of self-defence classes for women, though McMenamin cautioned that adequate self-defence training could not be taught within the limited time span of a regular Hostile Environment (HE) course. Too little knowledge or ability could be dangerous.
(In the survey there was a mixed response to the question of whether HE courses should provide extra training for females. Several respondents suggested, however, that there should be more female trainers.)
"HE course military guys treated me like a five-year-old," said Glass. "Then they tried to pick me up in the bar."
She said women often suffered from a lack of gender-specific local knowledge in conflict zones.
For example, she said, in Arab countries "if you go out with wet hair they think you've just had sex or you're a prostitute. No one told me that."
Matloff said additional pressure was piled on female reporters, adding to conflict reporting stress, because men in newsrooms did not treat their female colleagues as equals.
One respondent to the survey said she was not taken seriously by her bosses on a safety issue until a male colleague suffered a near-miss.
Some women reacted more emotionally than men to stress.
"Men often drink themselves crazy to get over the day's experiences while women often cry their eyes out," said freelance producer Edith Champagne, another seasoned war reporter.
Palmer said displays of emotion could be seen as a sign of weakness in the male news culture. But women could turn emotional responses into strength at a time when the human impact of war and disaster had become a major focus of the story.
Deborah Pout, who has reported on horror bombings in Israel, said she would often "cry and cry" while male colleagues turned to drink for relief.
"The emotional toll on me was great and I felt there was no emotional support," she said. "Supply someone to talk to!"
Other issues raised in the discussion included a lack of flak jackets designed for women, who tend to be physically smaller, and the need for increased awareness by men in the business, from assignment executives to members of the reporting team, of women's safety concerns.
There was general agreement that news organisations had to accept there were gender issues in news safety for staff and freelancers and that the industry had to move away from a culture in which such issues could not be discussed.
Mark Brayne, Europe Director of the Dart Centre, said the increasing number of women in positions of editorial influence was beginning to change things.
He advised women to get issues out in the open to increase awareness — and ensure that their managers, editors and male colleagues truly understood women's different and very specific, practical needs in the field.
Freelance producer Tira Shubert agreed. "We need to talk about the issues more and exchange advice and information," she said.
Albert Sutton, father of Radio France International journalist Johanne Sutton who was killed in Afghanistan in 2001, flew in from Paris for the debate. He made an impassioned plea for women to be more active in defence of their safety.
"Everyone is entitled to a future. But the future is in your hands," he said.
INSI will be extending its initial survey into Women Reporting War to ensure wider contact with female journalists working in danger in their own countries.
» For further information or to exchange ideas on these issues please contact Mark Brayne or Rodney Pinder.