Wounded Warriors, Wounded Families
This two-part series shines a light on how war affects not only soldiers but their families. Originally published in July, 2009 in the Pittsburgh Post-Gazette, it is an honorable mention in the 2010 Dart Award for Excellence in the Coverage of Trauma.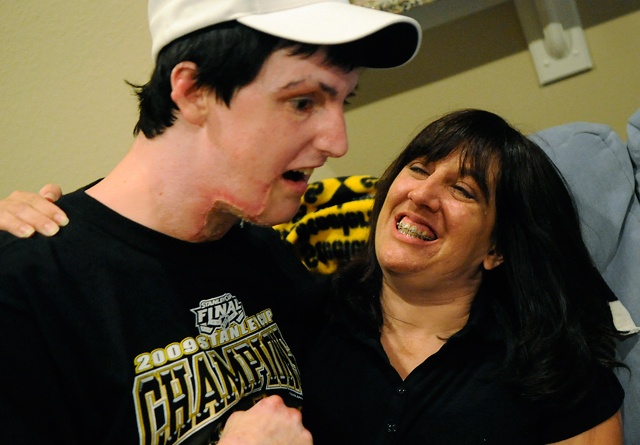 TAMPA, Fla. -- Late at night on the Fourth of July, Leslie Kammerdiener is stung by independence lost.
On a day celebrating the freedom America won in bloody battles 233 years ago on these shores, she mourns the independence her son, Kevin, lost 400 days earlier while defending his country in a foreign land.
The 44-year-old single mother longs for a different life that seems a lifetime ago -- a life altered forever on May 31, 2008, when a suicide bomber in Afghanistan slammed into Army Pvt. Kammerdiener's Humvee, killing two soldiers and critically injuring him and another soldier. Kevin, then 19, lost the function of 85 percent of his left brain and was burned over 23 percent of his body.
Before then, she, Kevin, and his older sister, Brianna, had lived happily in their hometown of East Brady, Clarion County. Before then, she knew nothing of the often unpronounceable surgeries, treatments, medications and therapies that have allowed her son to survive injuries so severe that doctors were surprised he lived. Before then, she never dealt with the alphabet soup of Army acronyms, military protocol and procedures.
Since his injury, Leslie has given up her job, her income, her health insurance, her hometown -- in essence her life -- to be by Kevin's hospital bed, first in San Antonio, Texas, and then Tampa.
Now that he is an active-duty outpatient, she's his primary caregiver virtually 24/7 at their new residence in Riverview, a suburb south of Tampa. And when Kevin finally goes to sleep, she documents his progress and setbacks, her hopes and fears, in elegant, candid prose on an Internet blog, drawing responses from across the country and Europe.
Because of improved body armor and medical care, more service members in Iraq and Afghanistan are surviving horrific injuries that would have killed them in earlier wars.
A 2008 Rand study estimated that as many as 320,000 of the approximately 1.6 million service members deployed since 2001 to Afghanistan and two years later to Iraq have suffered some form of traumatic brain injury during deployment.
As a result, a new army of mothers, spouses and other relatives have stepped up to care for the seriously wounded -- many who have suffered the traumatic brain injuries caused by explosive devices that have become the "signature wound" of the current conflicts.
Like Leslie, they've quit their jobs, moved to new locales, taken on debt and ignored their own physical and mental health to put the needs of loved ones first.
Congress now is considering bills that would recognize the contributions and sacrifices of primary caregivers by providing them with benefits that may include a monthly stipend, health care and mental health counseling.
Such support would be a godsend for Leslie.
She and her 25-year-old daughter, known to family, friends and acquaintances as Breezy, have survived primarily on $30,000 to $40,000 donated by residents of East Brady and surrounding communities over the past year.
To show their appreciation, the family returned for a visit Thursday for the community's annual Riverfest celebration this weekend, to be capped tonight by the Army's presentation to Kevin of his Purple Heart medal.
Leslie likewise has been hailed by former neighbors, friends, doctors, nurses and social workers for her fighting spirit and dedication. She deflects such praise. She's a mother, she says. She loves her son. What choice does she have? Institutionalization? Never.
On that July 4 night, she glances at Kevin as he sleeps. No longer the fearless Army Airborne soldier, the daredevil skateboarder, the happy-go-lucky jokester he once was, he is an often affectionate, sometimes obstinate man-child needing his mother's unconditional love, devotion, support.
Her strong will returns, chasing away self-pity. Drying her tears, she focuses not on what was lost but what remains -- and what's to come. Not only has her son survived, he has exceeded medical prognoses.
He's learned to speak a bit -- 35 words!--and pantomimes innumerable words and phrases his brain no longer can form. Despite a weakened right leg, he has learned to walk short distances by himself. And most significantly, he has to a high degree recaptured that spark in his eyes, that sense of humor, that essence that makes him the Kevin he once was.
His road to recovery remains long -- his right arm is curled and doesn't move, his right leg needs a brace, he has lost peripheral vision. But who knows where his recovery will lead, how much farther he'll progress?
Her resolve restored, she heads to bed. Tomorrow is Day 401 of his recovery -- and of hers. And the day after that, a son, a brother, a warrior who no longer can say his own name will turn 21.
Where's the second dog tag? Hurry," Leslie says to Kevin earlier this month, as they gather his Army gear for the upcoming Purple Heart ceremony.
"Ahhh ... geez!" he retorts in mock frustration. It is a game the two often play.
"Don't get smart," Leslie teases back. "I'm your mother. I could deck you."
Smiling, Kevin, at 6 feet tall, reaches down to his 5-foot-2-inch mom and sweetly, if mockingly, pats her head.
She helps him with the dog tags. Using a cane, he turns to amble away.
"Wait. I just did something nice for you. What do you say?" she asks Kevin, whom she often calls "Buddy."
"What?" Kevin says, shrugging his shoulders and raising his arms, palms upward. His words come with difficulty, carried with a quick burst of air and a deep rasp as he struggles to enunciate. "OK ... OK ... I love ... you."
"I love you, too, but that's not what you say when someone does something nice for you."
Kevin thinks for a moment. "Oh ... thanks."
"Good job!" his mom says.
"God!" he says as he walks away, rolling his eyes in faux exasperation at a mother's prodding.
Leslie smiles. He's learning ... and exhibiting his joking personality to boot.
Nurturing, comforting and caring comes naturally to Leslie. The oldest of four children, she often looked after her siblings because her parents, Ed and Jane Juart, both worked. Her dad, an executive chef, moved the family numerous times to head institutional food operations for Stouffer's and other companies before settling in Creekside, Indiana County.
At Marion Center High School, Leslie excelled at cooking, baking and home economics and considered going to culinary school upon graduating in 1983. Instead, she married and gave birth to Breezy and Kevin.
The marriage didn't last. The couple divorced about a dozen years ago, and for most of that time the children's father had no contact with the kids. There has been intermittent contact since Kevin was wounded.
After the divorce, Leslie struggled to provide for the children. With a former boyfriend, she operated Barger's Movies and More in East Brady, a movie rental and tanning business, for about seven years. Next came an Internet scrapbooking business she sold after three years. Most recently, she worked in the billing department for Armstrong Cable, the $35,000-a-year job she left after Kevin was injured.
Kevin, who graduated from Karns City High School in 2006, wasn't an avid student. He was more interested in the thrill of flying through the air on a skateboard than understanding the physics of it. He attended Pittsburgh Technical Institute for a couple of months but quit after he broke his right ankle skateboarding -- the latest in a series of accidents, including a brain injury when he was hit by a car while riding a bike at age 7. Skateboarding mishaps over the years also accounted for more than 150 stitches and a dislocated elbow.
So, it probably wasn't a surprise that the boy who thought nothing of jumping off his roof into a swimming pool, who loved going airborne over steps on a skateboard, would join the Army's 173rd Airborne Brigade.
Still, when he told his mother of his plans, she blanched.
"I really don't want you to do this, but if you want to, I'll support you," she told him. "You know you're going to go to war, you know you're going over there."
"I know, Mom. This is what I want to do."
Two years ago today, he left for basic training. She hoped he would return alive; she feared he would return dead.
"I never thought about the middle."
Leslie found Kevin crying uncontrollably in the shower earlier this month, shortly before returning to Tampa after yet another plastic surgery at Brooke Army Medical Center in San Antonio.
"What's wrong? What's wrong?"
Sobbing, Kevin lifted his functioning left arm high above his head, and closed his hand as if grabbing something. He pointed his index finger to the sky and quickly toward the ground, like something falling. "Eeeeeee!" he said. He shook his head. And cried some more.
Leslie understood. Kevin had mimicked holding a parachute jump line in a plane and parachuting out. He loved doing that. Only now had he realized that he would never do so again, that his plans for a military career were gone forever.
On a placid day this month in Riverview's South Fork housing development, the only sounds are the soft rustle of palm fronds and workers hammering and sawing at homes under construction.
At the last home on the left at the end of Snowden Hall Place, the maroon front door opens. Leaning on his cane, Kevin, dressed as he often is in a skateboarder T-shirt, baggy shorts and sneakers, welcomes visitors to his new house with smiles and nods. With a "Whoo!" here and a "Yeah!" there, he gives a tour of the expansive, beautiful home.
For months, after Kevin fell asleep in the Veterans Affairs hospital in Tampa, Leslie and Breezy spent three or four hours nightly trying to find a home in the pricey local housing market that would be big enough for Kevin to move about easily.
Finally, they found a five-bedroom house, which they purchased for $289,000. For the down payment, they used about $60,000 of Kevin's $100,000 Army insurance -- the maximum amount paid for a traumatic brain injury. Leslie dreams that someday her son will raise a family there.
Kevin points to the small flat screen TV in front of his king-size bed, where he often watches "Harry Potter" movies, action flicks and comedies or listens to heavy metal music on an iPod. He motions to an autographed skateboard sent him by skateboarding legend Tony Hawk and a football autographed by members of the Pittsburgh Steelers' Super Bowl team. He seems particularly proud of a picture on his night stand in which he, Leslie and Breezy are smiling broadly.
Earlier that morning, Breezy moved back to Riverview to help with Kevin's care after living for about five months in San Antonio. There, she'd been tending to her boyfriend, a member of Kevin's unit whom she met while he, like Kevin, was a patient in an Army medical center.
Like her mother, Breezy is outgoing, sweet and kind, with an easy smile but a world-weariness that feels misplaced in someone so young. Like anyone close to a severely wounded warrior, she, too, has been wounded, as have other family members. Leslie's parents recently moved to Riverview to lend a hand with Kevin's care. Her sister and brother-in-law, Kim and Joe Piriano from Creekside, plan to soon quit their jobs to do the same.
Breezy has had some therapy but still struggles to accept the scope of her brother's injuries. Like Leslie, she feels she needs more counseling to deal with anger, stress and sorrow, but the family has no insurance to cover it.
"I have a lot of anger about it, a lot of questions, but they're always going to be unanswered." She breaks down.
She has put her once-independent personal life on hold. She is searching for a job to support her and her mother while Kevin continues to receive his Army pay.
She misses Western Pennsylvania, where she left her friends, family and a $24,000-a-year job as a clerk processing federal disability claims in the underground Iron Mountain, the former limestone-mine-turned-storage-vault near Butler.
As if on cue, as Breezy sorts laundry and discusses how she learned of her brother's wounding -- "It was 2:22 p.m., I remember" -- Kevin enters the garage, wearing a cowboy hat she brought back from Texas. With the hat askew on his head, he makes a funny face and shouts, "Whoo! Whoo!" His mother, sister and visitors crack up.
"You're out of control, boy," she says through her laughter. "How am I supposed to take you seriously?"
Mom!" he says, feigning impatience -- or maybe not.
"What? Am I too slow?" Leslie asks as she makes waffles for breakfast.
"Yep ... Ahhhh!" he says, tapping the fingers of his left hand on the glass table top.
She brings him the waffles after cutting them because he cannot do so himself.
"We're ... not ... worthy," he jokes, bowing down as he strings together the catchphrase from the movie "Wayne's World."
Just as quickly, the mood turns. Leslie tells Kevin they have to leave soon. Recently, it's been a struggle to get him to go to his speech, occupational and physical therapies.
"Mom! No!" he says defiantly, exhibiting a trait that often emerges after severe brain injuries.
Leslie tells him he has to go and that's it. She says they'll also visit friends on the polytrauma unit where he once was a patient. He gets in the car and during the 30-minute ride dances in his seat to a heavy metal song he blasts on the radio -- an unusual choice because he's often over-stimulated by loud noises.
But upon arriving at James A. Haley Veterans Hospital in Tampa, Kevin turns his wheelchair away from the building where therapy is held. Now Leslie is frustrated.
"You have to go to therapy!" she says sternly. "You have to go to therapy! That's the way it is!"
He throws down his skateboarder cap. He buries his head in his hands. Finally, reluctantly, he listens to his mother.
In any other war, Kevin and others who suffered such severe battle injuries would have died. But the wars in Iraq and Afghanistan have resulted in comparatively low mortality rates, the Center for Naval Analysis noted in an April report titled "Economic Impact on Caregivers of the Seriously Wounded, Ill and Injured."
The center, a federally funded research and development organization serving defense agencies, noted that in World Wars I and II, the ratio of wounded to killed service members averaged about 1.7 wounded for every service member who died. .
In Korea and Vietnam, air medical evacuation improved the injury survival rate to about three service members wounded for every fatality. In the two most recent conflicts the ratio has ballooned to about 7 to 1, largely due to improved body armor and battlefield medicine techniques.
In its report, the center estimated that each year another 720 seriously wounded, ill or injured service members will need a caregiver for an average of 19 months. About three of every four caregivers have quit or taken time from either work or school. Based on those figures, the center estimated that over the average 19-month period of caregiving, economic losses suffered by those tending to wounding warriors amounts to $43.4 million.
In about half of the cases, mothers like Leslie are the primary caregiver for those not married and under 30 years old. Noneconomic impacts on caregivers, the report noted, include high levels of emotional distress, family dysfunction, anxiety and clinical depression.
"Family support is critical to patients' successful rehabilitation ..." the report states. "There is the belief that caregivers speed the recovery process of service members."
Kevin took his first drink -- a sip of Pepsi -- on Sept. 8, 2008. He spoke his first word --"Hi" -- and ate his first food -- pudding -- on Sept. 12. He took his first step Nov. 2.
But it was his first visit to East Brady in May that Leslie views as the biggest step, a life-altering experience. As Leslie and Kevin rolled into town after driving north from Florida, Kevin became very excited. "Oh! Oh!" he said.
It was there that much of his memory returned -- he recognized family and friends, understood when they spoke of shared experiences. For Leslie, much of Kevin returned during that trip -- his personality, his spark, his self.
They drove home on May 31 -- the one-year anniversary of Kevin's wounding. As Kevin slept, Leslie thought of that day and looked upon her son -- scarred, without full use of his right side, brain injured. Yet, she saw hope.
Her thoughts shifted to the fates of Spc. James Finley of Missouri and Pfc. Andrew Shields of Washington, the two soldiers killed in the suicide-bomber attack that wounded her son. Her heart broke, thinking of those warriors, of what their families had lost.
"How can I possibly feel bad when I have so much more than so many other people?" she thought.
On a day that a year earlier altered life forever for her son, her family, herself, she mourned for others.
It was for them she wept.