Conference: FOIA@50
June 2-4, 2016
Columbia Journalism School
2950 Broadway
New York, NY, 10026, United States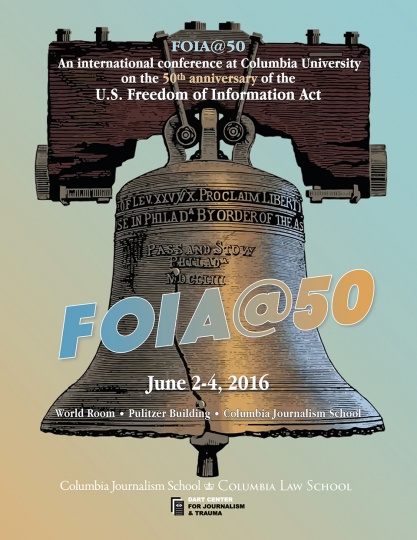 On June 2 - June 4, 2016, the Columbia Journalism School and the Columbia Law School will host FOIA@50, a university-wide conference on the 50th anniversary of the U.S. Freedom of Information Act (FOIA). FOIA@50 is organized by Professors David Pozen and Michael Schudson and is sponsored by the Office of the President and the Dart Center for Journalism and Trauma.

FOIA@50 will bring together dozens of leading thinkers, policy-makers, and advocates on "open government" issues from within and beyond the United States to consider the past, present, and future of FOIA. Keynote speakers include Melanie Ann Pustay, Director of the Office of Information Policy at the U.S. Department of Justice; Tom Blanton, Director of the National Security Archive; and Cass Sunstein, Robert Walmsley University Professor at Harvard.  Panel discussions will address such issues as the history of FOIA, the costs and benefits of the FOIA model, FOIA's relationship with technology and other transparency mechanisms, and lessons to learn from foreign and state-level approaches.

FOIA@50 promises to be an important international event on the regulation of freedom of information. The conference proceedings will be open to the public, but space is limited. If you wish to attend, you must register in advance by emailing [email protected].