FotoEvidence Book Award Exhibit & Book Launch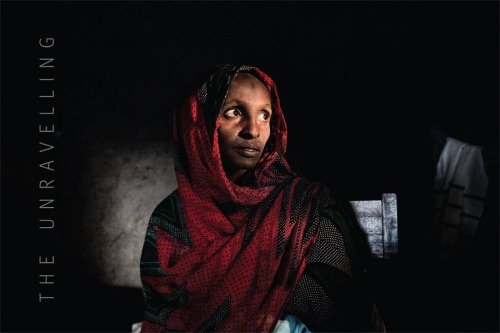 The exhibit features the work of Marcus Bleasdale, winner of the 2015 FotoEvidence Book Award and the finalists Fabio Bucciarelli, Matt Black, Jan Grarup, Daniele Volpe.
FINALISTS

Fabio Bucciarelli 
On the Brink of an Abyss: a long term project whose aim is to document the evolution of South Sudan and its state of conflict, while remembering the deep origin of an unknown Africa.

Matt Black 
The Geography of Poverty: Today, over 45 million people qualify as poor in the US, the largest number ever, earning less than $11,490 annual income for one person or $23,550 for a family of four. At the same time, the share of income going to the top one percent of the population has doubled, rising from nine percent in 1976 to 20 percent in 2011. At the very top, the richest 0.1 percent's share of the national wealth has tripled.

Jan Grarup 
Somalia in Transition: The state of Somalia, born in 1960, when British Somaliland and what had formerly been Italian Somaliland united and declared independence,

But for the past 22 years, this east African state has been one of the world's most troubled countries. Chaos and violence have reigned since civil war broke out in 1991, and several famines in the past decade have caused hundreds of thousands to flee.In 2006, the Islamic Courts Union (ICU) took control of much of central and southern Somalia, imposing a strict interpretation of sharia law over the areas it ruled. The embattled TFG was relegated to control over only a small part of Mogadishu, the capital. In 2011, a severe drought exacerbated by ongoing civil strife caused thousands to flee to neighbouring Ethiopia and Kenya, and pushed many Somalis to the brink of starvation.

Daniele Volpe 
Guatemala – Ixil Genocide: In the early eighties, the Ixil Community was one of the principal targets of a genocide operation, involving systematic rape, forced displacements and hunger during the Guatemalan civil war. According to a 1999 United Nations truth commission, between 70 and 90% of Ixil villages were razed and 60% of the population in the highland region were forced to flee to the mountains. By 1996, it was estimated that some 7,000 Maya Ixil had been killed.
This event is free and open to the public. Click here for more information.