Reading: Judith Matloff, No Friends But the Mountains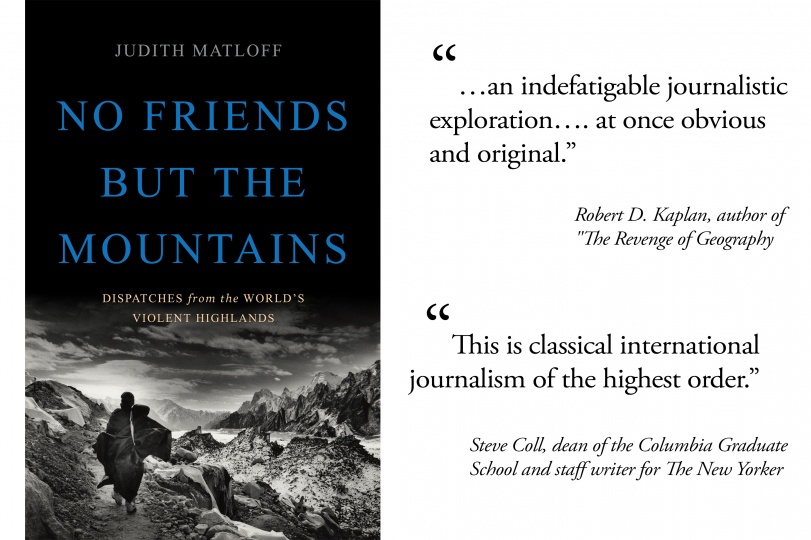 A veteran war correspondent journeys to remote mountain communities across the globe—from Albania and Chechnya to Nepal and Colombia—to investigate why so many conflicts occur at great heights
Mountainous regions are home to only ten percent of the world's population yet host a strikingly disproportionate share of the world's conflicts—and as the veteran war correspondent Judith Matloff argues, the drugs, terrorism, and instability cascading down the mountainside affect us all. Traveling to conflict zones across the world, she introduces us to Albanian teenagers involved in ancient blood feuds, Mexican peasants hunting down violent poppy growers, and Jihadists who have resisted the Russian military for decades, among others. A work of political travel writing in the vein of Ryszard Kapuscinski and Robert Kaplan, NO FRIENDS BUT THE MOUNTAINS is an indelible portrait of the conflicts that have unexpectedly shaped our world.
"Vistas, vainglory, vengeance and violence mark Judith Matloff's engaging voyage across mountainous terrains. She reports with empathy on religious charities, anthropologists, guerrillas, and state armies all attempting to pacify some of the world's least governed spaces."
—David D. Laitin, professor of political science at Stanford University and author of Nations, States and Violence
"Americans discount geography precisely because they have been the beneficiaries of it. People elsewhere know better. Judith Matloff's book is an indefatigable journalistic exploration of how mountains shape, sustain, and even determine war and culture around the world. Her argument, which her reporting makes undeniable, is at once obvious and original."
—Robert D. Kaplan, author of The Revenge of Geography
"Judith Matloff's book is a political geography of mountains, once the haunt of witches, now—in many parts of the world—strongholds of outlaws and rebels, told with a sense of drama by someone who has clearly done her fieldwork."
—Yi-Fu Tuan, author of Romantic Geography