Book Launch: Our Women On the Ground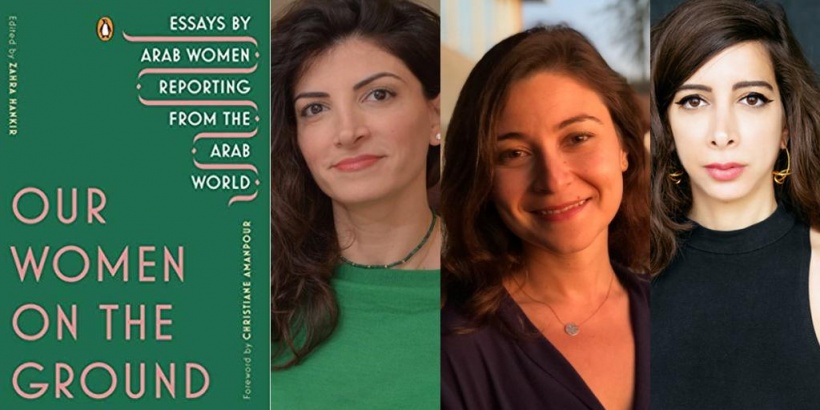 Nineteen Arab women journalists speak out about what it's like to report on their changing homelands in this first-of-its-kind essay collection, with a foreword by CNN chief international correspondent Christiane Amanpour.
A growing number of intrepid Arab and Middle Eastern sahafiyat—female journalists—are working tirelessly to shape nuanced narratives about their changing homelands, often risking their lives on the front lines of war. From sexual harassment on the streets of Cairo to the difficulty of traveling without a male relative in Yemen, their challenges are unique—as are their advantages, such as being able to speak candidly with other women at a Syrian medical clinic or attend an exclusive beauty contest for sheep in Saudi Arabia. 
In Our Women on the Ground, nineteen of these women tell us, in their own words, about what it's like to report on conflicts that (quite literally) hit close to home. Their daring and heartfelt stories, told here for the first time, shatter stereotypes about the region's women and provide an urgently needed perspective on a part of the world that is frequently misunderstood.
Join us on the 2nd Floor of the Strand Bookstore as contributors Nada Bakri and Nour Malas discuss their work with editor Zahra Hankir.
INCLUDING ESSAYS BY: Donna Abu-Nasr, Aida Alami, Hannah Allam, Jane Arraf, Lina Attalah, Nada Bakri, Shamael Elnoor, Zaina Erhaim, Asmaa al-Ghoul, Hind Hassan, Eman Helal, Zeina Karam, Roula Khalaf, Nour Malas, Hwaida Saad, Amira Al-Sharif, Heba Shibani, Lina Sinjab, and Natacha Yazbeck
ABOUT THE EDITOR:
Zahra Hankir is a Lebanese-British journalist who writes about the intersection of politics, culture, and society in the Middle East. Her work has appeared in Vice, BBC News, Al Jazeera English, Bloomberg Businessweek, Roads & Kingdoms, and Literary Hub, among others. She was awarded a Jack R. Howard Fellowship in International Journalism to attend the Columbia Journalism School and holds degrees in politics and Middle Eastern studies. 
ABOUT THE CONTRIBUTORS:
Nada Bakri is a Lebanese journalist who covered the Middle East for more than a decade for newspapers including the Washington Post, the New York Times, and the Daily Star, an English-language daily published in Beirut. Bakri was based in Beirut and Baghdad throughout her career, covering major events, including the 2006 July War between Israel and Hezbollah and the Arab Spring. Bakri graduated from the Lebanese American University with a bachelor's degree in journalism and received a master's degree from Columbia University's Graduate School of Journalism. She currently lives in Cambridge, Massachusetts, with her son.
Nour Malas is a Syrian American journalist who has worked for the Wall Street Journal for the past ten years. As a Middle East correspondent, she covered a region in upheaval through stories on business, culture, and societies in transition in the Arab world. Her reporting has included the Arab Spring uprisings and the rise of a new global terrorist group; the people and communities caught in resurgent terrorism and war; and refugee crises that tested borders and security in Europe and beyond. She joined the newspaper's U.S. reporting team in late 2017. She is a graduate of the American University of Beirut.