POSTPONED: Age Boom Academy 2020 "Combatting Loneliness in Aging"
June 4-6, 2020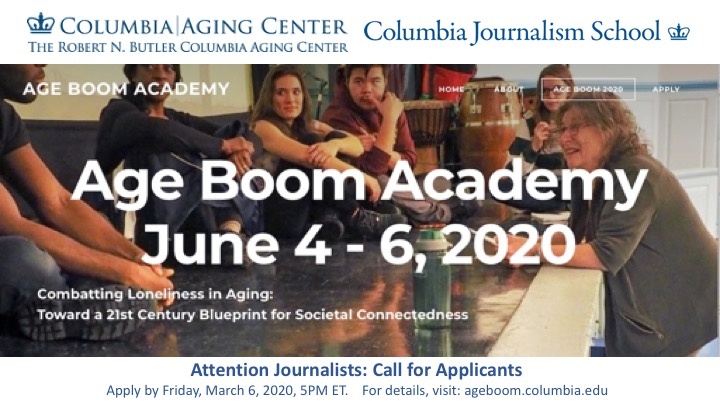 The Columbia Aging Center's signature press training was founded by globally-recognized geriatric pioneer Robert N. Butler, MD, and prize-winning New York Times editor and writer Jack Rosenthal as an intensive, high-impact training seminar for journalists, editors, and producers in all media  – print, on air and online – to deepen understanding of the health, economic, and social issues around aging.

​Run in partnership with the Columbia School of Journalism, the next Age Boom Academy "Combatting Loneliness in Aging: Toward a 21st Century Blueprint for Societal Connectedness" will take place from June 4-6, 2020. The deadline for journalists to apply is Friday, March 6, 2020, 5PM ET.
The goal of our Age Boom Academy is to engage and train journalists in current science and policies related to longevity.  This is the sole training for a competitively-selected group of journalists to focus on the research and empirical data on the health consequences of loneliness in America, its causes, and on how policies and practices could build human connectivity, cohesion and foster purpose for older adults.

Our speakers will feature Linda P. Fried, MD, MPH; Louise Hawkley, PhD; Sara Czaja, PhD; Tom Kamber, PhD; Becca Levy, PhD; Roger O'Sullivan, and many others. Senior journalists joining us will be Bruce Shapiro, Rich Eisenberg, Chris Farrell, Kerry Hannon, and Carol Hymowitz.
For more information click here.