Covering Fires Amid a Changing Climate
October 19, 2020
Monday 6:00 pm EDT / Tuesday 9:00 AM AEDT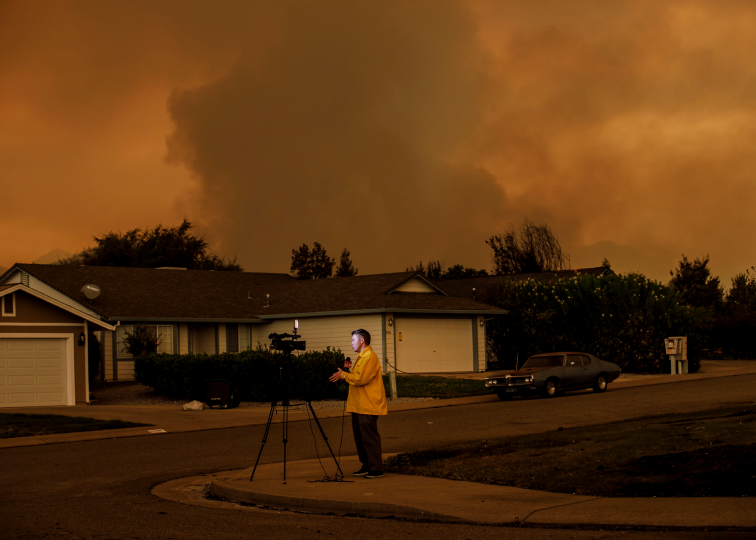 Four journalists will discuss the practice of — and thinking behind — reporting on wildfires in Australia and the United States. Considering the ethics of reporting responsibly and safely, as well as the myriad challenges of covering wildfires, they will also share thoughts on how to sensitively approach themes of aftermath, recovery and community resilience. 
Speakers
Peter Drought is Senior Camera Operator, TV News & Current Affairs at ABC TV Australia. 
Lizzie Johnson is a reporter at the San Francisco Chronicle who frequently writes about environmental issues. She led The Chronicle's coverage of the Wine Country Wildfires — the most destructive blazes in state history. Johnson joined The Chronicle in 2015 to cover City Hall and moved to the metro desk in 2017. Before joining the newsroom, Johnson worked at the Chicago Tribune, the Dallas Morning News, the Omaha World-Herald and El Sol de San Telmo, a daily in Buenos Aires. In 2021, her book on California's wildfires will be published.
Lauren Markham​ is a fiction writer, essayist and journalist whose work focuses on issues related to youth, migration, the environment and her home state of California. Markham is the author of The Far Away Brothers: Two Young Migrants and the Making of an American Life (Crown, September 2017) and her work has appeared in outlets such as Harper's, The New York Review of Books, Mother Jones, California Sunday and Narrative Magazine.
Moderator: Karen Percy is the chair of Dart Asia Pacific. She has more than 30 years of journalism experience, working primarily at the Australian Broadcasting Corporation in Melbourne, Australia. She has also worked as the ABC's South East Asia Correspondent in Bangkok, as a freelance correspondent in Moscow and in various news agencies including the Canadian Broadcasting Corporation and Deutsche Welle. As a foreign correspondent, she has covered a coup, an assassination, protest movements,  natural disasters. Back home, she's covered crime scenes and the courts round. Percy is a director of the Walkley Foundation, which fosters excellence in Australian journalism, and is a co-vice president of the Media section of Media Entertainment and Arts Alliance, which supports women in the workplace and hosts discussion and networking opportunities. Percy is also a former Dart Center Ochberg Fellow and Senior Fellow, and is dedicated to raising awareness about the impacts of trauma in media workers as well as advocating for a trauma-informed approach to journalism.