"What Happened to You?" A Conversation with Dr. Bruce Perry and Oprah Winfrey
September 22, 2021
6:00pm EST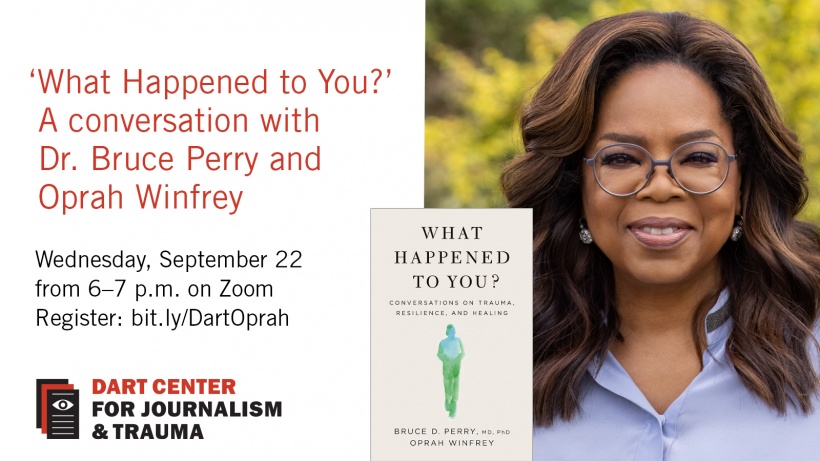 How does childhood adversity shape adult lives? And how can we tell better stories about it? In their new book, 
"What Happened to You?" (Flatiron Books, 2021)
,
 Oprah Winfrey and psychiatrist Bruce Perry M.D. explore the science and stories behind childhood trauma.
Winfrey and Dr. Perry joined 
Dart Center executive director Bruce Shapiro on September 22, 2021 for a conversation about trauma, resilience, neuroscience and the news agenda. 
OPRAH WINFREY was the host and supervising producer of the top-rated, award-winning The Oprah Winfrey Show, where she entertained, enlightened, and uplifted millions of viewers for twenty-five years. Her accomplishments as a global media leader and philanthropist have established her as one of the most respected and admired public figures today.
BRUCE D. PERRY, M.D., Ph.D., a child psychiatrist and neuroscientist, is the principal of the Neurosequential Network, senior fellow of the ChildTrauma Academy and an adjunct professor of psychiatry at the Northwestern University School of Medicine in Chicago. He is the author, with Maia Szalavitz, of "The Boy Who Was Raised as a Dog," a bestselling book based on his work with maltreated children, and "Born for Love," about the essential nature of empathy.
BRUCE SHAPIRO is Executive Director of the Dart Center for Journalism and Trauma, a project encouraging innovative reporting on violence, conflict and tragedy worldwide. An award-winning reporter on human rights, criminal justice and politics, Shapiro is a contributing editor at The Nation and U.S. correspondent for Late Night Live on the Australian Broadcasting Corporation's Radio National. He is Adjunct Professor and Senior Advisor for Academic Affairs at Columbia University, where he teaches journalism ethics.
Full event video is available here: