Resilience in Journalism and Free Speech in the Age of Social Media
April 18, 2023
3:00 - 7:00pm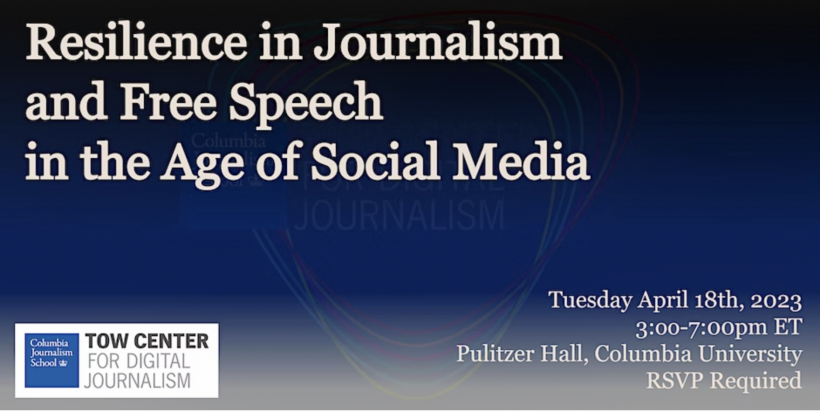 Participants: 
Emily Bell, Lee C. Bollinger, Jelani Cobb, Ronan Farrow, Rana Foroohar, Jack Goldsmith, Chris Hayes, Mukhtar M. Ibrahim, Jameel Jaffer, Jeh C. Johnson, Azmat Khan, Rachel Maddow, David McCraw, Maria Ressa, Bruce Shapiro and Claire Shipman
Presented by the Tow Center for Digital Journalism
Hosted by Dean Jelani Cobb and Tow Center Director Emily Bell from 3:00 to 6:00pm followed by a reception from 6:00 to 7:00pm.
We take this occasion to honor the contributions of Lee C. Bollinger Columbia University President / Leading First Amendment Scholar and co-editor with Geoffrey R. Stone of the recently-published Social Media, Freedom of Speech and the Future of Our Democracy.
Complimentary signed copies of the book will be available to our guests while supplies last.
This event is free and open to the Columbia community and to the public on a space available basis. Advanced ticketing will be required.
This event is sponsored by The Tow Foundation.
Please arrive 15 minutes before the start of the event to guarantee your seat.
Columbia University is committed to protecting the health and safety of its community. To that end, all visiting alumni and guests must meet the University requirement of full vaccination status in order to attend in-person events. Vaccination cards may be checked upon entry to all venues.
By RSVP'ing, I attest that I meet the University's vaccination requirement for event attendance and that I will be prepared to provide proof day of.