Utoya und die Folgen - Hinweise zur Berichterstattung (engl./dtsch.)
July 26, 2011
Nach den Ereignissen in Norwegen, bei dem über 76 Menschen getötet wurden, hat das Dart Center einige hilfreiche Materialien und weiteres für Journalisten zusammengestellt.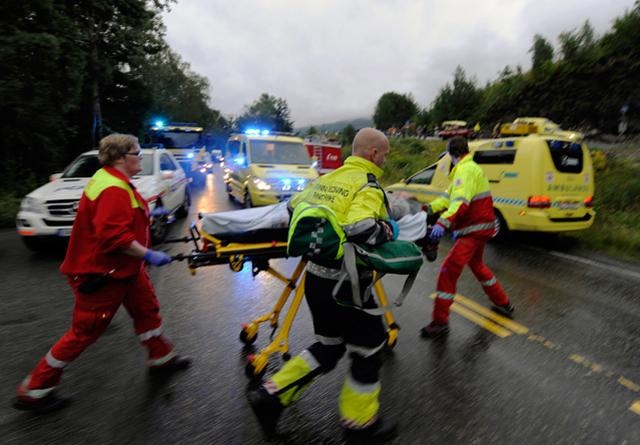 Plötzlich mittendrin: Medien und Amokläufe
Täter nicht durch Bilder verherrlichen und sensibler Umgang mit Opfern: Der so genannte Amoklauf in Winnenden, bei dem 16 Menschen getötet wurden, stellte Berichterstatter vor einer großen Herausforderung und auch Verantwortung. Auch die Ereignisse in Norwegen werfen diese Fragen erneut auf
Die wichtigsten Regeln für Journalisten aus der Sicht der psychologischen Nachsorge Winnenden (Quelle: Thomas Weber, Trauma Transform Consult)
Opferschutz und Medien - wie es zusammen geht
Die einen wollen schützen, die anderen berichten. Wie aber können Journalisten mit Therapeuten im Falle eines tragischen Ereignisses kooperieren? Das diskutierten u.a. Chefredakteur Frank Nipkau und Psychotherapeut Thomas Weber auf der ECOTS 2011 in Wien.
"Unsere Kinder wurden uns zweimal entrissen"
Gisela Mayer ist die Mutter einer der Ermordeten von Winnenden. Die Ethiklehrerin trauert um ihre 24-jährige Tochter Nina, die als Referendarin an der Albertville-Realschule arbeitete. Mit dem journalist sprach sie eineinhalb Jahre später über ihre Erfahrungen mit Journalisten und deren Berichterstattung aus Winnenden.
Weiteres in Englisch:
COVERING MASS KILLINGS

Psychiatrist Frank Ochberg, M.D. and Bruce Shapiro, executive director of the Dart Center, share insights on covering mass killings in the aftermath of the Arizona shooting that left six dead and a U.S. Congresswoman grievously injured.

Reporter Dave Cullen's lessons from a decade of reporting on the Columbine attacks.

A self-study unit on covering terrorism.

Quick tips on working with victims and survivors from Dart Centre Asia Pacific.
A compilation of journalist-to-journalist advice.

For those who read German, Gisela Mayer, the mother of a victim of the school shooting in Winnenden describes her family's experience of finding itself subject to media attention.
COVERING CHILDREN AND TEENAGERS

Quick tips for interviewing children.

The Dart Center's comprehensive guide, "Covering Children and Trauma."

ADVICE FOR YOUTH JOURNALISTS

A series of resources on covering school shootings, with lessons from student journalists who covered shootings at Northern Illinois University and Virginia Tech.
ADVICE FOR EDITORS

Dart Center Executive Director Bruce Shapiro passes on lessons for newsrooms learned from the Virginia Tech shooting.

Quick tips on how to support your reporters.
SELF-CARE

Quick tips on self-care from Dart Centre Asia Pacific.