Die Zukunft des Journalismus
August 13, 2012
Amokläufe, Gewalt, Konflikte und die Zukunft des Journalismus: Wie gehen Medienarbeiter mit traumatischen Situationen um? Am 15.10. 2012 lädt das Dart Center in Kooperation mit dem DJV, dem IMCH und dem Amerikazentrum zu einer Diskussion nach Hamburg ein.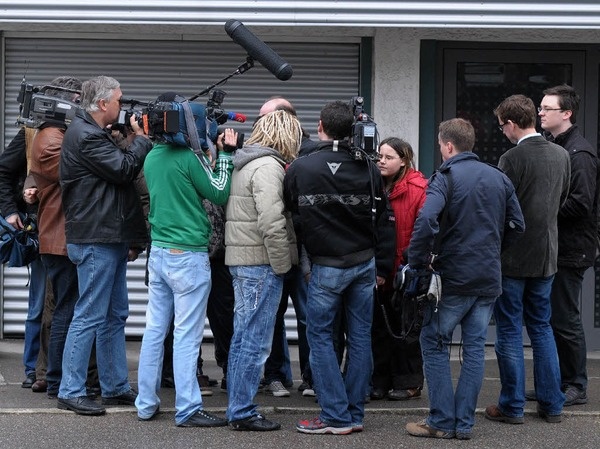 Einladung zum Vortrag und Panel

Amokläufe, Gewalt, Konflikte und die Zukunft des Journalismus: Wie gehen Medienarbeiter mit traumatischen Situationen um?
  Montag, 15. Oktober 2012

18 bis 19.15 Uhr
Amerikazentrum, Am Sandtorkai 48, Hamburg
Einführung
Dr. Inmi K. Patterson, US Consul General Hamburg
Vortrag
Bruce Shapiro, Executive Director, DART Center for Journalism and Trauma, Columbia
University Graduate School of Journalism New York
Podiumsdiskussion und Q&A
Bruce Shapiro,
Gisela Mayer, Aktionsbündnis Amoklauf Winnenden
Thomas Görger, Journalist/Krisenberichterstatter
Petra Tabeling, Leiterin, Dart Center Deutschland
Moderator: Dr. Steffen Burkhardt, Director, International Media Center Hamburg (IMCH)
Anschließend: Empfang
Anmeldungen erforderlich bis zum 12.10.2012: [email protected]; Tel 040 / 70 38 36 88
Die Veranstaltung ist in englischer Sprache.
Weitere Infos:

Amokläufe, Naturkatastrophen oder  Verkehrsunfälle: Berichte über menschliche Tragödien, Gewalttaten und Verluste stellen Journalisten vor große Herausforderungen. Die Berichterstattung darüber erfordert Feingefühl und Kenntnis über die Auswirkungen von Trauma.  Der Preis, den man zahlt, wenn diese Art von Berichterstattung nicht sensibel und sachgerecht geleistet wird, ist hoch. Unvermittelte Medienaufmerksamkeit, die unkontrolliert und unerwartet über Opfer und Überlebende hereinbricht, kann das Leid noch verschlimmern. Schlecht recherchierte Berichte können Opfer und ganze Gesellschaftsgruppen stigmatisieren und abgrenzen.  Unsensible Fragen können die Betroffenen psychisch schädigen. Und wohin geht der Journalist mit seinen eigenen Belastungen? Was brauchen Medienarbeiter, um angemessen berichten können?

Mitwirkende:
Bruce Shapiro, Bruce Shapiro ist der Direktor des Dart Centers für Journalismus und Trauma mit Hauptsitz an der Columbia Universität in New York City.  Shapiro ist ein bekannter und mehrfach ausgezeichneter Journalist  und Buchautor.  Er unterrichtet investigativen Journalismus an der renommierten Yale Universität.
Gisela Mayer,  Dozentin für Ethik, verlor bei dem Amoklauf in Winnenden ihre Tochter, die als Referendarin an der Albertville-Realschule arbeitete. Sie ist Mitbegründerin des Aktionsbündnisses Winnenden und Autorin des Buches "Die Kälte darf nicht siegen". 
Thomas Görger, freier Journalist vor allem für verschiedene Nachrichten-, Magazin- und Reportage-Formate des WDR-Fernsehens. Seine Einsätze als Sonder-Korrespondent für TV und Hörfunk in Krisen- undKatastrophengebieten führten ihn seit 1999 in die Türkei, nach Asien und Afrika. Unter anderem ist er Autor einer WDR-Dokumentation zum Thema "Trauma im journalistischen Alltag" auch in der lokalen und regionalen Berichterstattung.
Petra Tabeling, freie Journalistin und  Dart Ochberg Fellow.  Sie leitet und  betreut die deutschen Aktivitäten des Dart Centres mit Sitz in Köln und arbeitet als Medientrainerin.
Steffen Burkhardt forscht und lehrt am Lehrstuhl Journalistik und Kommunikationswissenschaft der Universität Hamburg mit den Arbeitsschwerpunkten Öffentlichkeits- und Mediensoziologie, Kommunikationstheorien und Social Media. Er leitet das International Media Center Hamburg (IMCH).
 
Die Einladung als pdf-Version erhalten Sie hier.
Mehr über die Arbeit des Dart Centres in den Medien (Presseübersicht)

Das Dart Center for Journalism and Trauma an der Columbia University Graduate
School of Journalism in New York (dartcenter.org) versteht sich als Forum und Ressource,
um sensible und sachkundige Berichterstattung über Tragödien und Gewalt zu fördern.
Es unterstützt die Aus- und Weiterbildung von Journalisten und bietet hilfreiche
Anleitungen über Journalismus und Trauma an.
Das Dart Center etablierte 2007 ein Büro und weitere Programme in Deutschland (dartcenter.org/german). Seit 2012 besteht ein Memorandum of Understanding mit dem International Media Center Hamburg.