Dart Names 13 Ochberg Fellows
November 11, 2015
The Dart Center has announced the recipients of the 2016 Ochberg Fellowship, a program that deepens journalists' reporting of violence, conflict and tragedy. This year's Fellows include outstanding senior and mid-career journalists in all media, representing nine nations and five continents.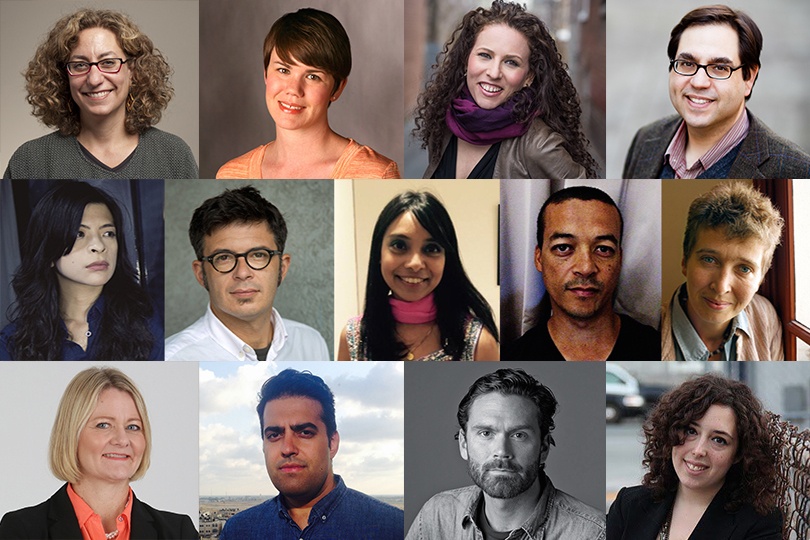 The Dart Center for Journalism and Trauma at Columbia University's Graduate School of Journalism announced today the recipients of the 2016 Ochberg Fellowship.
Established in 1999 for journalists seeking to deepen their knowledge of trauma and improve reporting of traumatic events, the Ochberg Fellowship is awarded to outstanding senior and mid-career journalists in all media who have specialized in covering violence, conflict and tragedy, including such issues as street crime, family violence, natural disasters, war, conflict and genocide.
"The newly-selected Ochberg Fellows from nine countries represent the best of trauma-aware journalism worldwide. At a time of upheaval in the news industry they've all shown a deep and enduring commitment to innovative, compassionate coverage of how violence and tragedy shape the lives of individuals, communities and nations," said Bruce Shapiro, the Dart Center's executive director. Through seminars with leading experts in trauma science and journalism practitioners, the weeklong Fellowship offers journalists a unique opportunity to learn about the many dimensions of psychological trauma; to explore ethical and craft challenges raised by their work; and to forge relationships with colleagues who share their interests and commitment.
The 2016 Dart Ochberg Fellows are (in alphabetical order; detailed biographies are below):
Alberto Arce – Correspondent, AP, Mexico City, Mexico
Karen Brown – Reporter, New England Public Radio, Amherst, MA
Rachel Dissell – Reporter, The Plain Dealer, Cleveland, OH
Alex Duval Smith – Freelance Journalist, Warsaw, Poland
Patricia Evangelista – Multimedia Manager, Rappler, Pasig City, Philippines
Peter Klein – Broadcast Journalist and director, Global Reporting Centre, Vancouver, Canada
Pete Muller – Photographer, Nairobi, Kenya
Dhruti Shah – Social News Producer, BBC, London, United Kingdom
Beauregard Tromp – Multimedia Journalist, Johannesburg, South Africa
Imtiaz Tyab – Middle East Correspondent, Al Jazeera English, Jerusalem, Israel
Shoshana Walter – Reporter, Center for Investigative Reporting, San Francisco, CA
Sarah Wildman – Freelance Journalist, Washington, DC
Cindy Wockner – Network Investigations Editor, Brisbane, Australia
Brief bios of the 2016 Fellows:
Alberto Arce joined the Associated Press in 2012 as a correspondent in Honduras where he also covered El Salvador. Previously he wrote investigative narratives for Guatemala's Plaza Pública, and since 2004 covered conflicts in Lebanon, Libya, Iraq, Afghanistan and Palestine as a freelance cameraman and writer for Spanish and international media. He has been recognized with the 2009 Anna Lindh award for his coverage of Cast Lead Operation from the Gaza Strip, a 2012 Rory Peck award for his coverage of the battle of Misrata in Libya and a 2013 Overseas Press Club award for his work in Central America.   
Karen Brown has been a reporter at New England Public Radio since 1998, focusing primarily on health and mental health issues. She also freelances for NPR, The Boston Globe, NOVA Next, and other national outlets. Brown has produced several radio documentaries that address the effects of trauma, including "Life After Stress: The Biology of Trauma and Resilience," "Never Forget: Holocaust Survivors Contend With New Memories of Past Trauma," and "Love, War, and PTSD: Anna and Peter Mohan." She was a 2012-13 MIT-Knight Fellow in Science Journalism and a 2004-5 Rosalynn Carter Fellow in Mental Health Journalism. She received a Master of Journalism from the University of California at Berkeley in 1996.
Rachel Dissell has been a reporter for The Plain Dealer since 2002 where she focuses on the impact of violence against women and children and other social justice issues. She has written investigative pieces about Cleveland's response to sexual assault, teen dating violence, the juvenile justice system and, most recently, lead poisoning. Her work with colleague Leila Atassi spurred statewide changes into how rape kits are tested and has led to the reinvestigation of thousands of rape cases and indictments in 400 previously unsolved rape cases. In addition to numerous state and local awards, Dissell won the 2008 Dart Award for her nine-part series "Johanna: Facing Forward" which chronicled the life of Johanna Orozco, a Cleveland teen who was raped and shot by her ex-boyfriend. The series was the basis of a stage play that opened in Cleveland in May 2015. Dissell is an adjunct professor at Kent State University, her alma mater.
Alex Duval Smith is a freelance journalist who works mainly for British and French text, audio and visual media. In 1998 she was appointed The Guardian's Africa Correspondent. Since then, most of her work has focused on Africa where she has covered all aspects of life across the continent. She has also reported from many conflicts and their aftermath. Most recently as the BBC's resident correspondent in Mali, she dealt with safety threats on many levels. After years of parachuting into stories, she faced the new challenge of living among people who had experienced extreme levels of trauma. In October 2015 she moved to Poland, where she is reporting primarily for The Guardian.
Patricia Evangelista is a multimedia reporter working in text, video and photography. She covers conflict, disaster and human rights for the online news agency Rappler, and is a writer-at-large for Esquire Philippines. Her work ranges from the largely taboo issues of abortion and contraception in Catholic Philippines to the 2009 massacre of journalists in Ampatuan, Maguindanao. In 2014, she won the Kate Webb Prize for her coverage of the siege of Zamboanga and the aftermath of Super Typhoon Haiyan.
Peter Klein is a broadcast journalist and the founder of the Global Reporting Centre, a non-profit focused on producing and innovating journalism on underreported issues around the world. He is the former director of the University of British Columbia Graduate School of Journalism, where he continues to teach the International Reporting course. Klein was a longtime producer at CBS News 60 Minutes, and is a regular opinion contributor to The Globe & Mail. He is the recipient of numerous awards, including several Emmy, Murrow and Sigma Delta Chi awards. He has an MS in Journalism from Columbia, and lives in Vancouver, Canada.
Pete Muller is an American photographer based in Nairobi, Kenya. His work focuses on masculinity, national identity and conflict in post-colonial states. He works on a mix of editorial assignments and long-term personal projects. His ongoing work, A Tale of Two Wolves, examines the interplay between concepts of masculinity, male experience and violence. He has worked in South Sudan, Democratic Republic of Congo, Somalia, the Palestinian Territories, Afghanistan, Zimbabwe, Sierra Leone and elsewhere. He is a contributing photographer to National Geographic Magazine, TIME Magazine, and the Washington Post and has received awards from World Press Photo, the Overseas Press Club, TIME Magazine, Pictures of the Year International, the Open Society Institute and others. He is member of the photo collective, Prime.
Dhruti Shah is a journalist for the BBC specializing in verification, user generated content, investigative reporting and creative storytelling through social media. Currently a producer at the BBC's User Generated Content Hub, she has worked across much of the BBC including its news website, flagship investigations program Panorama, the Natural History Unit and the World Service. Shah has a track record of finding offbeat stories on a wide range of issues. She has spoken on many global panels about digital storytelling, ethics, and vicarious trauma. She is also a member of the Women of Future network and the Clore Cultural Leadership network.
Beauregard Tromp is a journalist who has covered conflicts and wars in countries including Burundi, Sudan, the Democratic Republic of Congo, Egypt and his native South Africa. A 2013 Nieman Fellow, Tromp is a past winner of African Journalist of the Year as well as South African Journalist of the Year. A visiting Knight Professor at the University of Miami, he helped lead a team of multimedia journalists documenting 20 years of democracy in South Africa. More recently he was singled out for his coverage of xenophobic violence in South Africa, where he produced a series detailing the historical and contemporary social events leading up to the brutal killing of a Mozambican national. He is currently working with the 19 Million Project to identify innovative, tangible interventions to assist with the migrant 'crisis'. Tromp is the co-author of the bestselling biography of iconic freedom fighter Chris Hani. Reporting for both newspapers and television, his work has appeared in Independent Newspapers titles, the pan-African e-news Africa television station and he currently writes for The Sunday Times newspaper in South Africa.
Imtiaz Tyab is a Jerusalem-based correspondent for Al Jazeera English. He reports extensively on the Israeli-Palestinian conflict, including from Gaza during the 2014 war. Tyab also reports from across the Middle East, including Iraq. He was previously based in Islamabad where he covered Pakistan and Afghanistan. Tyab was one of the first international journalists to report live from Abbottabad after the 2011 killing of Osama Bin Ladin by U.S. Special Forces and was in Kabul during the 2014 Afghanistan general elections; the country's first ever democratic transition of power which was marred by violence. Tyab joined AJE in 2010 as a North America-based correspondent covering Canada, the U.S. and post-earthquake Haiti. Prior to joining AJE, he was with the BBC for several years as a U.K.-based reporter/producer and from Washington as a correspondent. Tyab started his career in his native-Canada as a reporter for the CBC in Vancouver.
Shoshana Walter is a staff reporter at The Center for Investigative Reporting, where she covers public safety and human trafficking. Her 2014 series on the armed security guard industry won the Livingston Award for young journalists and was featured in a two-part installment on CNN's Anderson Cooper 360. Before joining CIR, Walter covered police and violent crime in Oakland, California, for the nonprofit news startup The Bay Citizen and the New York Times. She began her career as a daily crime reporter at The Ledger in Lakeland, Florida, where she completed two narrative series and won a national Sigma Delta Chi award for Non-Deadline Reporting and a Gold Medal for Public Service from the Florida Society of News Editors.
Sarah Wildman is a freelance journalist who writes about the intersection of culture, politics, history and memory in Europe and America. She is the author of Paper Love: Searching for the Girl My Grandfather Left Behind which she wrote while a visiting scholar at the International Reporting Project based at Johns Hopkins SAIS. Over the last decade, she has lived in and reported from Paris, Vienna, Madrid, Washington, Jerusalem and Berlin. She was the 2010 Peter R. Weitz Prize winner, from the German Marshall Fund - a prize awarded for excellence and originality in European coverage. A regular contributor to the New York Times, Slate and the New Yorker online, Wildman has also been the recipient of a Pulitzer Center for Crisis Reporting grant in Jerusalem, the Arthur F. Burns and American Council on Germany Fellowships in Berlin, a Milena Jesenska Fellowship in Vienna, and an International Reporting Project fellowship in Paris. 
Cindy Wockner is the Network Investigations Editor at News Corporation newspapers in Australia. Her articles appear in News Corp papers across the country, including The Courier-Mail, The Daily Telegraph, Herald-Sun, Adelaide Advertiser and NT News. She has also co-authored two books: Bali 9 and Evil in the Suburbs. Wockner spent three decades covering crime, conflict, and legal affairs, and for seven years she was based in Indonesia, covering terrorist attacks, natural disasters and crime. She also spent two years reporting from Nigeria.