2021 Dart Award Winners Announced
May 6, 2021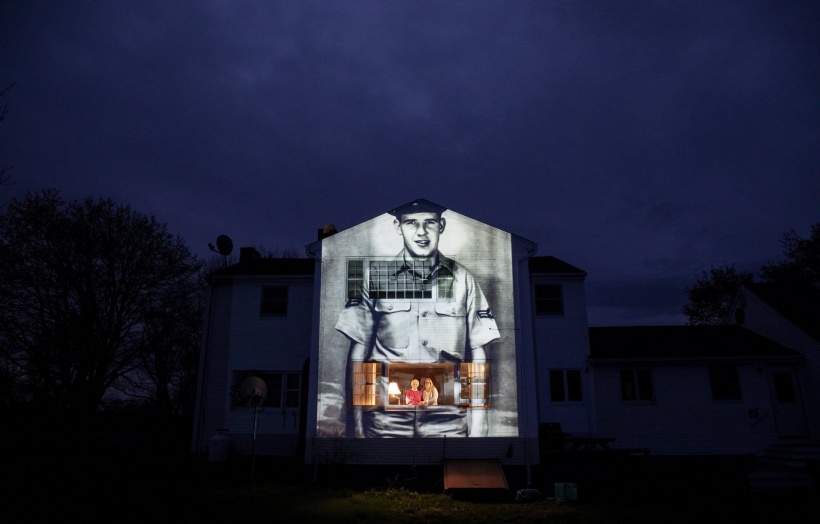 We are pleased to announce the winners of the 27th annual Dart Awards for Excellence in Coverage of Trauma and a special Dart Award for Outstanding Coverage of the Covid-19 Crisis. The 2021 Dart Award winners are: Gimlet with Spotify; the Anchorage Daily News with ProPublica; and the Associated Press. Honorable Mentions went to the Star Tribune (Minneapolis), TIME, and Univision News Digital.
The annual Dart Awards recognize outstanding reporting in all media that portrays traumatic events and their aftermath with accuracy, insight and sensitivity while illuminating the effects of violence and tragedy on victims' lives. This year, in recognition of the exceptional challenges posed by the pandemic to journalists, news organizations, and the journalism community, we created a special Dart Award for Outstanding Coverage of the Covid-19 Crisis.
By tradition the Dart Award is a team prize, recognizing that in-depth coverage of trauma requires an exceptional commitment by the entire news organization.
"Never have the values of trauma-aware journalism been more essential than in 2020. During a year when American journalists bore witness to more than 500,000 covid-19 deaths, the murders of George Floyd and Breonna Taylor, and a mob attack on the U.S. Capitol, this year's Dart Award honorees set a new standard for compassion, insight and rich, innovative storytelling that puts the voices of victims and survivors front and center," said Bruce Shapiro, the Dart Center's executive director.
"This year's honorees – charting the landscape of loss, illuminating the daily indignity and abuse endured by people of color and asylum-seekers, giving voice to silenced survivors of sexual assault – are more than excellent reporting. They amount to a collective refusal to look away, a shared insistence that the lived experiences of trauma survivors, and meaningful accountability for victimization, are central to democratic renewal," he added.
The 2021 winners and honorable mentions will be recognized at a virtual event on the evening of Thursday, September 23, 2021.
The Anchorage Daily News and ProPublica received the Dart Award for "Unheard." (Anchorage Daily News team: Kyle Hopkins, reporter/editor; Michelle Theriault Boots, reporter; Anne Raup, photographer/photo editor; Loren Holmes, visual journalist; Marc Lester, photojournalist. ProPublica team: Adriana Gallardo, engagement reporter; Nadia Sussman, video journalist; Agnes Chang, creative story technologist.) "Unheard" focuses on 29 Alaskan women and men of different races and socio-economic backgrounds seeking to inspire change in Alaska's justice system, and to de-stigmatize being a survivor of sexual violence. The innovative, community-centered project represents a new benchmark for survivor-focused reporting on sexual violence.
The judges called "Unheard" "exceptional, original journalism" that "puts the voices of survivors at the forefront" and "reimagines how trauma-aware, culturally-sensitive, collaborative reporting can be done." They applauded the project's "emphasis on the heterogeneity of sexual violence and trauma" and called the reporting approach "sensitive by design." The judges also underscored the "power of the 'blank front page'" in conveying that trauma survivors are not always ready, willing or able to share their experiences publicly, and praised the project for allowing survivors to "share their stories on their terms."
Gimlet and Spotify received the Dart Award for "Shake the Room," an episode of the Resistance podcast that documents the human stories behind Black Lives Matter. (Team: Saidu Tejan-Thomas, host; Sarah McVeigh, supervising producer; Bethel Habte, reporter/producer; Salifu Sesay Mack, producer; Aaron Randle, producer; Lynn Levy, editor; Lydia Polgreen, editor; Brendan Klinkenberg, supervising editor; Bobby Lord, composer/engineer; Catherine Anderson, engineer; Michelle Harris, fact checker.) "Shake the Room" tells the story of a nearly six-hour standoff between Derrick Ingram and the NYPD, and explores the harrowing relationship between the police and protestors, and the impact of trauma on those fighting for racial justice and police reform.
The judging panel described "Shake the Room" as "brilliant and revelatory storytelling," "at turns riveting, enraging, funny, and deeply moving." They called it "spectacular," and underscored the way it "depicts a kind of trauma -- menacing situations of indignity and harassment -- that far too many people of color in this country are familiar with." They said it "should be required listening for all of America."
The special Dart Award for Outstanding Coverage of the Covid-19 Crisis went to the Associated Press for "Lives Lost." (Team: Peter Prengaman, news director; Raghuram Vadarevu, digital storytelling editor; David Goldman, photographer; Matt Sedensky, writer; Samy Magdy, correspondent; Danica Kirka, correspondent; Samantha Shotzbarger, digital storytelling producer; Michael Casey, administrative correspondent; Courtney Bonnell, editor; Lisa Leff, editor; Peter Hamlin, digital storytelling producer; Nat Castañeda, reporter; Darío López-Mills, digital storytelling producer.) Through the stories of 60 ordinary people across 20 countries, "Lives Lost" captures the scale of the covid-19 crisis, the impact of each death on those left behind, and how trauma has been playing out across communities, countries, and cultures.
The judges described "Lives Lost" as an "astonishingly powerful," "multi-layered" package that "reveals the devastating, global-scale loss that the virus has had on humanity." They praised David Goldman's "'haunting" and "brilliant" photo projections of veterans who died alongside their family members, and the project's exploration of "collective trauma, grief and loss on a mass scale." The judges also commended AP for its "tremendous institutional commitment" to a "beautiful project of human portraits despite the onslaught of daily news."
Each winning team will receive a $5,000 cash prize.
Honorable mentions, carrying no cash award, went to the Star Tribune, TIME, and Univision News Digital.
The Star Tribune received an honorable mention for its coverage of the killing of George Floyd and its aftermath in the community. (Team: Libor Jany, reporter, Anna Boone; digital designer and journalist; Maya Rao; reporter; Mark Vancleave; video journalist; Jennifer Bjorhus, reporter; Aaron Lavinsky, photographer; Andy Mannix, reporter; Carlos Gonzalez, photographer.)
Judges described, "George Floyd's Search for Salvation" as a "gripping narrative" "where a symbol and a martyr became a man," and called it "the definitive George Floyd story." They called the package "outstanding" and applauded the team for "helping readers understand that trauma doesn't end easily or soon, but when addressed properly, it can become a catalyst for major change."
TIME received an honorable mention for "Contagion of Fear," which tells the story of Wyckoff hospital in Brooklyn at the height of the pandemic, the trauma experienced by healthcare workers, and the impact of fear on medical workers, patients, and other hospital personnel. (Team: Simon Shuster, correspondent; Meridith Kohut, photographer.)
Judges described "Contagion of Fear" as "deeply insightful" and "profoundly affecting" immersive reporting. They praised Shuster for allowing people to "speak for themselves, free of judgment or editorializing," and called Meridith Kohut's photographs "revelatory without being overly graphic." They also commended the team for focusing on the psychological toll of the virus on healthcare workers in one under-resourced hospital, "depicting their strength and vulnerabilities" while "challenging simple narratives of healthcare heroism."
Univision News Digital received an honorable mention for "Trapped in Mexico," an investigation and multimedia project that examines the Trump administration's 'Remain in Mexico' policy and its impacts, including the profound mental health effects on people seeking asylum in the U.S. (Team: Patricia Clarembaux, reporter; Lorena Arroyo, multimedia editor; Almudena Toral, visual journalist; Inés García Ramos, journalist; Andrea Patiño Contreras, video journalist; Mauricio Rodriguez Pons, visual journalist; Adriana Bermúdez, web design and development; Juan Hernández, product; Maye Primera, editor; Jorge Cancino, editor; Patricia Vélez, editor; David Maris, photo research; Maria Carolina Hurtado, social media; Jorge Armando Nieto, fixer in Mexico; Karla Castro, fixer in Mexico; Juan José Ramírez Vega, fixer in Mexico; Juanje Gómez, web design and development; Juan Tamayo, translator; Peter Katel, translator; José Zamora, communications; Sandra Ramos, communications.)
Judges described "Trapped in Mexico" as a "staggering reporting feat" that "balances insightful data with expansive visuals and hard-hitting reporting." Judges commented on the "unique sensitivity" of the video stories, and applauded the "slow pace of the storytelling, which mirrors the slow pace of the subjects' asylum cases." They praised the project for allowing the reader and viewer to "understand and hold the trauma of seeking asylum alongside the suffering that these people face upon arriving at the border."
The Dart Awards, established in 1994, are administered by the Dart Center for Journalism and Trauma, based at the Columbia Journalism School. The Dart Awards are a team prize, recognizing that presenting in-depth journalism on these challenging subjects requires a newsroom-wide commitment. The Dart Awards consider entries from across the media spectrum, including newspaper, radio, online, multimedia, film and video.
Atavist "Revive"; PBS Frontline "Love, Life and the Virus"; Kaiser Health News / The Guardian "Lost on the Frontline"; Reuters "Dying Inside"; The Marshall Project "Tragedy Struck Again"; The Marshall Project / PBS Frontline "Undocumented in the Pandemic"; The New York Times Magazine "The Disappeared"; The Seattle Times "Disappearing Daughters"; Univision "Essential but Deportable"
The jury combines journalists, educators and mental health professionals.
Ananda Amstadter PhD, associate professor, Departments of Psychiatry, Psychology, and Human & Molecular Genetics, Virginia Commonwealth University; Roberto Lovato, journalist, member of the Writers Grotto, and co-founder of #DignidadLiteraria; Andrea Simakis, independent journalist; Ginger Thompson, chief of correspondents, ProPublica; Susan Meiselas, photographer, Magnum Photo Agency.
First Round Judges: 
Melissa Bailey, freelance journalist; Gina Barton, investigative reporter, USA Today; Jon Collins, class and criminal justice reporter, MPR News;
 Rachel Dissell, journalist, John S. Knight Journalism Fellow, 2008 and 2020 Dart Award winner;
 Renee Feltz, producer, Democracy Now; Meg Kissinger, Joan Konner Visiting Professor, Columbia Journalism School; Lisa Krantz, staff photographer, San Antonio Express News;
 Nour Malas, deputy business editor, Los Angeles Times; Naseem Miller, senior health editor, Harvard Kennedy School's Journalist Resource; Luke Malone, reporter, producer and author;
 Lizzie Presser, reporter, ProPublica; Eilís Quinn, journalist, Eye on the Arctic;
 Maryam Saleh, reporter and editor, The Intercept;
 Liliana Segura, investigative journalist; Brandon Stahl, investigative reporter, KARE-TV Minneapolis and 2019 Dart Award honorable mention; Almudena Toral, executive producer, ProPublica;
 Cengiz Yar, documentary photographer and photo editor.