2023 Dart Award Finalists Announced
April 24, 2023
Dart Awards Info
"This year's Dart Award finalists showcase journalists contending in fresh and powerful ways with the hardest questions about the impact of violence," said Dart Center Executive Director Bruce Shapiro. "From excavations of long-past exploitation to searing inquiries into all-too-present gun violence – supported alike by under resourced, embattled local newsrooms and the largest national media – this year's finalists take reporting in new directions in sourcing, interviewing and data analysis, all in service of a shared commitment to innovative, ethical reporting on survivors of violence."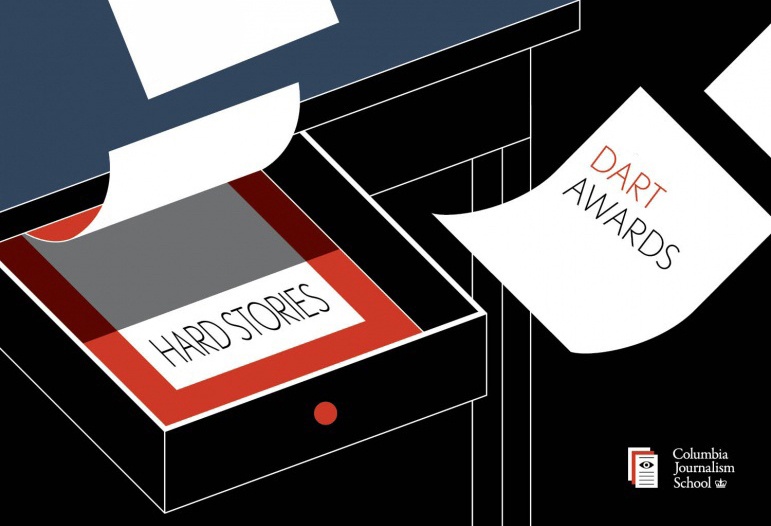 The finalists for this year's Dart Awards for Excellence in Coverage of Trauma are:
The Boston Globe, "Kate Price remembers something terrible"; Gimlet, a Spotify Studio, "Stolen: Surviving St. Michael's"; KQED, "When the Waters Get Deep"; Milwaukee Journal Sentinel and ProPublica, "The Landlord & the Tenant"; National Public Radio, "Grief and Grit"; The New York Times, "Dying Inside: Chaos and Cruelty in Louisiana Juvenile Detention"; The New York Times Magazine, "The Hidden Epidemic of Brain Injuries From Domestic Violence"; ProPublica, "The Night Raids"; ProPublica and The New York Times Magazine, "She Wanted an Abortion. A Judge Said She Wasn't Mature Enough to Decide."; Serial Productions, "We Were Three"; The Washington Post, "Dying for Help"; and The Washington Post, "School shootings and the survivors"
Click below to read, watch and listen to selections from the 2023 Dart Award finalists.
An authority on child sex trafficking has spent decades trying to understand whether the unthinkable happened to her, too. Together with a journalist, she went looking for evidence — and found it.
Journalist Connie Walker's quest to better understand her father and find the priest who abused him in a Canadian residential school leads to one of the most comprehensive investigations to date into a single school.
Director Kelly Whalen's documentary explores the Oakland-based hip-hop, soul and jazz ensemble SOL Development and their community-based healing practices supporting Black and Brown families experiencing trauma and grief from gun violence and loss.
A young mother rents a house in West Allis. The previous tenant tells her, "Baby, they shouldn't have let you move in."
Jen Hensel's family of three is completely different from the one she had a decade ago. In the past 10 years, she's welcomed the births of Owen, now 6, and his big sister Imogen, 8. But in the same span, she has mourned the loss of not only her daughter Avielle, but also her husband, Jeremy Richman, who died by suicide in 2019.
Repeated abuses, overlooked complaints and a surge in suicide attempts at a detention center with powerful allies.
Research shows that survivors of abuse can sustain head trauma more often than football players. But they are almost never diagnosed.
For many Afghans, terror came when night fell. Over the years, CIA-backed operations killed countless civilians. The U.S. left without being held accountable. A reporter returns to investigate her past and unravel the legacy of the secretive Zero Units.
As abortion access dwindles, America's "parental-involvement" laws place further restrictions on teenagers — who may need to ask judges for permission to end their pregnancies.
A story of lies, family, America and what Covid revealed, as well as what it destroyed.
This series explores how America's mental health system is failing its vulnerable and suicidal youths.
This series offers an up-close view of the devastating and enduring impact of gun violence on children's lives.