The Children of Central City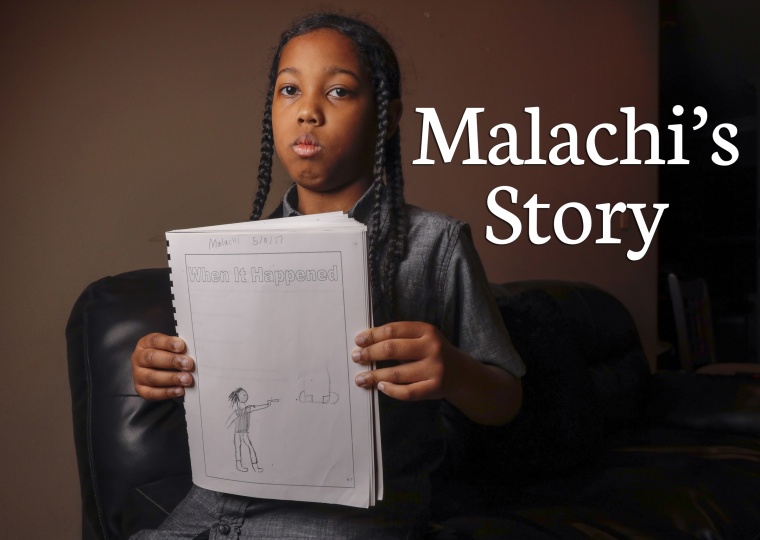 He was showing the same symptoms as
somebody that was in the middle of a war'
"Imagine you're holding a beautiful flower in one hand, and in the other, you're holding a birthday candle."  
Todd Cirillo, a trauma therapist and crisis counselor at the Children's Bureau of New Orleans, speaks in hushed, soothing tones as he leads 8-year-old Malachi Hill through this relaxation exercise.  
"Can you picture them? Now, smell the flower, breathe in deeply," Cirillo says. "Next, blow out the candle. Get all of the air out.  
"Breathe in," he says softly. "Breathe out."  
Malachi is seated on a couch in his family home. As he inhales, he looks over to his mother sitting on a chair just a few feet away. She smiles. He exhales.    
Cirillo takes out a workbook. Written across the cover is, "Malachi's Book," next to an illustration of Spider-Man.   
"Why did we start the book?" Cirillo asks. "Why did we start working together, you and I?"  
Malachi answers in a whisper. "So, we can fix the problem."  
"And what was the problem?"  
Malachi pauses. "Someone was shooting at the car."  
"Do you remember some of those emotions and feelings you were having?" Cirillo asks.  
"I was terrified."
NOPD investigates the scene of the shooting involving Malachi Hill's family on Wednesday, October 12, 2016.
In his 18 years working with children traumatized by violence, Cirillo has seen few cases of post-traumatic stress disorder as severe as Malachi's – and few recoveries as remarkable.
On the night of Oct. 12, 2016, Malachi, then 7, returned to his home in New Orleans East's Walnut Square apartments with his stepfather, Josh Tattershall, and his mother, Marigny Savala. Tattershall, a New Orleans police officer, drove their car through the front entrance when they noticed a crowd of people in the parking lot.
It was unusual, Savala says. She then noticed a man staring at them. Suddenly, the man charged their car, pulled out a gun, and fired three shots, one of which hit the rear driver's side bumper, near where Malachi was sitting in the backseat.  
Savala lunged towards her son to shield him as Tattershall floored the gas and sped off, driving over speed bumps "like they weren't even there," Savala says. They escaped to her mother's home a short time later, still shaken, frightened and confused as to why they were targeted.   
Tattershall believes the shooting was a case of mistaken identity. Moments before the family drove into the parking lot, two men armed with AK-47s shot a man and a woman, both teenagers, in the complex's courtyard. 
The man who fired the gun at them, Tattershall says, might have been a friend of the victims, and mistakenly thought that someone involved in the earlier shooting was in their vehicle.
All that mattered, Savala says, is that her family was safe and seemingly uninjured.   
But she soon noticed something wrong with her son. He couldn't fall asleep that night and said he didn't want to return home. In the weeks to come, Savala would watch helplessly as her son's fear and anxiety worsened. At some point, she thought she had lost him forever.
Marigny Savala looks on as her son, Malachi, visits with Todd Cirillo of Children's Bureau.
"Do you remember what trauma was?" asks Cirillo, visiting Malachi for the first time since they successfully finished their counseling sessions, more than seven months ago.   
"Would you like me to remind you?"  
"Yes," Malachi says.  
"Trauma is what happens to us when someone very, very scary or something very, very sad happens," Cirillo says. "Trauma is how we feel, like you were feeling. You said, 'terrified.' That was because a trauma happened. In your case, something very, very scary, right?"  
"Yes," Malachi says.  
"Trauma is your heart beating very, very fast," Cirillo explains. "You know sometimes when we can't think clearly? That's what trauma is, that's how we react, how we behave after."  
Cirillo points to a page in Malachi's old workbook that provides suggestions on how to deal with his grief and trauma. "Do you know this one?" he asks.   
"To express my thoughts and my feelings about what happened," Malachi says.  
"Yes. You did a wonderful job at that," Cirillo says. "You did such a good job at that Mr. Malachi."  
Malachi flips to the next page. On it is a picture he drew of the shooter. It shows a man with dreadlocks pointing a gun at a car.   
"Did you want to skip that page?" Cirillo asks.  
Malachi nods.  
"Can you tell me why you wanted to skip that page?"  
"Because we already talked about it."  
"And that page had what on it?"  
"The scary thing."  

Malachi Hill talks to his former counselor, Todd Cirillo, more than a year after an unknown man shot at Malachi and his family while they were living in New Orleans East.
After the shooting, the dark terrified Malachi so much that he insisted his mother drive him home before sunset. If they failed, he would crouch down in the backseat of the car and start praying, pleading with his mother to assure him there was no one waiting outside to shoot him.   
He stopped sleeping. In the middle of the night, he screamed his mother's name in a panic.  
He avoided anyone who had dreadlocks and, eventually, began avoiding any dark-skinned man. He never wanted to be alone, including in the bathroom. He became anxious and hyper-vigilant. He would mistake loud noises for gunfire.  
"There was an incident where a child dropped a book on the floor in school and it made a really big booming sound and he freaked out and started running," Savala says.  
Malachi's health suffered. When he returned to school, he vomited in class.   
"He wasn't sick. He wasn't coming down with anything. It was a physical manifestation of his stress and of his fear," Cirillo explains.  
His symptoms were so severe that Malachi reminded Tattershall of a friend's behavior after three years fighting in the war in Iraq.  
"Constant paranoia, thinking somebody is out to get you, misconstruing loud noises for gunshots. He pretty much was showing the same symptoms as somebody that was in the middle of a war," Tattershall says.  
Savala felt hopeless as she watched her son deteriorate.  
"You feel like there's nothing you can do. There were many nights I would cry just hearing him freak out in his bedroom. 'Mama can you come in my room! Sit with me until I fall asleep!'  
"Someone did that to us and put that negative memory in my child's head. And now I have to work 10 times harder to get him back to where he used to be. I didn't know if he would ever be the same."  
Malachi shows a workbook he used to help deal with the trauma he experienced in the aftermath of a shooting two years ago.
When Malachi's symptoms continued to worsen in the weeks after the shooting, his grandmother, an NOPD sergeant, suggested the family contact the Children's Bureau crisis intervention team.   
Cirillo, a member of the crisis team, has worked on some of the most severe trauma cases among New Orleans youth. He recently counseled classmates of twin blind sisters who died in a Gretna house fire and friends of a teenager injured in a double-shooting on Union Street during Mardi Gras. He also worked with a young boy and girl who were home when their mother was stabbed to death in the 7th Ward two years ago.  
Cirillo says the best way to understand how trauma affects these children is to think of a time when you were driving and nearly got into an accident. In the immediate aftermath, your heart is racing, your breathing is accelerated, and your body seizes up, all of which makes it difficult to think clearly.  
Now, imagine that feeling being triggered dozens of times throughout a day by loud noises or sudden movements or unexpected flashbacks to the traumatic event. As you are experiencing all of those feelings — the anxiousness and paranoia and fear — imagine sitting down and taking a math test. Or following rules. Or listening. Or functioning on a basic level. It's nearly impossible, Cirillo says.   
This is what Malachi was experiencing when his trauma therapy sessions began shortly after Christmas 2016. One of the first things he worked on with Cirillo was creating a new narrative. Instead of a scary thing happening to Malachi, it was something he survived by being strong and brave.   
Next, he helped Malachi find ways to calm down when something triggered his post-traumatic stress disorder, such as the flower and candle deep breathing exercise. Cirillo also impressed upon Hill how his thoughts control his feelings and how those feelings can affect his body and behavior.   
"If I think good, I feel good," Cirillo explains.  
Most importantly, Malachi learned the value in talking about his feelings.  
They wrote all of this down in the workbook in which Malachi drew pictures of the "scary thing," but also of his safe place – his grandmother's home – and illustrations of Spider-Man capturing bad guys before they can hurt anyone.   
Six months into his therapy, Malachi was making significant progress. But the real test came on the 4th of July.   
Savala says she watched her son as fireworks exploded around them. At first, it seemed like he was going to panic, like he had done on New Year's Eve. But he stopped himself and looked at his surroundings, she says. He saw that the adults were calm. No one was scared. He realized he was OK and then did his deep breathing exercises.   
"It impressed me to see him use those skills, to redirect his mind from being fearful and taking charge of his feelings," Savala says.
Todd Cirillo of Children's Bureau is greeted by Marigny Savala.
After seven months, Malachi, who recently turned 9, completed his therapy sessions and celebrated with a pizza party with his mother, stepfather, grandmother and Cirillo. The family moved out of the New Orleans East complex to a new home where Malachi has made lots of new friends and, once again, enjoys playing outside, long after dark.  
He's made a full recovery, his mother says. The memory of that night hasn't gone away, but now he has the tools to manage his emotions.  
"When he gets scared, he'll tell me, 'Mom, I had a dream about the bad guy.' And I'm like, 'OK, how do you feel?' And he'll say, 'I feel better because I de-stressed and I did my breathing.'"  
Five months into Malachi's therapy, Savala says she saw an interview on the evening news with 11-year-old Jeremiah Smith. He had been shot in the leg during a drive-by shooting near his grandmother's house in Central City. As she listened to the boy describe how the bullet entered and exited his thigh, Savala said she feared for his future while realizing how fortunate she was to have found help for her son.
"A lot of those children, 9 times out of 10, they don't get the help they need and they're just having to deal with it," she says. "They hold all these feelings inside and they don't have anybody to talk to about what they're feeling or how sad they are or how afraid they are, and it is difficult."  
If Malachi didn't get the help he needed, with the symptoms he was exhibiting, his future could have been bleak, Cirillo says. He would continue to struggle, losing sleep and becoming more anxious and paranoid. Unable to concentrate, his grades might have gone down. It's possible he would have acted out physically, harming himself or others, leading to suspension or expulsion from school.  
All the while, his family unit would gradually break down under the stress of his increasingly erratic and volatile behavior. Malachi's trauma, eventually, could have led him to doing something truly terrible, breaking the law in some way that would have ended with him serving time in prison.  
But that's not his outlook.   
"When there is a breakthrough, you can see them relax, and you can see them become comfortable and you can see them become confident and, more importantly, you can see them become a kid again, because that's what they lose," Cirillo says.  
Malachi Hill visits with therapist Todd Cirillo from Children's Bureau.
Sitting in the living room of Malachi's family home, Cirillo turns back to the page in the workbook where Malachi drew a picture of the shooter.   
"What do you think about this page when you see it now?" he asks.  
"How he did it," Malachi says.  
"How does it make you feel?"  
Malachi considers his answer. "Disappointed in him."  
"Yeah, I'm disappointed in him, too," Cirillo says. "That's an excellent way to put it Mr. Malachi. You're very, very smart."  
Cirillo then has Malachi turn to the end of the book.   
"There's one last page," he says. "Do you remember reading this? Would you like to read it again?"  
Malachi nods his head then begins to read: "This is the end of my very special book. But I know I can look at it any time I want to and remember all the special things that we did. I have been very brave and talked about scary things and things that made me sad. I have learned how to calm myself down and I have learned different ways of dealing with stress so that I can feel better."  
"That is wonderful Malachi. I am so proud of you," Cirillo says. "If you had to talk about counseling to another kid who something else has happened to, like say something that happened to you, what would you tell them?"  
"Be brave."  
Marigny Savala, Malachi Hill and Josh Tattershall.