Dart Center and International Women's Media Foundation Launch New Journalist Support Partnership
November 17, 2022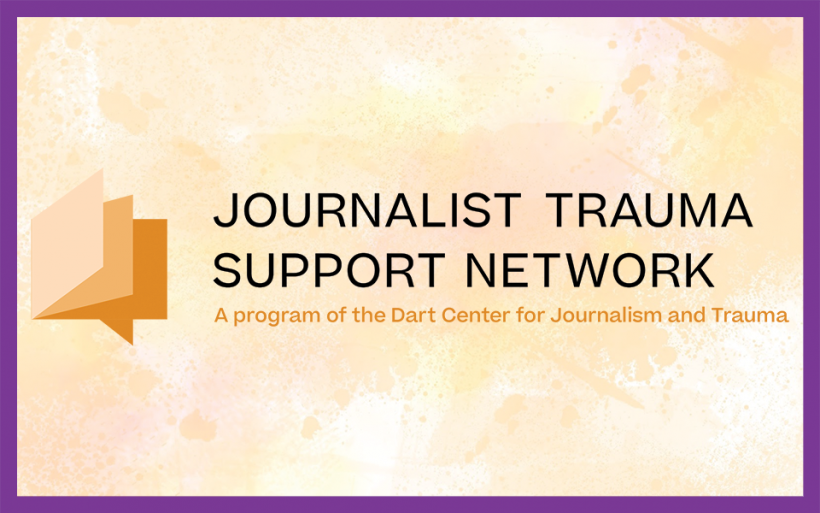 The Dart Center for Journalism and Trauma, in partnership with the International Women's Media Foundation (IWMF), today announces the launch of the 2023 Journalist Trauma Support Network (JTSN) training program. The JTSN program trains mental health clinicians to support journalists challenged by covering violence, crisis and tragedy. JTSN pairs newly-trained therapists with a limited number of journalists for therapy at no cost, and builds out a national network of qualified clinicians more broadly accessible to the journalism community.
"Pandemic, social unrest and conflict, threats and harassment are all taking a toll on news professionals' mental health," says Bruce Shapiro, Executive Director of the Dart Center. "Establishing a community of clinicians committed to supporting trauma-affected journalists serves individual news professionals and advances a free and resilient press."
Created and piloted by the Dart Center in 2021, the JTSN program provides training on journalists' professional culture, occupational challenges and data security to experienced trauma therapists, and then aids these clinicians with peer support, continuing education and a lasting professional network. These clinicians are directly accessible to journalists in need of trauma support through JTSN's online therapist directory.
"Many journalists internalize the trauma they report on and deserve our support — especially those from underrepresented backgrounds," said Elisa Lees Muñoz, Executive Director of the IWMF. "In 2020 and 2021, the IWMF distributed $423,306 in mental health grants to 128 journalists of color through our Black Journalists Therapy Relief Fund. We heard from these grantees that therapy is an essential part of the support system they need to keep working. We are thrilled to support this program with the Dart Center to bring even more resources to the industry."
Beginning in December 2022 with generous support from the Open Society Foundations, JTSN will train a second cohort of up to 20 therapists and match them with journalists in need for up to six-months of no-cost, time-limited therapy.
"Our incoming cohort is an exceptionally qualified group of therapists from different areas of the country," says JTSN program director Emily Sachs, PhD. "They include national experts on evidence-based trauma care, specialists in race-based trauma, former VA clinic directors, and disaster response specialists. And they all share a strong appreciation for the role of journalism in society and a desire to 'give back' to journalists."
The JTSN is led by clinical psychologist Emily Sachs, PhD, and supported by other senior clinicians such as Elana Newman, PhD, Research Director for the Dart Center; Katherine Porterfield, PhD, consulting psychologist to the Bellevue Hospital Program for Survivors of Torture and a senior Dart Center trainer; and Dawn Lawhon, PhD, a clinical psychologist, clinician educator, and 2021 alum of the JTSN program.
For journalists interested in therapy services: Free time-limited therapy through the 2023 training program will become available starting January 5, 2023. Check the JTSN Resources for Journalists page at that time for eligibility and contact information: https://www.jtsn.org/resources-for-journalists. Meanwhile, the existing JTSN Directory of already-trained, fee-for-service therapists is available now on the Resources for Journalists page, with other information on seeking therapy and therapy grants in the community.
For clinicians interested in training: The 2023 training cohort is now closed. Please see the JTSN Program page for more information about training, and updates about when the next training cycle will begin https://www.jtsn.org/program. If you are already working with journalist clients, the Dart Center website has a wealth of tip sheets for journalists covering trauma, as well as other publications https://dartcenter.org/resources?type[0]=16.
For more information on the JTSN program, please contact Kate Black of the Dart Center, [email protected]; 917.533.5480, or Charlotte Fox of the International Women's Media Foundation, [email protected]; 202.567.2625.
More information is available on the Journalism Trauma Support Network website.