Dart launches clinician training program to support trauma-exposed journalists
June 15, 2021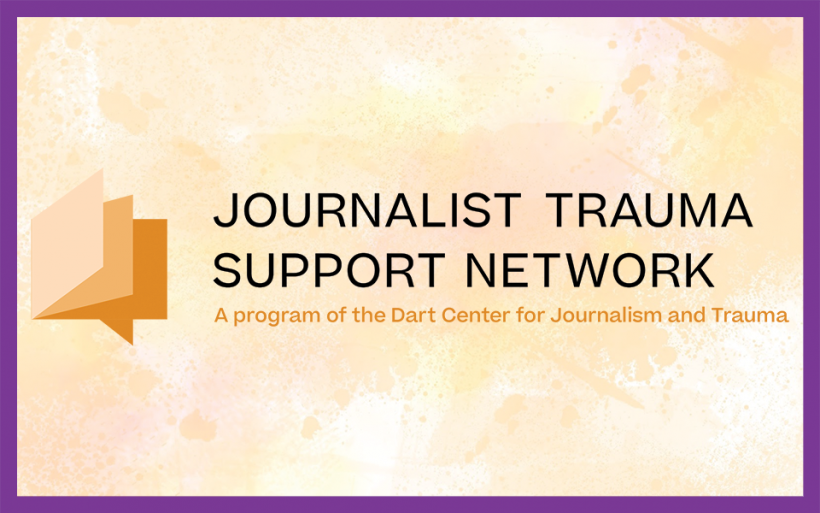 To aid journalists challenged by covering violence, crisis and tragedy, the Dart Center for Journalism and Trauma is launching an innovative training program preparing psychologists to work effectively with news professionals.
The Journalist Trauma Support Network, underwritten by a gift to the Dart Center from Google.org, began its pilot phase this spring. JTSN provides training on journalists' professional culture, occupational challenges, and data security to experienced trauma psychologists, and then aids these clinicians with peer support, continuing education, and a lasting professional network. In collaboration with the Committee to Protect Journalists, JTSN also provides a pathway for journalists to connect with JTSN-trained therapists for culturally competent care.  
"Pandemic, social unrest and conflict, threats and harassment are all taking a toll on news professionals' mental health," says Bruce Shapiro, executive director of the Dart Center. "Establishing a community of clinicians committed to supporting trauma-affected journalists serves individual news professionals and advances a free and resilient press."
"Our first cohort is an exceptionally qualified group of 22 psychologists from across the United States," says JTSN program director Emily Sachs, PhD. "They include national trainers on evidence-based trauma care, specialists in race-based trauma, VA clinic directors, and disaster response specialists. And they all share a strong appreciation for the role of journalism in society and a desire to 'give back' to journalists."
In its pilot phase, JTSN is providing therapists with a short course of specialized professional education. Over the next year those therapists will undertake time-limited treatments with a small number of journalist clients, matched on a confidential basis by the Committee to Protect Journalists. JTSN will also provide the therapists with ongoing peer learning  groups, individual consultation, and curated educational resources.
Following evaluation of the pilot, JTSN will train additional cohorts of therapists in the US and elsewhere around the globe. 
"This is a major step in enhancing clinical and cultural competence among psychologists in addressing the occupational health needs of journalists," says Elana Newman, PhD, the Dart Center's research director, McFarlin Professor of Psychology at the University of Tulsa and a past president of the International Society for Traumatic Stress Studies. "Just as there is a military culture, there is a unique culture in journalism which therapists need to understand to effectively address trauma and stress-related reactions."
"Psychological safety and well-being are a crucial component to enhancing the culture of safety in which journalists work in the United States and across the world, and should be a priority for newsrooms," says Maria Salazar Ferro, CPJ's Emergencies Director. "Our hope is that this innovative project will provide much needed support to reporters, photographers and editors."
More information is available on the Journalism Trauma Support Network website. Journalists seeking referral to JTSN and other mental-health support can email [email protected].