Denied Justice
Minnesota police have failed to investigate dozens of rape suspects even though they had been accused of, charged with or convicted of previous sexual assaults.
Bruised and terrified, Amber Mansfield sat in a hospital room and described her assault to two Minneapolis police officers.
The man she was seeing had flown into a rage, choked her, beaten her and threatened to kill her. Then he raped her.
Mansfield gave the police his address and his name: Keith Eugene Washington.
A simple background check would have shown that Washington was a convicted rapist with a long criminal record. And it would have shown that the state had designated him a dangerous sex offender.
Police checked none of that, according to the case file. Mansfield's case went nowhere.
Five months later, Washington was charged with attacking two other women in Minneapolis, just hours apart. Both had been choked until they blacked out and were left lying on the ground, partly undressed.
Only then did Minneapolis police check his background and realize they needed to hear Mansfield's account.
Today, three years later, the officer who oversaw the sex crimes unit acknowledges that Mansfield's case was mishandled.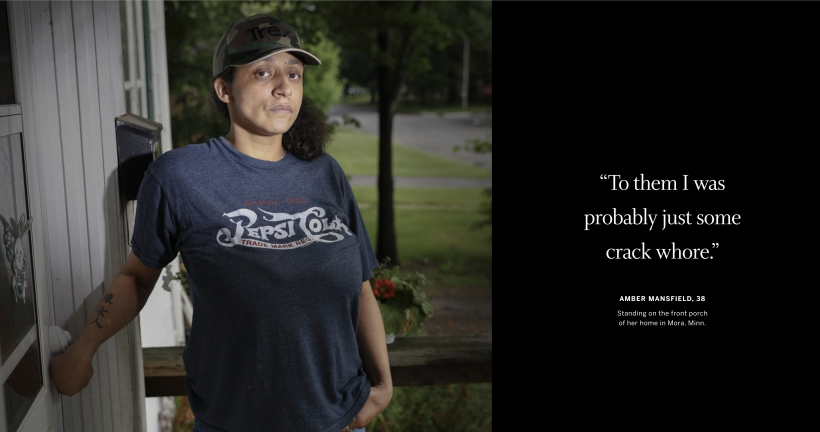 In late 2015, a young woman walked into a Duluth police station with her mother and said that, three months earlier, a friend's boyfriend had raped her on a couch after a party. Court documents show the suspect had pleaded guilty four years earlier in Wisconsin to fourth-degree sexual contact without consent. The Duluth officer noted that and forwarded the case to the department's sex crimes, abuse and neglect unit.
Duluth police said they closed the case for lack of evidence and because the victim declined to proceed. The case file, however, doesn't say she wanted to drop out or indicate that an investigator ever tried to question the suspect.
In October 2016, a Brooklyn Center woman told police she had been raped at a Motel 6 by a man she met on a dating site. Contacted by police, the man said he was innocent. Court records show that he had been convicted of criminal sexual assault in 2001 and charged in 2004, though those charges were later dismissed. There is no sign in the file that police examined that record. They sent the case to county prosecutors, who declined to charge him.
In 2016, a young woman going home from Uptown reported being raped, and possibly drugged and trafficked, after getting into what she thought was a ride-sharing car. A Minneapolis police detective wrote that she couldn't reach the victim for an interview and closed the case. Later, DNA results identified the suspect as a felon from Illinois — a man whose DNA had also turned up in a Brooklyn Park rape. The detective spoke with her counterpart in Brooklyn Park, and they agreed to contact one another if there were new developments. But she didn't reopen the case, contact the suspect or try to notify the victim of the DNA results, the file shows.
Minneapolis police reopened her case after inquiries by Star Tribune, but said they couldn't discuss it.
The FBI makes it easy for an officer to conduct quick criminal background checks through the National Crime Information Center database. So does the Minnesota Bureau of Criminal Apprehension, whose criminal history database includes predatory offender status.
But out of more than 1,000 sexual assault cases reviewed by the Star Tribune, police documented conducting a background check just 10 percent of the time.
Justin Boardman, a former police sex crimes investigator in Utah and a nationally known consultant, examined Mansfield's file at the Star Tribune's request. Failing to check a suspect's background is like doing "half an investigation,'' he said.
 
Sitting in her living room in Mora, Minn., her face framed by long brown curls jammed under a baseball cap, Mansfield seems at once street-smart yet vulnerable. Now a 38-year-old single mom, she said she knew Washington growing up in north Minneapolis. She hung out with his brothers, she said, recalling with a smile how they went to all-night skating parties at the Rhythmland Roller Rink in northeast Minneapolis.
Eventually they lost touch.
Washington's adult criminal record begins at 18, with charges that included assault, robbery and drug possession. In 2000, he was convicted of first-degree rape after he repeatedly choked a woman in her home, assaulting her while her children watched.
Mansfield had her own scrapes with the law. By 30, she had convictions for drug possession, receiving stolen property and one for prostitution. Most reflected her own bad choices, she said: "Wrong place, wrong time, wrong people."
When she became pregnant, life changed. Mansfield said she wanted to be a good mother: She got sober and made a new start in Windom, Minn., where her father owned a small house. A few years later she began seeing a therapist for the anxiety and depression that she had battled for years.
One day in 2011 her phone rang. It was Washington, calling from prison. Mansfield said she took his call and found him to be engaging and intelligent. They began exchanging photos and letters, and talked frequently.
Washington got out of prison in May 2015. Authorities designated him a Level 3 sex offender, considered the most dangerous and likely to reoffend, but did not impose supervision because Washington had completed his sentence.
Mansfield's relationship with Washington soon turned romantic. She said she never knew the truth about his rape conviction.
Her ordeal began on a July evening in 2015. In her account to police, Mansfield said she and Washington were standing outside his sister's apartment in north Minneapolis when her cellphone rang. Washington demanded to know who called. When she wouldn't tell him, he smashed her phone, took her car keys, pulled her inside and began beating her. He knocked her to the floor, she said, and placed his hands around her neck.
"This is where you die," she recalled him saying.
When she came to, she said Washington was crying. She begged him to take her to a hospital. He did, but warned her to tell the nurse that she was drunk and had hurt herself falling down. Spooked by the security guards, he made her leave without treatment and took her to his mother's house.
Limping and barely able to swallow, she went into a bedroom and lay down.
It was there, she said, that the rape took place. She lay frozen, too injured to fight and too frightened to scream.
"Nobody's coming to save me," she remembered thinking.
 
In early 2015, researchers at Case Western Reserve University in Ohio began a large study of untested rape kits to see what they might show about the behavior of rapists. Examining a subset of 433 rape kits from closed cases in the Cleveland area, they documented a startling pattern: More than half the assaults were linked to repeat rapists.
Today, it's widely accepted in law enforcement that most sexual assaults are committed by repeat offenders.
Rachel Lovell, one of the lead researchers, said she was "astonished" by the extent of the damage caused by these predators. She said the findings hold lessons for the way police investigate rape. "Law enforcement should likely start from the assumption that this person has committed another one," Lovell said.
That is how police approach most child sex crimes, said David Lisak, a retired University of Massachusetts psychologist widely known for his work training law enforcement officers. Rape investigators should do the same, he said, moving beyond the incident at hand to the suspects and their histories.
When the Case Western researchers looked closer, they noticed something else: Repeat rapists were much less methodical and more opportunistic than expected.
Lisak and other researchers said the only pattern is that repeat rapists prey on vulnerability in all its forms: Women who are intoxicated, mentally ill, lacking self-esteem or separated from their friends.
"If you're a cheetah on the savanna, you're picking off the weak to survive," said Boardman, the consultant. "It's the same with these guys."
A few days after the incident with Washington, a traumatized Mansfield drove to her sister's house, then picked up her daughter from her grandmother. Her sisters and her mental health caseworker persuaded her to file a police report and go to the hospital.
They were at North Memorial Medical Center when two Minneapolis police officers arrived. Mansfield and her sister said one of the officers treated her disrespectfully, asking what they felt were accusatory questions that made her feel like a criminal, not a victim.
"I wasn't very happy about a lot of things I did in my life, but I also was never ashamed of myself," she said. "It made me a great person in the end. But they kind of stripped me of that that day."
In their report, the officers noted that Mansfield's sister told them Washington had been in prison for criminal sexual conduct, but there is no mention that they checked his history. Reached recently, the officer who wrote the report said he couldn't recall running the background check, even though that would have been normal procedure. They gave Mansfield a blue card with resources for victims and said someone would be in touch.
Days went by and the police didn't call. But Washington did, she said. Police had gone to his mother's house looking for him, and he was furious. Over the next several days, Mansfield said, he called and texted constantly with threats against her life and her younger sister. She called police repeatedly for an update on the case, and filed for a harassment restraining order, writing in her petition that she feared he was "going to come to Windom and get me."
Mansfield said she was so frightened she stashed knives under her bed. When she finally reached the supervisor of the sex crimes unit, two weeks after the assault, her frustration boiled over. She said she was in such danger that they should drop the case if they weren't going to arrest Washington.
Mansfield's police file shows two brief entries in that period. The first one, undated, says only "cannot prove sexual assault." The second is dated August 10. In it, the sex crimes supervisor, Lt. Mike Sauro, wrote that Mansfield contacted him and "stated she did not want to go on with this investigation."
In an interview, Sauro said he doesn't remember that conversation, but explained the overall logic: "We've got 700 cases. If you don't want anything done, I'm not going to beg you."
In fact, there wasn't much of an investigation. Records show the department never assigned her case to a detective. No one visited the scene of the incident to find witnesses or collect evidence. No one questioned Washington.
"To them I was probably just some crack whore," Mansfield said. "They did nothing."
Mansfield and her daughter moved to Mora, a small town north of Minneapolis, to be closer to her foster mom. One night five months after her rape, her sister called. Turn on the news, she said. There, on the screen, was Washington's face. He had been arrested for assaulting two young women on the same night in the Uptown neighborhood of Minneapolis.
According to the police report, one of the women said she had gone out after midnight to get a few groceries, including cayenne pepper and strawberry sherbet. Walking home, she noticed a man in a leather jacket trailing her and saying he was new to the area. She tried calling her boyfriend, but he didn't answer. Suddenly the stranger grabbed her by the throat and dragged her into an alley. According to the police file, he kept saying, "You're not going to make it, you're not going to make it."
When she regained consciousness, she was lying in the mud, her pants and underwear pulled down her legs. Disoriented, she grabbed her shoes and ran. She flagged down a passerby, who called 911.
Officers were still on the scene when a second call came in. Just blocks away, a 28-year-old St. Paul woman had been found unconscious. She'd been waiting for a ride outside her sister's apartment when a man in a dark leather jacket approached and began asking for directions.
Then he began strangling her, the police report said.
A couple walking nearby saw the assault and called 911. When officers arrived, they found her lying unconscious on the ground, her shirt up and pants unzipped. Lying nearby, they noted, was a new container of cayenne pepper.
A few moments later, police spotted Washington crossing an intersection. He fit the description and was carrying a plastic grocery sack. Examining the bag, the officers found some slightly thawed strawberry sherbet. He also had one woman's ID and cellphones belonging to both victims.
Mansfield watched the television in disbelief.
"I felt just broken" for the two women, she said. "Right away I just knew, this happened because that officer didn't take my case seriously."
It wasn't long before Washington called Mansfield from jail. Frightened again, she called the Minneapolis police and unloaded: It's your fault that two more women were attacked, she said. To her surprise, she soon received a phone call from Minneapolis detective Stot Dunphy. He had been assigned to the Uptown assaults and had checked the paperwork on Washington.
He asked whether she was OK, Mansfield said, and apologized for the way police had handled her case.
One week after the Uptown attacks, Mansfield drove to Minneapolis for a police interview. "At that point I wasn't as much worried about my own [case], as I felt an obligation to make sure that these two other ladies got the justice that they needed to get," she said.
In February 2016, a grand jury indicted Washington on 13 felony counts of first-degree attempted rape, attempted second-degree criminal sexual conduct, aggravated robbery, first-degree assault, and kidnapping — all stemming from the two Uptown attacks.
In Mansfield's case, prosecutors charged Washington with first-degree rape.
Sauro, now retired, ran the sex crimes unit at the time of Mansfield's assault. He said he doesn't remember her report or the two Uptown cases, which occurred after he transferred out of the unit.
After the Star Tribune e-mailed him copies of the cases, he expressed regret.
"I'm highly confident that for whatever reason — whether it was my error or whatever — I did not know that he was a Level 3 sex offender, or I would have assigned the case [to an investigator], even if it was shaky," he said.
Sauro could not explain why he didn't know about Washington's past. The state Department of Corrections confirmed that it notified the Minneapolis police about Washington on May 5, 2015. A spokesman said Corrections followed up with a phone call. The state's one-page fact sheet on Washington, dated May 4, 2015, identifies him as a Risk Level Three.
Sauro said he doesn't know whether the officers who took Mansfield's report ran a check on Washington. He said he doesn't fault them if they didn't, because the Fourth Precinct is so chaotic: "Those guys are running from call to call."
Sauro also acknowledged that Mansfield's criminal record might have played a role in the decision to not assign her case to a detective.
Boardman, the retired Utah detective, said he can't understand that decision.
"Not assigning the case because they are not upstanding citizens?" Boardman said. "That's discrimination."
 
Washington's charging document


In December 2015, Hennepin County prosecutors charged Washington with attempted rape in connection with an assault in Minneapolis' Uptown neighborhood. While investigating that incident, Minneapolis police took a new interest in the rape report Amber Mansfield had filed a few months earlier.
In April 2016, Mansfield sat in a Hennepin County courtroom and stared down the man who had terrorized her. Washington was on trial for one of the Uptown assaults because one of the victims was not available to testify. Prosecutors wanted Mansfield's testimony to prove that he intended to commit rape.
Washington was convicted of several felonies, including first-degree robbery and two counts of attempted rape, and was sentenced to life in prison. That was reduced on appeal to 15 years, and he'll likely serve about 10.
After Washington's conviction, Mansfield and prosecutors agreed to dismiss the charges in her rape case. She reasoned that he was headed back to prison anyway. Just walking into the courtroom for the other trial, facing Washington and telling a jury the truth was redemptive, she said: "The look on his face … he couldn't believe it."
On a recent afternoon in Mora, the playful shouts of Mansfield's 8-year-old daughter and her friends drifted in from the leafy yard as she talked about her life now. She can't help feeling that if she'd just been a better person, without her troubled past, maybe police would have taken her rape more seriously. Maybe it could have spared the other women their horrific ordeals.
Her life has improved. Her daughter is thriving in school, and can pedal around town on her bicycle without fear of gunshots.
Mansfield said she's proud of all she has overcome, describing herself as "built for life." She said she regained some of the dignity that she felt the police had taken from her.
"I feel like I gained it back by doing what I needed to do for these ladies … to make sure that they knew they were safe and he was gone," she said. "I gained … some pride, a whole lot of pride."
Then tears spilled onto her cheeks.
"I can tell my daughter … that out of horrible things I still got something good out of it."