Early Childhood Reporting Institute Series
March 6, 2018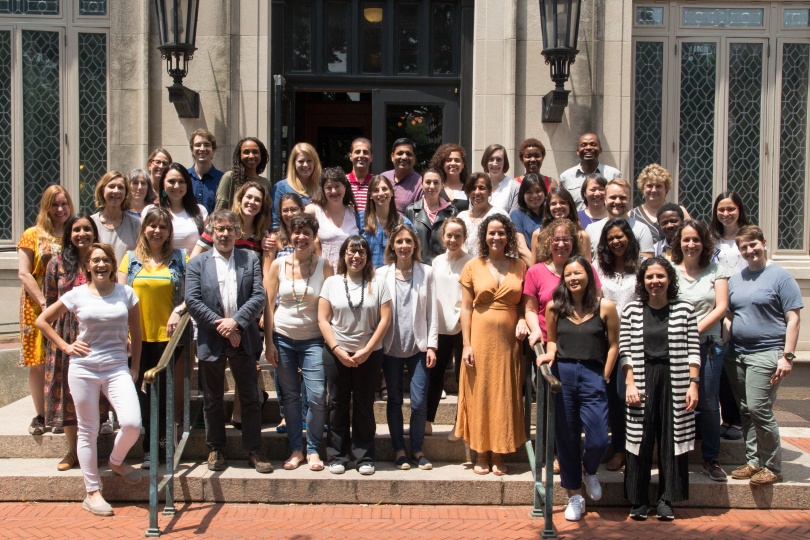 For journalists around the world, children are often at the forefront of reporting, on beats ranging from education and crime to refugees, conflict and international public health. Quite simply, children are the news - whether as the subjects of stories, the targets of social policies, or the victims of family violence, natural disaster, or war. Yet too often, reporting overlooks crucial innovations in the scientific understanding of early childhood, the impact of trauma on developing minds and the policies that promote resilience and growth in the face of violence, stress and upheaval.
To foster more effective reporting on vulnerable children, the Dart Center for Journalism and Trauma, a project of Columbia Journalism School, has launched the Early Childhood Reporting Initiative: Covering Trauma, Resilience and the Developing Brain. This new series of workshops, supported by a consortium of international foundations, will provide journalists around the world with the knowledge, skills and resources to incorporate emerging science and policy on early childhood development into their coverage.
The first Global Reporting Institute was a four-day program at Columbia Journalism School in New York City June 28 - July 1, 2018, the second took place in Amman, Jordan; and the third took place in New York September 19-22, 2019. Subsequent workshops are planned for Abidjan, Côte d'Ivoire; Mumbai, India; and Rio de Janeiro, Brazil.
The first globally-themed institute – open by application and limited to 25 journalists from around the world – was designed for reporters on any beat touching the first seven years of life, whether schools or health, war or social policy, neighborhoods or refugees. It focused on advancements in neuroscience and their implications for child development, concentrating especially on vulnerable children living in extreme poverty and unstable environments.
The program, based on a pilot workshop held at Columbia in 2017, also addressed national and international policy on health, education and related fields. Other topics included the building blocks of brain development, impacts of stress on early brain development, successful intervention models and the influence of technology.
This interactive workshop included panels and presentations by leading neuroscientists, economists, and child development experts, as well as journalist-to-journalist seminars on how to translate these issues and themes into meaningful stories and relevant, captivating news coverage. The curriculum aimed to share knowledge, encourage deeper reporting and foster lasting relationships between journalists and international researchers, scholars and practitioners. Speakers included:
Nadine Burke Harris, MD, MPH, FAAP, Founder and Chief Executive Officer, Center for Youth Wellness
Lynne Jones, OBE, FRCP, PhD, Course Director, Mental Health in Complex Emergencies, International Institute for Humanitarian Affairs, Fordham University; Consultant, World Health Organization
Jenny Anderson, Reporter, Quartz
Karen Brown, Senior Reporter, New England Public Radio
Marta Rubio Codina, PhD, Senior Economist, Child Development Specialist, Inter-American Development Bank
John Woodrow Cox, Enterprise Reporter, The Washington Post
Theresa S. Betancourt, ScD, Salem Professor in Global Practice, Boston College School of Social Work; Director, Research Program on Children and Adversity, Boston College
Esther Goh, ECD specialist, Bernard Van Leer Foundation
Sally Grantham-McGregor, MD, Emeritus Professor of International Child Health, Institute of Child Health, University College London
Cassie Landers, EdD, Professor of Population and Family Health, Columbia University Medical Center
Joan Lombardi, PhD, Senior Advisor on Global Child Development Strategies, Bernard van Leer Foundation
Dana Charles McCoy, PhD, Assistant Professor, Harvard Graduate School of Education
Charles Nelson, PhD, Professor of Pediatrics, Neuroscience and Psychology, Harvard Medical School; Professor of Education, Harvard University; Professor in the Department of Society, Human Development and Health, Harvard School of Public Health
Kimberly Noble, MD, PhD, Associate Professor of Neuroscience and Education in the Teachers College at Columbia University
Tania Opazo, Reporter, La Tercera, Chile
Mikhael Simmonds, Northeast News Manager, Solutions Journalism Network and Multimedia Journalist
Jane West, Executive Director, The Two Lilies Fund
Hirokazu Yoshikawa, PhD, Courtney Sale Ross Professor of Globalization and Education, NYU Steinhardt; Co-Director, NYU Global TIES for Children Center
Six selected participants received micro-reporting fellowships of $500-$1000 USD to pursue stories following the program on one or more of the institute topics. Journalists from across the media spectrum with a minimum of three years' professional experience were eligible to apply.
Roundtrip international or domestic travel, three-four nights of hotel lodging, ground transportation and most meals were covered for the 30 selected participants.
This reporting institute took place June 28 - July 1, 2018 at Columbia Journalism School in New York City. The next training program in the series, Covering Children and the Syrian Refugee Crisis, occurred in January 2019. And the one after, Reporting on Refugees and Migration Through the Eyes of Young Children​, took place in September 2019.
This three-year initiative has been underwritten by the Bernard van Leer Foundation, the Jacobs Foundation, the Maria Cecilia Souto Vidigal Foundation and The Two Lilies Fund.