Gun Violence Seen Through the Eyes of Children
By John Woodrow Cox, Originally published by The Washington Post on April 20, 2017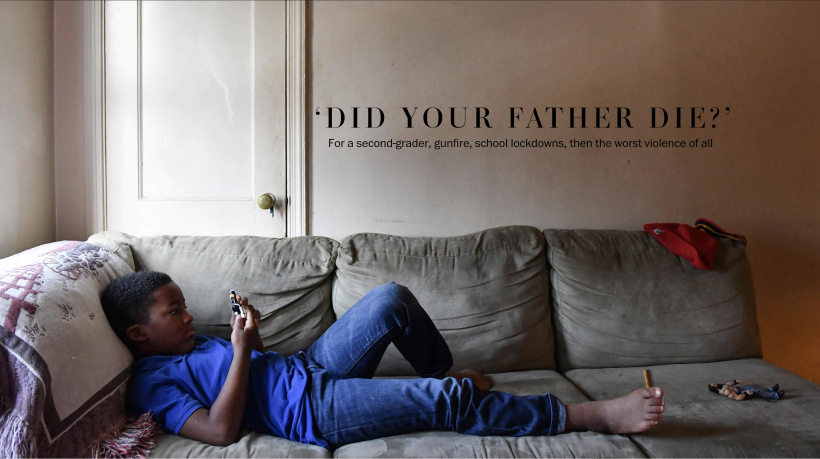 The boy was sitting in his favorite spot, atop his dad's bed, playing their favorite game, "NBA 2K16" on the Xbox One, when he heard the sound. Pop, pop, pop, from just outside the second-floor window on that warm summer afternoon. Tyshaun McPhatter's father burst through the open doorway, crouching. "Get down on the floor," he screamed, and the 7-year-old knew what that meant: more gunshots.
Bullets, Tyshaun had learned by then, could break glass and rip through skin and bone. On his dad's dresser was a reminder: a three-inch button inscribed with "Rest in Peace" that honored a family friend shot two blocks away. Tyshaun didn't want to get hurt like that, so he dropped the Xbox controller and leapt down to the worn hardwood floor of their aging three-bedroom house in Southeast Washington. Chest throbbing, he hid behind the footboard and covered his head with his hands.
He was afraid, but not as much as he had been a year earlier when someone started shooting near a playground just as he skidded down a red plastic slide. Tyshaun figured all kids heard gunfire outside their homes, so he might as well learn to be brave, like his dad.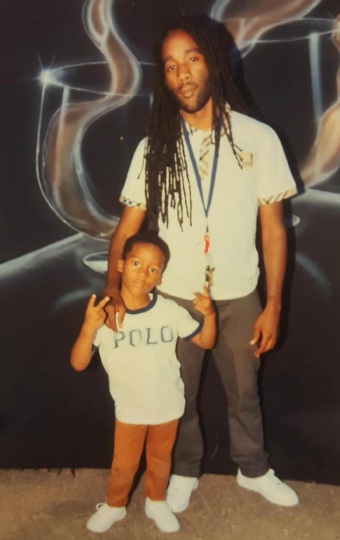 "I'm not scared of nothing," he started telling himself.
Tyshaun lived part time with his father, Andrew McPhatter, along a row of 70-year-old, red-brick duplexes in Congress Heights, just three miles from million-dollar townhouses and $14 cocktails. But on their side of the Anacostia River, where more than half of the city's homicides occur and nearly every other child grows up in poverty, many boys and girls learn to navigate peril before they learn to read.
For kids in Tyshaun's neighborhood, and millions of others in high-crime communities across the country, the unrelenting threat of violence shapes almost every aspect of their lives: The streets they walk down, the parks they visit, the pictures they draw, the nightmares they have, the number of parents they come home to.
Tyshaun's mom, Donna Johnson, had worried since he was born about how that environment would affect her boy, who had both a deep well of compassion for people he sensed were suffering and a tendency to explode in anger, often with his fists, when he was being teased or challenged.
She wanted Tyshaun's story told so people who live in far-safer places would understand his world. His mother, relatives, teachers and friends all agreed to talk about him.
As he prepared to start second grade in the weeks after the shooting outside his house, the danger around him only crept closer. He came home one day to discover that a bullet had punched a dime-sized hole in their steel front door — just below his eye level — before tearing into the back of the living-room TV. In November, five days before Tyshaun's eighth birthday, another of his dad's friends was killed, and one more died in January after being shot 500 feet from their house.
The bloodshed intensified in late February. Four people were wounded in one evening less than half a mile away, and another was hit four nights later.
Then, at 10:50 a.m. on the first day of March, someone raised a gun one block from Tyshaun's home and a dozen steps from the front gate to his school, Eagle Academy Public Charter. But inside, Tyshaun couldn't hear the five shots that would thrust the violence circling him for years into the center of his life.
'I hope my daddy's okay'
Tyshaun was at lunch, trying to avoid the day's free serving of beefaroni, when he overheard a teacher mention that the school had been locked down.
That didn't bother him. Tyshaun was used to lockdowns. Eagle had been through one just a week earlier, so as class time approached, he headed out of the cafeteria, where a seven-foot-high red poster hung on the wall. "The Cat in the Hat," it declared next to an image of the character, "does not like that violence."
He didn't think much more about the latest commotion in his neighborhood until he passed by the school's front lobby. Through an expansive glass window, he saw yellow tape and police cars. Tyshaun's eyes fixed on the red and blue flashing lights.
His house was in that direction, just beyond all of those officers.
"I hope my daddy's okay," he recalled thinking.
Tyshaun had last seen his father two days earlier, when he dropped the boy off at school after their weekend together. His parents had split up years earlier, and while his dad remained in Southeast, his mom moved two miles away to Oxon Hill, Md., in part to escape the chaos. Always, though, they had raised Tyshaun together.
His parents believed the best way to keep him safe was to keep him busy, so he was perpetually signed up for something: Cub Scouts, hockey, football. Tyshaun, at a wiry 4-foot-4, had decided to play linebacker for the Washington Redskins when he grew up.
Andrew, 28, had three sons, but people who'd known him as a child, before the dreadlocks, called Tyshaun his twin. They had the same chocolate eyes, strong chin, quiet smile. And both tended to cock their heads to the side in just the same way. Tyshaun used it for everything: tongue out when he wanted a laugh, eyes pleading when he wanted a treat, lips pursed when he wanted to look like a teenager.
He'd stay at the house his dad shared with his grandma and her fiance mostly on weekends, but often longer. They seldom went outside, because it was safer not to, so they spent hours in Andrew's room, where father taught son multiplication tables and son taught father the moves to the rap song "Juju on That Beat." Sometimes, his dad, who worked construction, tried to rub his smelly feet on Tyshaun as the boy ducked and dodged and giggled until his eyes watered.
They'd fixate on the Xbox well past his bedtime using Andrew's screen name, "lilandy," which Tyshaun thought was stupid because nothing about his 5-foot-9, thick-bearded father seemed little to him. He would even get to play "Grand Theft Auto V" and "Battlefield 4," the violent games his mom didn't like.
About real-life violence, though, he said his dad was firm: Never pick up a gun, but fight if you have to, because fighters live to fight again.
Now Tyshaun was back in his classroom, grappling with math problems, and the red and blue lights were still flashing outside, and he still didn't know why.
He also didn't know why he'd been told that his mom was picking him up early, only to be told later that she wasn't. And he never did know that she had come but collapsed in the lobby, unable to face him.
Not until that evening did he see her, and that's when he knew something was wrong.
"Mom, are you okay?" Tyshaun asked as they sat in the darkness in her gray Dodge Durango.
She pulled him onto her lap.
"Your dad was shot," his mom said, but he was still alive, and that gave Tyshaun hope.
At school the next day, when a friend who knew about the shooting asked if he was all right, Tyshaun heard another classmate laugh. Furious, he shoved the boy.

Tyshaun desperately wanted to see his father, but at his age, the hospital wouldn't allow it, so he insisted on writing a letter. "Dad I hope you are ok," he scribbled in black ink, promising to "give up any thing on my body for you."
On Sunday, four days after the shooting, Tyshaun's mom picked her son up from the home of friends who'd invited him for a sleepover.
"All right, Ty. I'll see you next weekend," one of them said.
"No you're not. I'm going to be with my dad," Tyshaun replied, and he thought of their last weekend together. They had seen "The LEGO Batman Movie" and eaten chicken-flavored instant ramen noodles, Tyshaun's favorite. They had danced again to the rap song.
Six hours later, his mother got a call at home. When she hung up, she sat on the couch and held his hands as he stood in front of her. She looked him in the eyes.
"Your father, he died today," she said, and without a word, Tyshaun slumped to the floor.
'We want everybody to live'
"HOMICIDE VICTIM," read each of the three police reward fliers with photos of three men, including Andrew. They were stacked atop a sign-in table in Tyshaun's school the evening after his dad's death. Dozens of parents, many with children, had passed by as they headed inside the cafeteria, converted into an emergency meeting room to discuss the surge in violence. Along Wheeler Road, which ran between Eagle Academy and Tyshaun's home, six people had been shot in seven days.
Now, after nearly two hours of discussion, a 6-year-old with braids and a bright-pink backpack approached the microphone. Taylor Amoah was a grade behind Tyshaun and didn't know him, but she cared about what had happened to her schoolmate's family — what was happening to all of their families.
"Everybody's got to live," the first-grader said, her voice soft but tone purposeful. "They won't be able to live. That's not fair."
Taylor still remembered the moment when gunfire erupted as she walked near the Big Chair, an Anacostia landmark, and her mother snatched her up and ran.
"People always shooting around this neighborhood," Taylor said. "We want everybody to live."
Behind her sat Tyshaun's grandma, Jessica Jackson, who believed that her son, with no criminal record, was ambushed in his car simply because of who he knew. Police were investigating the case but had told her they didn't know who killed him.
That night, the acting chief, city officials and community leaders had already delivered the same message they'd delivered at countless other meetings: Detectives needed help. Petty beefs, not money or drugs, were driving most of the carnage. The violence would lead to more trauma, and the trauma would lead to more violence.
On a nearby wall was a display illustrating that trauma: A question — "What makes you sad in your neighborhood?" — surrounded by 16 pictures children at the school had drawn in response.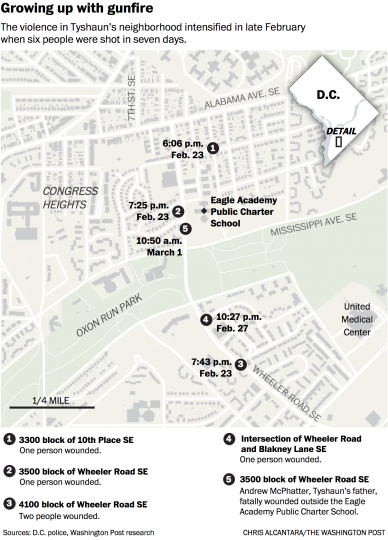 "Bang, bang," an 8-year-old printed next to a man firing three bullets toward another man shouting "NO!"
"Bang, bang. Bang, bang. Bang, bang," a second 8-year-old wrote next to three people shooting at three other people down the street from a police car.
"Bang, bang, bang," a 6-year-old scrawled next to two stick figures, smeared in red marker, lying near a set of gravestones inscribed with "RIP."
The images, Eagle's staff knew, hadn't come from TV shows or video games. Almost all of their 700 students, who range from 3 to 9 years old, had witnessed violence or its aftermath.
There were the half-dozen who had needed counseling after passing a body near their bus stop. There was the third-grader who sobbed in class the day after a cousin was shot outside his front door. There was the kindergartner who told teachers how sad he was after his father's killing on Halloween night.
Then there were the boys who hit girls, because that was what they saw at home, and the girls who got hit but said nothing, because that, too, was what they saw at home.
Eagle's founders had opened the pre-k through third-grade public charter in 2012 because of the struggles in Congress Heights, not in spite of them. They knew what the growing body of research showed: Chronic exposure to violence could disrupt a child's brain development and inflict profound mental and emotional damage. At Eagle, a place where so many of its students live in poverty that everyone gets three free meals a day, the staff doesn't come to work just to teach lessons from books.
One day earlier this school year, Dawne Wilson's pre-k class of 4- and 5-year-olds was on the playground when she heard gunshots from just beyond Eagle's eight-foot-high black steel fence.
"Let's play a game. Everybody get down," Wilson calmly told them, aware of how important it was that she disguise her fear.
"Being in the middle of a war zone is crazy," said Wilson, an educator for 29 years. "Some of these children have been through more in their young lives than I've been through in my adult life."
At first, Tyshaun struggled to accept what he'd lost. He imagined creating a potion that would make his dad come back to life. He obsessed over building a time machine, traveling back and whispering in his father's ear before he got into the car that morning: "Don't go nowhere, dad."
Then, one after another, the questions began to tumble out.
"Did my daddy do something to deserve this?" he asked his mom.
"Where was he shot at?"
"Where do guns come from?"
"Did they catch the person?"
"Is the person going to try to come and get me?"
'Killed y'all'
Neatly laid out atop Tyshaun's Marvel superheroes bedsheet were his clothes for the funeral.
He'd seen a photo from Andrew's eighth-grade prom and decided he wanted to look just like that at the service. So his mom had gone to a Kids for Less, and when she brought the outfit home, he arranged it on his lower bunk bed and insisted no one touch it. For three days, no one had.
He slipped on his black shirt and buttoned it up. Then came his silver vest, black pants, black socks and black size 3½ shoes. He snapped on a silver clip-on tie and tucked a matching handkerchief in his vest pocket.
Tyshaun looked down, contemplating why he had to wear what he was wearing.
"Whoever invented guns needs to stop," he said.
His dad's death had begun to make him angry, particularly because it remained unsolved and the gunman remained free.
"Police only stay for one week," he'd told his mom. "They never find out who did it."
She once overheard him announce to his half brother that he wanted someone to get the shooter — to pay the person back. It unsettled her. That was God's job, she told him. Then she told him again.
All dressed, he picked up a video game controller and walked over to his dresser, reaching up to turn on his father's old Xbox One.
"Where's my daddy's shirt?" he suddenly asked himself, whipping around to see that the purple Hugo Boss sweatshirt was on the bottom bunk. He had taken that from Andrew's closet and slept with it every night since, demanding that his mom not wash it so he wouldn't forget his father's scent.
Tyshaun stood on the bed so he could peer over the edge of his dresser. On the TV, his character, a soldier armed with a machine gun, sprinted through a big-city downtown.
In an instant, blood splattered across the screen.
"Ah, they sniped me," he said, before his character was reborn for another firefight.
"Stop playin' with me," he continued. "Killed y'all."
Then he died again, and the leader board popped up. Tyshaun noticed his dad's screen name, "lilandy."
"I miss him," he mumbled.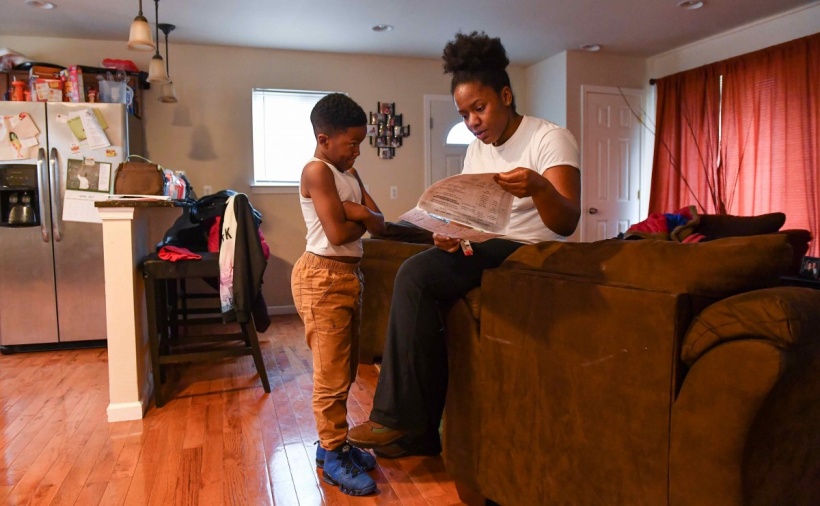 Donna, a 29-year-old State Department security officer, didn't approve of the violent video games, but she understood they kept Tyshaun connected to his dad. And anytime the issue was raised, Tyshaun had an answer. "It's not real," he'd say. "It looks like cartoon pictures."
He'd also begun to repeat the mantra of vigils and community meetings: "Too many black people is dying."
Now it was almost time to leave for the funeral, but Tyshaun had switched to another game, "Grand Theft Auto." His new character, a man with cornrows and a tan trench coat, was jogging down the street, shooting at passing cars.
"We got to be leaving," a relative yelled from downstairs, but Tyshaun kept playing.
On the TV, he heard approaching sirens.
"People always got to call the police," he said.
"Tyshaun," someone shouted, and he didn't answer.
He fired off a few more rounds at a truck.
"We're leaving."
"Coming," Tyshaun shouted back.
Red and blue lights flashed across the screen. At a street corner, three armed policemen raised their guns.
He blew up the first one with a rocket launcher and killed the second with a machine gun.
The third shot him, and as the camera zoomed out, his character crumpled onto the pavement. A word appeared on the screen in red letters: "Wasted."
Tyshaun leapt down to the worn gray-carpeted floor and turned off the game, then remembered his black T-shirt, the custom-made one that on the back said, "Rest in Peace Daddy." He picked it up and rushed downstairs.
'I can't touch him'
Tyshaun waited in line next to his mom as they shuffled toward the front of East Washington Heights Baptist Church. At last, he rounded the final wooden pew, and his father's body came into view.
The boy stopped. His mouth fell open, and his eyes widened. He shook his head.
"I don't want to see that," Tyshaun said, retreating up the center aisle.
His mom followed.
"You can be strong," she said, leaning down and peering at him from behind her black wide-brim hat and matching sunglasses.
"I don't want to."
She held his right arm with both hands, easing her son back toward the glossy, gray casket. He stared down at a face that, to him, didn't look at all like his father's.
"I can't touch him," he whispered. "I can't touch him."
He took his seat in the front row, where his half brother, Zah'Kyi Bynum, joined him.
"You know they put makeup on him?" Tyshaun asked, and Zah'Kyi, also 8, nodded.
Their younger brother, 2-year-old Andrew McPhatter II, waddled toward them, and the boys hoisted him onto their laps.
"You okay?" Tyshaun asked the toddler, dressed in a pink button-down and black jacket. He didn't respond, instead grinning as he whacked at his older brothers. And they let him.
Almost everyone had sat down when an older woman in a black cap passed by the front row.
"Family, last viewing before closing," she said.
Eyes glassy, Tyshaun and Zah'Kyi looked at each other. They whispered. From their pockets, the boys both removed handkerchiefs.
"You want to do it?" Tyshaun asked.
"Yeah," Zah'Kyi responded.
"Come on."
The brothers stood, then approached the casket. Just before the lid was closed, they laid the squares of cloth atop their father's body.

"So he would remember us," Tyshaun would say later.
The pastor welcomed the attendees and the choir sang as the boys looked through a collage of photographs in the program.
A deacon read letters from their father's friends, the organist played "Great Is Thy Faithfulness" and community leaders pleaded for help to end the violence. But Tyshaun had stopped listening. He tried tossing a pencil into its holder in front of him, the wood clacking against the tile floor each time he missed.
Then, his cousins, ages 6 and 9, walked to the front to read "God's Garden."
"Come on. We about to go up there," Tyshaun suddenly whispered to his brother, and they did, joining the girls behind the lectern. Each child read a section of the poem.
"He knew that you were suffering," Tyshaun said into the microphone. "He knew that you were in pain."
As the service continued, the boys moved to a pew toward the back, fidgeting and whispering about video games. Tyshaun took off his tie and hung the metal clip from his bottom lip.
A youth pastor, Kevin McGill, who had attended the same high school as Tyshaun's dad, addressed the audience last. He, too, demanded change, describing his years of violence on the street. Things could get better, he said. People could make different choices. The cost not to, he told the crowd, was too great.
"Twenty-three of my friends been killed," McGill said, and now Tyshaun, his arm around his brother's shoulder, was staring at the pulpit, listening to every word.
'Did your father die?'
Three days after his father's casket was lowered into the ground, Tyshaun climbed out of his mom's Durango outside Eagle Academy and slammed the door behind him.
"Ugh," he groaned, livid that she'd refused to let him take a blue sticky toy into school with him. On most Mondays, Andrew had dropped his son off at school, and both Tyshaun and Donna knew he likely would have won that argument with his dad. But now he had just one parent, and in her prayers, she'd promised Andrew to do the best she could. She believed that her son, now as much as ever, needed discipline.
Tyshaun's eyes welled as he stomped across the street.
"You all right, man? Who you mad at?" the crossing guard asked, but Tyshaun didn't answer.
He joined the other students in the cafeteria, and soon they were in a line and on their way to class. In the back, Tyshaun dragged his feet and ran his hand across the wall.
Nikki Lee, his teacher, put her arm around him. "You're getting frustrated again," she said as they walked.
Tyshaun had struggled with controlling that exasperation before, but he'd made progress in second grade. In his electric-orange Adidas backpack was a sheet Lee used to rate students' behavior from 0 to 6. "Great job," Lee had written below a 5 a week before the shooting. He got a smiley face below another 5 two days before it and another 5 on the day it happened.
Whether his mood that morning related to his father's death, she didn't know, in part because he had never discussed it with her. But Lee understood how what her kids endured in their homes and neighborhoods could cripple their ability to succeed in school. On that day alone, she would manage a girl who stormed out in tears, a boy who slammed his chair against the floor and another who purposefully knocked his head against a desk as he muttered, "I'm going to hurt myself."
Tyshaun did little more than lay his cheek against his forearm.
Now it was almost 11 a.m., lunchtime, and Lee asked if he could open the door, his official classroom job.
"Are you ready to fix it?" she said, and Tyshaun nodded that he was.
He held the door and the class marched down the hall, where he held another one. A girl approached him.
"Did your father die?" she asked, and he sensed a trap.
"Shut up," he snapped.
Another boy laughed and motioned in his direction.
Tyshaun's fist tightened into a ball.
"I'm going to smack you," he said, but before he could, Lee intervened.
She called the other child over as Tyshaun explained what had happened.
"Tyshaun thinks you were laughing at his situation," she said.
"I didn't laugh at him," the boy said, but Tyshaun didn't believe that.
Fuming when he arrived at the cafeteria, he asked a woman at the door if he could see Mr. Murray, his favorite teacher. She told him he needed to wait. Tyshaun's jaw clenched. He walked away, then turned back and screamed.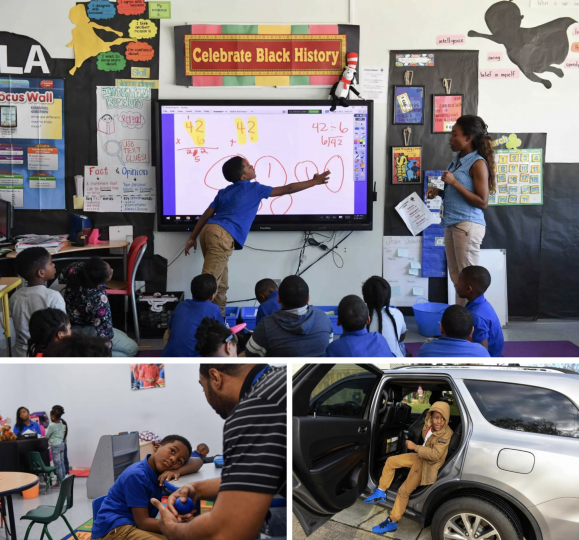 A woman in the kitchen spotted him.
"You look like you need a minute," she said, placing her hand on his head.
And when he'd had one, she allowed him to leave. He walked down the hall and into a classroom, where he got a high-five from Curtis Murray, an assistant teacher in the special-education program.
Tyshaun sat on a miniature blue couch in the corner, opening a ninja game on an iPad and reaching into a bag of Goldfish. His shoulders relaxed. His eyes calmed.
He hadn't talked about his dad's death with any schoolmates, and Murray was just one of a couple adults at Eagle in whom he'd confided. Tyshaun had asked another, Ashley Watkins, a social worker, to explain the difference between heaven and hell, because he wanted to make sure his dad had gone to the right one.
Neither she nor Murray had ever seen him break down over the killing, and that worried her.
"My fear for him is that because he's so kind of emotionally guarded, he will eventually internalize it," said Watkins, who didn't know how all of that held-in emotion might someday spill out.
Tyshaun left Murray's room and returned to class, but his mind remained elsewhere, ignoring most of what Lee asked him to do. As his friends studied how to read clocks, he drew a picture of his father — a smiley face with dreadlocks — before furiously scratching it out because he thought it looked ugly.
At recess, he played football in the dirt and the grass, and it took four other boys to tackle him.
At gym, he noticed a classmate sitting alone on the floor by the wall, rubbing his eyes. Tyshaun sat down next to him. "You okay?" he asked, but before the boy could answer, a staff member led him out. Tyshaun looked disappointed. "I was trying to make him feel better," he said.
That afternoon, he got his behavior sheet back. "Trouble following directions," Lee wrote beneath his score, a 2. He crumpled up the paper later and left it on the floor so he wouldn't have to show it to his mom.
At the end of the day, she waited for him in the lobby, smiling as he approached. Behind her was the expansive glass window, and there, across the street, a mobile police camera now stood on the corner next to where his father was shot five times. On top of it, red and blue lights flashed.
Jennifer Jenkins contributed to this report.