Kako je to biti žena ratnog reportera
May 9, 2009
Mojih petoro dece su mesecima unapred znali da dolazi rat. Otvoreno razgovaramo o poslu njihovog oca. Odrasli su sa ratom. To je po mom mišljenju bilo izuzetno značajno. Mogli smo da pružimo podršku Timu u nekim veoma teškim zadacima upravo zato što oni tačno znaju šta on radi.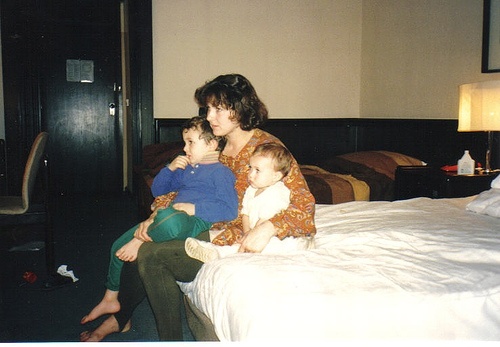 U Sarajevu pada sneg. Moj suprug Tim Džuda i ja vodimo mlađu od naše petoro dece u razgledanje. Zidari krpe i farbaju fasade. Skoro petnaest godina kasnije rat se polako premešta u udžbenike istorije. Vozimo se u brda iznad grada. Dole u dolini vidi se "Holidej in".
Tim zaustavlja automobil i svi izlazimo. "Ovo je prvi put da ovde izlazim iz kola", kaže on i objašnjava klincima da se nalazimo na jednom od mesta sa koga su bosanski Srbi granatirali grad. Pokazuje naviše na put za Pale. "Ovde sam se spustio kolima brzinom od skoro 160 kilometara na sat. Ako vi vidite njih, vide i oni vas. Ovde ste zaista bili smrtnoj opasnosti."
Zurim u zaleđen, prazan drum. "Vreme je obično bilo gore nego sada", dodaje. "Au!", kaže devetogodišnji Džejkob razrogačenih očiju. Vidim kako naš crveni porodični automobil munjevito juri pored nas. To me proganja danima. Drago mi je što sam negde gde nisam jedina osoba koja povremeno ima flešbekove. Kada smo živeli u Beogradu za vreme ratova u Hrvatskoj i Bosni, nikada se nisam osećala kao da sam čudak zato što se brinem šta moj muž radi na ratištu. A onda smo se 1995. preselili u London, gde ljudi mogu da isključe svoje televizore i zaborave na nešto neprijatno što se događa negde daleko.
Moja usamljenost je dostigla vrhunac za vreme invazije na Irak 2003. Jednog sunčanog prolećnog jutra, otišla sam u samoposlugu. Dok sam stavljala kesu smrznutog graška u korpu, primetila sam da se kod kasa nalazi veliki TV ekran na kome se mogao videti direktan prenos zbivanja sa ratišta. Jedan novinar je pretrčavao put iza nekih vojnika. Srećom, Tim je bio u Bagdadu, a ovaj izveštaj je bio iz Basre, ali ono što me je pogodilo bilo je to da verovatno nikome nije palo na pamet u toj samoposlizi, u Bi-Bi-Siju ili svim onim intelektualcima koji iz svojih fotelja žučno raspravljaju o tome kako se piše o ratu, da za trenutak razmisle kako ti prizori na džinovskom ekranu utiču na porodice novinara koji izveštavaju o skobu.
Novinarstvo ne zadire u porodični život samo onda kad se dogodi nešto strašno, kad vam je muž ubijen ili kidnapovan. Tim je bio u Bagdadu već tri meseca. Ja sam morala da objasnim deci to odsustvo. Ne, on ne voli Iračane više nego vi; neko jednostavno mora da bude tamo da kaže svetu šta se dešava. Povrh svega toga, ja sam bila samohrana mama bez prebijene pare. Kao nezavisni novinar, Tim je sam morao da plaća veći deo troškova od nekoliko hiljada funti. Ja sam ostala s ogromnim minusom, a za ručak smo imali samo pasulj i hleb od juče. I nije nešto čime se diže moral.
Mojih petoro dece su mesecima unapred znali da dolazi rat. Otvoreno razgovaramo o poslu njihovog oca. Odrasli su sa ratom. To je po mom mišljenju bilo izuzetno značajno. Mogli smo da pružimo podršku Timu u nekim veoma teškim zadacima upravo zato što oni tačno znaju šta on radi.
Nije sve u našoj kući sumorno i mračno. Ponekad je strašno uzbudljivo, a zahvaljujući tome što ga prate po celom svetu pružaju im se neverovatne mogućnosti, mada su savršeno svesni opasnosti. Zbog toga su mudriji i obazriviji, ali su isto tako često odvojeni od svojih vršnjaka.
Pa ipak, za sedamnaest godina niko iz novina nijednom me nije pozvao da me pita kako sam. Povremeno, kada se Tim nalazio na frontu, telefonirao bi mi neki dobro raspoloženi uredničić i glasom kojim inače naručuje kafu, rekao: "Samo hoću da vam kažem da vam suprug nije mrtav. Ostavio je poruku na centrali." A onda bi spustio slušalicu pre nego što bih stigla bilo šta da ga pitam. Samo još jedan dokaz da niko u redakciji ne vodi računa o tome šta se dešava na "domaćem frontu". A to je nešto što se lako može popraviti.
Kada se Tim vratio iz Darfura s upalom pluća i proveo u bolnici šest nedelja, porodični prihodi su presušili, a telefon je ostao nem. Niko ne brine za slobodnjaka koji ne može da radi, čak i ako se razboleo na svom poslednjem zadatku. Zato deo novca od moje poslednje knjige poklanjam Fondaciji Rorija Peka, koji pomaže porodicama slobodnih novinara, ozbiljno povređenih ili zarobljenih u toku obavljanja dužnosti.
U proleće 2003, malo posle mog odlaska u onu samoposlugu, doživela sam šok kada je kanal ITN saopštio da je Timov hotel (koji je u "Ivning standardu" toga dana označen kao direktna meta) pogođen krstarećom raketom. Moj 15-godišnji sin Ben me doveo do fotelje i zgrabio telefon. "Ne brini, zvoni", rekao mi je. Imali smo sreće. Tim se javio. Direktno je bila pogođena susedna zgrada, a njemu su upravo doneli posluženje u sobu.
Takvo veče budi u vama gomilu osećanja s kojima morate da se suočite. Pre svega, zašto je on dobio posluženje u sobi, a ja moram da spremam čaj deci? Zašto on radi nešto uzbudljivo, a ja moram za to vreme da čamim u Londonu?
Hotel moga muža je bio meta, a kako sam ga ja izvukla odatle i našla mu sigurniji smeštaj? Bio je petak uveče i svi iz "Ekonomista" su otišli kući za vikend. Jedan od urednika mi je dao broj mobilnog telefona, ali je on bio isključen. Na kraju, idućeg dana, ubedila sam Tima da pređe u bezbedniji hotel – Hotel Palestinu. Sreća je što sam imala dobre prijatelje koji su mi pomogli, ali je to bila situacija sa kojom sam morala da se uhvatim u koštac sama.
Savremena tehnologija olakšava rešavanje takvih pitanja. Sada mogu direktno da ga zovem na satelitski telefon i izvičem se na njega zašto što mi se pokvarila mašina za veš. Loših dana, kao recimo onda kada je satima razgovarao s izbeglicama Albankama sa Kosova čije su muževe neposredno pre toga pobile srpske snage, pričamo o onome što je upravo video. Zvuči utučeno i iscrpljeno. Ubeđena sam da taj direktni kontakt ne samo što održava naš brak, već i pomaže Timu da sačuva razum dok mnogi drugi izveštači sa ratišta završavaju s teškim traumama. Jedina mana te terapije jesu skupi telefonski računi. Zato smatram da profesija mora više da pomogne porodicama ratnih izveštača.
Kada deca odlaze na spavanje, teško vam je da im čitate neku bajku kao da se ništa ne dešava, a za suočavanje s njihovim brigama, velikim i malim, potrebni su sati roditeljske pažnje. To su oni neplaćeni sati koji omogućavaju mom mužu da tačno prenosi vesti.
S tim problemom izlazim na kraj tako što s njima otvoreno razgovaram o svemu što se događa oko njih umesto da ih čuvam ispod staklenog zvona. Nisam ja neka neobična majka. Mojoj deci je neophodan odgovarajući rečnik da bi shvatila svoj svet. Oni moraju da znaju šta je krstareća raketa i zašto morate da budete ljubazni prema čoveku s "kalašnjikovim" na nekoj blokadi na drumu.
Nalazili smo se u Sarajevu onog dana kada je izbio sukob u Bosni. Dok smo se šetali po gradu, čuli smo prve ratne pucnje. Strpala sam 18-mesečnog Estija u kolica i rekla Benu da je dosta zagledanja za taj dan.
Ben je shvatio da nešto nije u redu i pitao me šta će se dalje događati. Nema tog priručnika za roditelje u kome piše: "Izbija rat i ulicama bi mogle da poteku reke krvi. Morate da kažete detetu sledeće..." Gledao me je direktno u oči, ne skrećući pogled. Opredelila sam se za iskrenost i rekla mu najgori scenario.
On će uskoro da završi fakultet i želi da krene očevim stopama. Ovog leta izveštavao je sa ratišta u Gruziji. Dok se tamo nalazio, pozvao me je i zatražio savet. "Šokiran sam onim što sam video, ali mnogo gore od toga jeste šta da kažem onim starim gospođama koje su izgubile sve?", pitao je. "One mi pričaju svoje priče, a ja tu ništa ne mogu." Bilo mi je drago što je naučio jednu veoma važnu lekciju. Iako izveštavanje o nečemu strašnom može ostaviti ožiljke, najznačajnije što treba da zapamtite glasi da nikada nećete doživeti tako veliku traumu kao ljudi iz vašeg izveštaja.
Rosie Whitehouse je novinar, pisac i pokretač izdavačke kuće "Reportage Press." Njen suprug Tim Judah je ratni izveštač. S njim je proputovala ceo Balkan tokom proteklih ratova. Svoja iskustva pretočila je u knjigu "Are We There Yet". Živi u Londonu sa suprugom i petoro dece.