As Kashmir is silenced, press freedom levels fall below Afghanistan and Myanmar
In September 2020, Amnesty International halted its operations in India, with the UK-based organisation publishing a report warning of a coordinated effort to silence journalists and activists in the region. 
The Indian government "must immediately halt its intensifying suppression of dissent," said Amnesty International, following a series of raids on journalists and human rights groups in Jammu and Kashmir.
Since then, the situation has deteriorated from bad to worse, particularly for journalists in Kashmir, culminating with the recent arrest of Fahad Shah, a journalist and founding editor of The Kashmir Walla.
Amantha Perera, Project Lead for Dart Centre Asia Pacific, reflects on how press freedom is being eroded, not only in Kashmir, but in other Asia Pacific regions.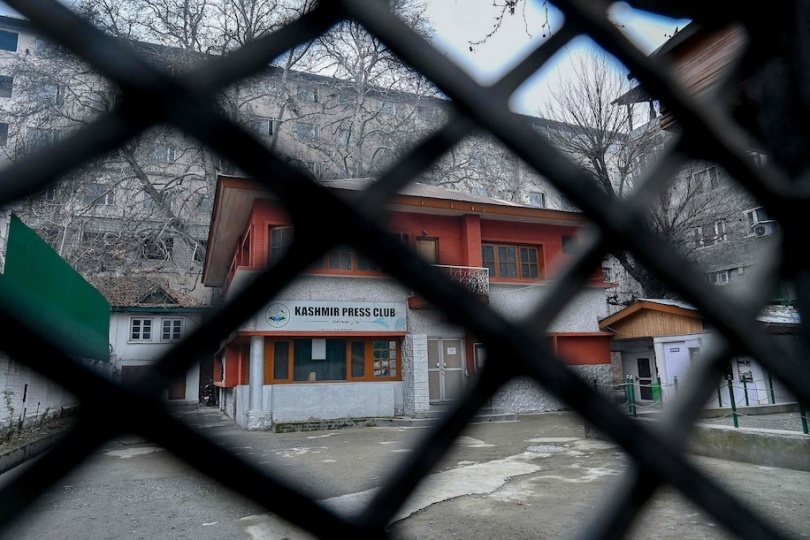 "It could just as well be Afghanistan," my friend, a journalist in Kashmir, told me.
They were describing the current situation in the Indian-controlled region, which is mostly off-limits to foreign reporters and rife with communications blackouts and curfews.
Local journalists remain one of few reliable sources of information about the region, but sustained harassment and intimidation have normalised grave violations of media freedom.
"A black hole"
In Kashmir, press freedom has largely disappeared. Journalists in Kashmir face regular threat and harassment, constant surveillance, arrests, and criminal cases under terror laws. Compounding this is the world's longest ever communications blackout following the political changes in 2019; the state of press freedom has dramatically worsened.
The new government media policy introduced in 2020 left no journalist in Kashmir safe.
Since then, dozens of journalists have been investigated, interrogated, and arrested. Fearing reprisal, local media workers have largely wilted under pressure, resulting in fewer and fewer stories accurately depicting the situation.
Fahad Shah
A recent arrest in Kashmir is that of Fahad Shah, 33, the editor of local news portal, The Kashmir Walla. Shah, who had faced sustained intimidation tactics over the last six months, was arrested on February 4 under stringent "anti-terror" law and sedition. He was accused of "glorifying terrorism" and "spreading fake news". His arrest has been seen as part of an intensifying crackdown on press freedom.
Mr Shah's arrest showed that the Kashmir authorities had "utter disregard for press freedom and the fundamental right of journalists to report freely and safely," said Steven Butler, the Asia program coordinator for the Committee to Protect Journalists.
"Authorities must immediately release Shah, and all other journalists behind bars, and cease detaining and harassing journalists for simply doing their jobs," he said.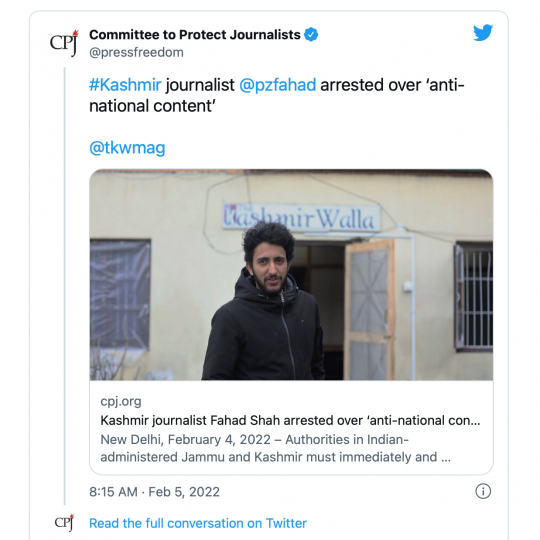 Two weeks after Shah's arrest, posters appeared in Kashmir seeking information on another prominent journalist, Gohwar Geelani. An arrest order for him had been issued on February 18.
Before the Shah arrest, three more journalists were already in detention in Kashmir.
"Many others have moved out of the region," reported a journalist colleague from the region.
Erosion of media freedom
There are clear similarities between Kashmir and two other hot spots for media freedom: Afghanistan, and Myanmar. All three regions have been marked by extended internet restrictions and journalists remain one of the most reliable sources of information following years of violent repression.
But media freedom seems to be eroding even more rapidly in Kashmir, with India sliding below Myanmar and Afghanistan in the World Press Freedom Index ranking, where India sits at 142, and Myanmar and Afghanistan at 141 and 122 respectively.
The latest blow to media freedom in the conflict-torn region was the closing of the largest independent media body last month – the Kashmir Press Club.
"In a state ridden with such excesses against media, Kashmir Press Club was an important institution for fighting for protection and rights of journalists," said the Editors Guild of India in a statement after the club was closed.
A silver lock hung on the large black gate of the club this week, a place which had emerged in recent years as a space for journalists to work from, and for them to come together and express solidarity with colleagues facing pressure from the government.
The closure signals the dismal state of media freedom in Kashmir, journalists say.
"It amounts to stifling the voice of journalists in the region," said one journalist that I spoke to.
The Editors Guild of India called the shutdown the "worst kind of state heavy handedness" against independent media.
A pressure cooker
A year ago, journalist friends in Myanmar expressed similar concerns soon after the military deposed the civilian administration. At the time, some journalists spoke of reviving underground networks that had been largely dormant for over a decade.
"We're in this for the long haul," said one journalist based in Myanmar, when I was talking to him then. Today, as I sit and pen this article, I am drawn back to that conversation from some twelve months ago, as that colleague had mentioned a conversation they had had with Fahad Shah, the now detained editor.
"What did he say?" I asked.
"He was worried that this was for the long haul," came the reply.
Last August, I heard the same thing from colleagues who were fleeing Afghanistan. In the immediate aftermath of major events – like the military takeover in Myanmar, or the arrest of a prominent journalist, - there will inevitably be a clamouring for stories.
Then, inevitably, the focus shifts.
 To the next big story, then the next.
The wavering media attention is of little solace to those who work inside these situations. Colleagues reporting from these hot spots are faced with sustained traumatic exposure.
It can be unrelenting and all consuming.
I discussed this recently with a colleague from Myanmar. They described working as a journalist in these high-pressure situations as akin to living in an overheated pressure cooker.
Faced with deadly repercussions, many colleagues have taken the decision to leave the pressure cooker. Each single departure of a media worker is yet another voice lost in the fight to uphold free speech and human dignity.
Fahad Shah belongs to a minority of gritty journalists who have refused to pack up and leave
Journalism communities worldwide have a duty of care not only to raise awareness on such dire situations, but also to equip and support colleagues to safely work within such environments.  
In his appeal for help to sustain Kashmir Walla, Shah noted on the portal's web site "we have always come to you for help: The Kashmir Walla is battling at multiple fronts — and if you don't act now, it would be too late." Then he talked of tougher times ahead.
The toughest test may have arrived sooner than expected.
By Amantha Perera
Project Lead
Dart Centre Asia Pacific
[email protected]