Reflections on Covering Afghanistan
October 27, 2022
Over a year after the fall of Kabul, we asked journalists to reflect on their experiences of working in Afghanistan and what they've learned since.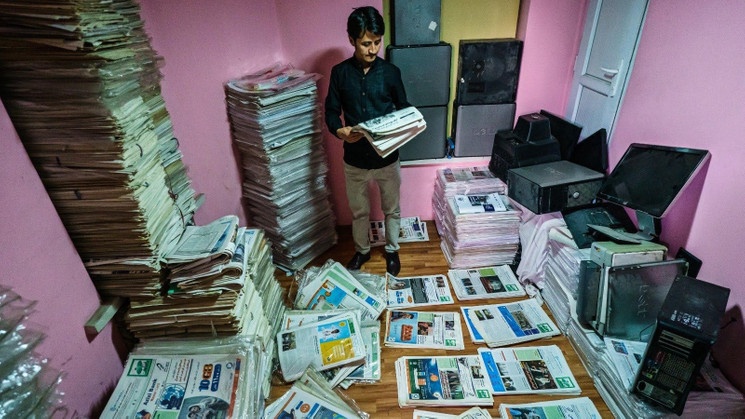 In August 2021, when Afghanistan fell to the Taliban, the news was dominated by footage of Taliban fighters entering Kabul, crowds surging around the airport, evacuation flights packed. The coverage emphasised the important, urgent role that journalists play in documenting America's longest war, and shaping Afghanistan's recent past and future. It also put a spotlight on the grave responsibilities and challenges faced by those covering the region – the enormous complexities bound with their work.
Recent decades have indeed seen a body of vital reporting produced from Afghanistan. Exemplifying the highest standards of the craft, journalists from around the world have put themselves at risk to expose abuses of power, hold institutions to account and bring forth suppressed voices, stories and narratives. But there were also many missteps. At times, Western newsrooms failed to elevate and protect their Afghan colleagues. Some coverage was slanted and one-dimensional, failing to interrogate the nuances of the conflict and its intersections with Afghan culture.
Debates about the role and responsibilities of the media in Afghanistan are ongoing, and as these debates continue, the Dart Center is launching a series of essays written by journalists who have worked in Afghanistan over a span of many years. The series will evolve, incorporating a growing number of perspectives, experiences and lessons learned. We hope they will provide a valuable resource and guide to others.
Scroll down for excerpts, and click the article sections to the right to read the full pieces.
Matthieu Aikins, Contributing Writer, The New York Times Magazine
"Despite the grave accusations that I made with those stories, my work was typically met with polite silence from the US government and the Washington press corps. This was an experience that I know was shared by many other freelancers who came from outside the establishment and didn't have access to official sources. It remained true even when I wrote my first piece for the New York Times Magazine, which laid out evidence that a US air strike on a Doctors Without Borders hospital was the result of deliberate targeting by Afghan partners, as opposed to an accident as per the military's investigation. Crickets.
Last summer was different. The drone strike took place inside the Afghan capital at a moment when the whole world was watching. Working with the Visual Investigations team, I was able to quickly put together damning evidence, including surveillance footage, that the military's version was false. The New York Times' investigation, along with critical reporting by other news outlets, forced the military to quickly acknowledge that it had targeted an innocent man, killing him and his family. General Milley apologized."
Khojasta Sameyee, Editor in Chief, War and Peace Daily
"Before August 2021, we had everything: Freedom of speech, independent media, and a newly-grown democracy. Schools and universities were open for both boys and girls. Women were working in different fields and had their own, fledgling rights. Alongside running my newspaper, I planned to celebrate the publishing of a book I wrote with my brother called, "The Mountains Have Witnessed". I was also going to complete my MBA.
This dream didn't last long. It disappeared with the Taliban, when I lost my country and everything I had."
Seamus Murphy, Photographer and Author, "A Darkness Visible: Afghanistan"
"After 9/11, a spotlight shone on the country with a narrow and highly selective beam. Most western coverage focused on soldiers and citizens from their respective countries, not much attention was paid to Afghanistan and the Afghans. I hardly did any embeds with western military, as I was more interested in Afghans than in the foreign military in Afghanistan. "America's Longest War" read the headlines in the run-up to the US withdrawal in 2021, positioning it as some sort of regrettable White Man's Burden. This tidy version of history dated America's involvement in Afghanistan from 9/11, absolving one of its chief protagonists of a wider, deeper responsibility. America had been actively involved and complicit in Afghanistan and its wars since the Soviet invasion from 1979 to 1988, and covertly, most likely, long before that. The chaos and betrayal of August 2021 was characteristically followed by silence."