Reporting Advice from Chris Benderev: 2022 Dart Award Honoree
Reporting Advice from NPR's Chris Benderev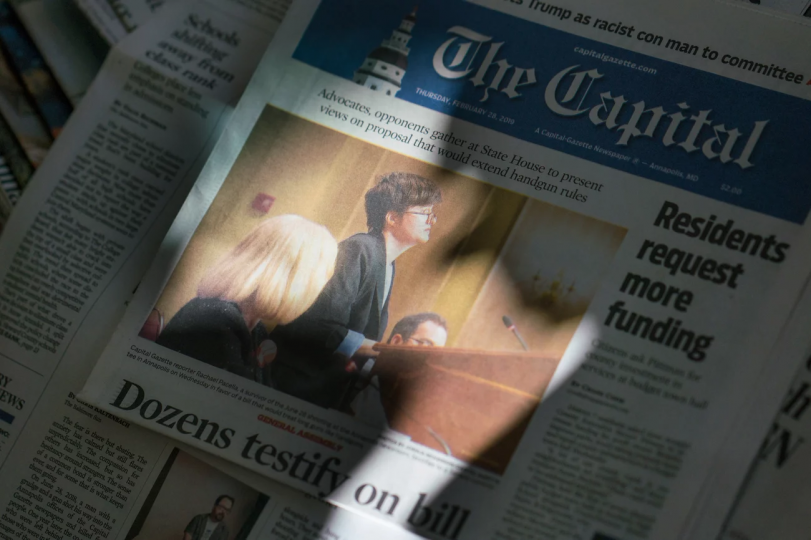 Exemplary reporting on traumatic events requires skills that can take years of experience to master.
Chris Benderev and the team at NPR displayed their expertise in "A Damn Paper," which was recognized with an honorable mention in this year's Dart Awards contest. The first episode of the Embedded podcast, the series documents the human stories behind the 2018 shooting at the Capital Gazette newsroom in Annapolis, Maryland.
Here, Benderev offers insights on the complexities of covering trauma.
On December 1st, "A Damn Paper" will be honored at the annual Dart Awards event at Columbia University. The event is free and open to the public. Find out more details, and register for the event here.
What did this series teach you about your work as a journalist?
I promise this isn't a paid promotion, but it taught me I should have done more training from the Dart Center! I read Dart tip sheets and spoke with Bruce Shapiro by phone before reporting this series. But I'm sure I still made unnecessary missteps I'm not even aware of.
What are some of the unique challenges of covering traumatic stories through audio, and how have you approached them?
This is small and maybe obvious, but I would strongly suggest not meeting sources in stories like these for the first time by walking up with your mic out, headphones on, tape rolling. I know it's become fairly common in audio journalism to record and use the sound of your hellos. I've done it too. And I know many people won't mind. But some really will. Every chance to give control to your sources in a traumatic story is crucial. And this is an easy one. I think the upsides of showing up in-person, ready to listen to them for a bit before breaking out the recorder, sometimes even off-the-record, vastly outweigh the downsides of not having that sound. (Plus, I think the hello sound has sort of jumped the shark and feels stale these days. But that's another discussion!) 
Of course, if the sound of the hellos is actually crucial to your story, just check with the person ahead of time.
What were some of the biggest challenges you encountered while reporting, and how did you overcome them?
The first challenge was just access. After the shooting, the Capital Gazette was flooded with media requests. The editor-in-chief Rick Hutzell said no to everyone, including me. But some of his reporters were interested. I drove to Annapolis for off-the-record coffees with them. Many months passed. I met off-the-record with Rick. He found my continued interest a tad annoying but mostly persuasive. He explained their transitional newsroom was too small though — too full of traumatized people — to have a radio reporter hovering around with a boom mic. We kept talking. Finally, nine months after the shooting, as they were preparing to move to a larger office, we worked out an agreement. I remain immensely grateful for his trust.
Another big challenge: preparing people for interviews. I'd try to confirm they were OK with the topics I wanted to hit. And give them phrases they could use at any time to ask to pause, stop or fast-forward the interview to the next topic. They hardly ever did ask for breaks, but perhaps that was still out of a sense of obligation. I'd love to know other journalists' best practices on this.
Did working on this take an emotional toll on you, as a journalist? If so, did you use any practices or techniques to work through this that you think might be helpful to share with others?
It's strange. As I was writing and editing the episodes in the second half of 2020 and winter 2021, it didn't take much of a toll, if I'm honest. I was so focused on getting it published.
But then in the summer of 2021, I reported a follow-up episode about the shooter's insanity-plea trial. On the drive home from a day of particularly disturbing courtroom testimony, for the first time, I sobbed. I talked about it later with my wife, and also with some of my colleagues. I don't have any especially innovative practices to suggest beyond talking (therapists can also help of course). As one Capital Gazette staffer told me — I'm paraphrasing — something like this fucks up everyone who's connected to it and you minimize its effects on you at your peril.
What advice would you give to aspiring journalists who would like to tell trauma-informed stories through audio?
Believe in what you're doing, but don't forget the harm you can inflict.