Troubled kids, troubled system
12 years, 58 complaints, no sanctions at Montana residential programs
By Lucy Tompkins and Seaborn Larson • Originally published on January 23, 2019
Not one of Montana's private residential programs for troubled teens has faced significant sanctions despite racking up 58 complaints since the state began licensing them 12 years ago.
The fact that has never happened should not be shocking. Montana's regulatory system was written by those it regulates.
Calls for regulation of the private residential programs gained urgency after  16-year-old Karlye Newman killed herself at the unregulated Spring Creek Lodge Academy in 2004.
Her death and the resulting lawsuit, which played out over a number of years, prompted a flurry of publicity about such programs. The New York Times, TIME magazine, PBS, as well as regional and local media all did stories. Congress held hearings.
The result? Almost nothing. In many states, including Montana, the story went dark and regulation remains minimal.
The impetus to impose state oversight here came from Montana's Department of Public Health and Human Services, which went to the Legislature to ask for regulatory authority.
But owners of the lucrative operations — some charge parents more than $100,000 a year — beat them to the punch.
At a legislative committee hearing in 2004, Patrick McKenna, then the owner of the Monarch School in Sanders County, "cautioned that media exploitation of specific incidents often causes a state to overreact with legislation that is not well thought out and does not fit the needs of the industry,'' according to meeting notes.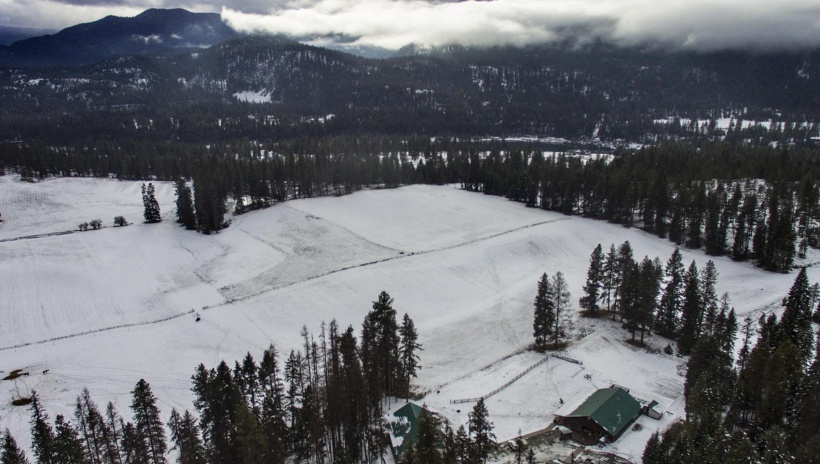 When the Legislature met four months later, representatives of the private, therapeutic programs were ready with their own bill to create the system that exists today. It was sponsored by Rep. Paul Clark, D-Trout Creek, who until last year ran his own outdoor therapeutic school for troubled teens, Galena Ridge.
"When it became evident that the state would be moving in this direction [toward regulation], the programs wanted to be willing participants and ahead of the curve rather than being dragged along on a leash," Clark said at the time.
In a telephone interview this month, Clark — a Democrat — described the resulting legislation as the only bill that could win approval from a Legislature dominated by Republicans who "weren't really interested in passing a bill to regulate programs."
The industry spent $34,000 lobbying to support Clark's bill, the Missoulian reported at the time.
The bill put the entire registration and regulatory system under the auspices of the state Department of Labor and Industry, which oversees no other facilities that house minors, instead of under the health care professionals in DPHHS or the education experts at the Office of Public Instruction.
It created a five-member oversight board, called the Private Alternative Adolescent Residential or Outdoor Program (PAARP), whose majority was composed of industry representatives.
It exempted any faith-based or religious private behavioral therapy programs from regulation at the request of one such program's director.
It provided no state money to pay for regulation; money instead comes from licensing fees that have fallen short of needs.
And it made sure complaints would remain secret unless the majority of the board decided to take disciplinary action.
The board was created in 2005; two years later, the Legislature required programs to be licensed by PAARP.
 
Regulation lite
Clark, the bill's sponsor, is neither a licensed counselor nor educator in the state of Montana. Nonetheless, as the founder of the private Galena Ridge Wilderness Program for troubled teens in Trout Creek, he was one of the board's first members.
So was Michele "Mickey" Manning, the principal at Spring Creek Lodge, who became the PAARP board's chair in 2007. She was not a licensed counselor in Montana at the time, though she has a bachelor's degree in psychology and a master's degree in education. 
In the board's early meetings, Manning stressed the importance of avoiding "smothering" regulations that might force programs to leave the state.
"We see states where students have so many rights," Manning said in a 2007 meeting, "that effective operation of the program is impossible.''
Spring Creek was one of the first programs to be licensed by PAARP. Manning remained board chair even as the program was sued, and its questionable treatment policies were made public in the lawsuit that Karlye Newman's mother filed after her daughter's death.
The program remained PAARP-licensed until it closed in 2009 after years of declining enrollment. Manning went on to work at Star Peak Crossing, Riverview and Clearview Horizon residential treatment programs in Montana before opening her own, Reflections Academy near Thompson Falls, in 2016.
After leaving the Legislature, Clark returned full time to Galena Ridge, which he founded in 1993. Although he said Galena Ridge, which he described as "more like an Outward Bound program," retains its license, he retired about a year ago and hasn't had any students since.
Located next to the Cabinet Mountains Wilderness Area in northwestern Montana, Galena Ridge was licensed in 2010 with the aim of helping boys who have substance abuse issues and problems with the law "get their lives back on track" in four- to 12-week summer programs.
In 2013, however, inspectors found that students had been kept through the winter — and would be staying another winter as well — in a building they'd constructed themselves. The building had no running water, and had neither been inspected nor received permits, according to the report. The boys used outhouses year-round.
The PAARP board scrutinized the program for unprofessional conduct for changing its plans of operation without telling the board. But no action was taken after the issue was dismissed by the board's screening committee, which also has a majority from the industry. Clark did not return telephone calls seeking a response to this issue.
A 2017 inspection, conducted at a fishing access site 78 miles away from Galena Ridge, cited the same issue, saying students were still living there year-round. Clark told the Missoulian the inspection took place at the fishing site because he wanted to show the state the kind of outdoor activities offered by Galena Ridge.
 
PAARP lacks transparency
The PAARP board requires all private, therapeutic programs to apply for licensure and to submit a detailed report of their policies and procedures, behavioral policies, students' rights, and more.
On paper, it requires employees be trained in CPR and in passive restraint methods. Every employee that comes in contact with students must have a background check. There are program inspections, and buildings have to be fire-safe. But in reality, adherence to those standards sometimes has been lax, records show.
When the Missoulian requested records on licensing for administrators and staffers at the programs, the state redacted information on whether they had ever been disciplined to "protect private health care questions.''
"[Staff] decision to analyze and redact was based on the hypothetical potential to lead to protected health care information," said Judy Bovington, chief legal counsel for the Department of Labor and Industry. "If someone would have answered something this way, it could potentially lead us to having to protect private health care questions."
When asked how that applied to disciplinary issues, Bovington cited the same concerns.
She also said the department's internal review of answers to questions regarding previous disciplinary issues turned up no issues that affected the decision to license a program.
Last week, after the department was called by the governor's office, she offered to provide the Missoulian with unredacted copies of PAARP applications after further review.
PAARP's industry members are John Santa, a co-founder of the Montana Academy; Rick Johnson, executive director of Summit Preparatory School in Kalispell, and Penny James, director/owner of Explorations/Phoenix Mountain Academy in Trout Creek. The two public members are Trudi Schmidt, the former Great Falls lawmaker who sponsored the failed 2005 legislation to regulate these programs under DPHHS, and Pam Carbonari of Carbonari Associates, a Kalispell-based promotional products distributor.
PAARP board members either wouldn't speak on the record to the Missoulian, or failed to return numerous calls seeking comment. Santa left a voicemail in response to calls, but did not return several additional phone calls.
Complaints made to the PAARP board are reviewed in private meetings and don't become public unless its screening committee, which also has an industry majority, decides to take disciplinary action against a program. Because this has never happened, the Department of Labor and Industry told the Missoulian that it could not share detailed information about the complaints.
But a legislative hearing in 2015 gave a limited peek into the types of issues that come to state regulators. PAARP shared with a Senate committee 13 complaints about licensed programs it had received from 2010-2014, although the board did not release the names of the programs.
The complaints, all of which were dismissed by the PAARP screening committee, alleged:
Clinical services provided by an unlicensed person.
The kidnapping of a complainant's daughter aided and abetted by a program.
Improper billing and unprofessional conduct and treatment.
Mistreatment and lack of regard for students' health and safety (several instances in three complaints).
One complaint was tied to a 2013 lawsuit against one of the programs. Federal court records from Idaho show the case was filed against Phoenix Mountain Collaborative, co-founded by PAARP board member Penny James. The PAARP board dismissed the complaint against Phoenix Mountain even before the program settled the lawsuit in 2015. James did not return telephone calls seeking comment.
In addition, the state Building Codes Bureau issued a complaint about an unspecified program's failure to obtain permits, get inspections and to stop construction after receiving a cease-and-desist order.
 
Inspections, but only with advance notice
PAARP licenses became mandatory in 2007, but the state didn't do any inspections until 2010. Inspections remain few and far between — and always with a week's advance notice.
At least four programs — including Monarch School near Heron, which closed in 2017; Montana Academy near Marion, Innerchance Chrysalis near Eureka and Turning Winds Academic Institute outside Troy — have not been inspected by the state since 2010.
That's because PAARP exempts programs that are certified by the National Independent Private Schools Association (NIPSA), Council on Accreditation (COA), Commission on Accreditation of Rehabilitation Facilities (CARF) and Joint Commission on Accreditation of Healthcare Organizations — all of which have ties to the industries they certify.
NIPSA, for instance, was founded by industry owners and, according to its website, "we cherish autonomy. We can act, unfettered by Boards or Trustees or elected officials." As for accountability, it cites the free market. 
A 2014 Economic Affairs Interim Committee of the Montana Legislature investigated professional and occupational licensing boards in Montana, including the PAARP.
"In exchange for licensees being able to say they were 'state-licensed,' there appears to have been minimal regulation,'' the committee found. "In part, this was because the PAARP Board apparently wanted minimal regulation."
The report noted that there were financial concerns about the PAARP board's operations because it wasn't making as much money through licensing fees as expected. In three out of its four years, the board had spent more money than it made.
Darcie Kelly, a former public member of PAARP and psychotherapist in Helena, told the Missoulian the board doesn't have the "teeth'' necessary to keep programs in line. But she blames the lack of funding more than self regulation.
"I understand how they don't find problems when all they're looking at is files,'' she said. "Reports are written a certain way (by programs) and leave out a certain amount of information.''
In 2011, PAARP spent $70,000 on litigation when the Ranch for Kids program, which caters to families who adopt children from overseas, tried to avoid regulation by becoming an adjunct ministry of a church founded by one of its employees.
The board's financial problems prompted Rep. Ryan Lynch to request a bill in 2015 to terminate the PAARP board and shift regulation to DPHHS, which conducts unannounced inspections for licensing and for complaints. That bill died while being drafted.
PAARP also has struggled with background checks. Inspection reports in 2016 for four programs — Mountain Meadows/20 Peaks Ranch, Gateway Freedom Ranch, Summit Preparatory School — noted no evidence of background checks for employees, although all the schools said they'd sent information to the board but never received anything back.
At its March 2018 meeting, the board discussed eliminating state oversight of background checks, which are not shared with parents or the public, and giving responsibility to the programs, including for sensitive fingerprint checks.
"The part we don't quite have figured out yet is, if the program cannot share that background information with the board, how is the board going to ensure compliance?" asked Mark Jette, the board's counsel. "It appears that rather than the board improving the way it collects and maintains this really sensitive criminal information, background information, instead we shift that responsibility to the programs themselves.''
Responded Santa, the PAARP board chair and co-director of Montana Academy, "You just have to know that we have records that show that we have a background check in our file when you come and inspect.''
In other words, the state would have had to trust the programs to follow the rules.
The board has since abandoned that idea.