When Trauma Catches Up
Last month, a massive fire tore through the Grenfell Tower in North Kensington, London, killing at least 80 people and injuring 70 more. Jason Parkinson, a freelance video journalist, arrived on the scene the next morning. Here, he reflects on his experience covering this tragedy.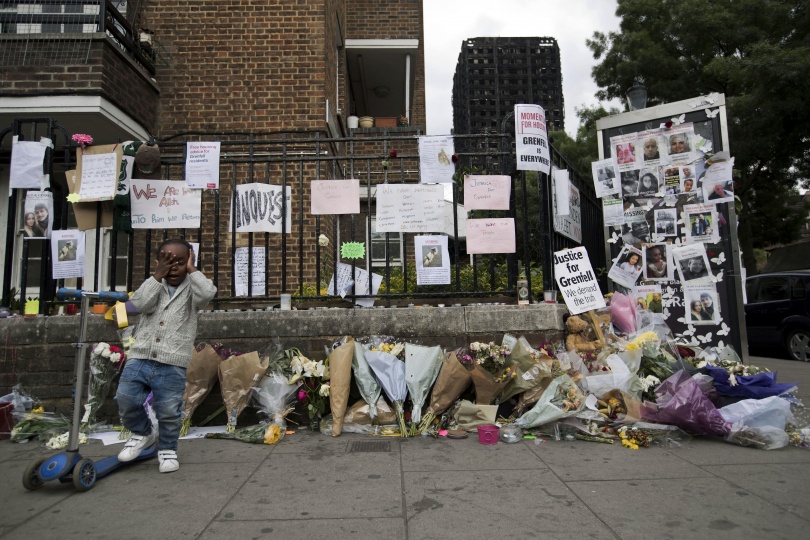 Editor's Intro: On June 14, a block of public housing flats in North Kensington, a neighborhood on the western edge of London, became the site of a massive tragedy. Shortly after midnight, a fire started at the 24-story Grenfell Tower and burned for the next two and a half days, causing at least 80 deaths and injuring scores. As of this writing, just 41 of the victims have been formally identified.
Jason Parkinson, a freelance video journalist, arrived on the scene the next morning. He has covered violence and unrest all over the world for more than a decade, but for Parkinson, this tragedy was different.
The taxi pulled up on Ladbroke Grove about 6:30 AM. I got out and walked past lines of fire engines and past exhausted and blackened firefighters sitting on garden walls.
On the streets to my left, framed by expensive whitewashed Kensington homes, thick grey smoke billowed from a burning Grenfell Tower block, 24 floors and 129 apartments. 129 families.
My mind immediately connected this horrific scene in West London to the headquarters of President Mubarak's political party in Cairo. I was filming a sea of protestors outside that building as it burned to a blackened shell at the start of the Egyptian revolution in January 2011. "I spent weeks covering the Arab Spring, watching the streets turn to violence and scores of bodies mounting up in the makeshift hospitals. Some were killed by shotgun rounds, others by sniper or machine gun fire. Some were brutally hacked to death with swords, axes or knives, the rest were simply bludgeoned to death with clubs, poles, fists and boots.
I thought about nothing else for the next nine hours. I did my job, battling the usual issues: people not wanting to talk on camera, some hostile crowds and spotty overloaded internet.
I recorded the accounts of survivors. Hamid Wahbi escaped the 16th floor with his son and two neighbours. He tried to go back for his neighbour's father but the smoke was too thick and they were forced to make the awful decision to leave him. Youssef Khalloud fled with his wife and children from the 11th floor. He and every other person I spoke with that morning said there was no working sprinkler system and no central fire alarm system.
One Grenfell resident, still in shock, told me off camera that he saw his friend jump from the seventh floor. There was nobody waiting to catch her.
All day my camera captured wide, mids and close ups of Grenfell Tower. Each time I focused on the window of a burning apartment, I couldn't help but think about who lived there and whether they had gotten out.
I got off work around 3:00 pm and walked out of the area, back to Ladbroke Grove but the tube station was closed. Catching a bus didn't cross my mind. I just started walking south. The sun was oppressive. It must have been 30 degrees. Fire engines lined the streets and exhausted firefighters sat on the roadside with blank faces and hollow eyes. No one said anything. Some nodded at me as I walked past. All I could think was that this tall building full of life had become a giant tomb.
Suddenly I was gasping for air and fighting back tears.
I entered the barriers at Holland Park Station and joined passengers cueing up for the lift to take them down to the platforms.
"I can't go in there," I thought. Maybe I said it out loud too, but I couldn't be sure.
I turned around to take the stairs. I stopped on the top step to wipe away the sweat from my head and tears poured out. I felt a hand touch my left shoulder.
"Are you okay?" a young woman asked.
She had been waiting for the lift too but must have followed me to the stairs.
I looked at her, trying to hold back a tidal wave of emotion.
"Yes, I'm fine," I said.
On the tube I wiped the sweat off my face, head and neck with a lens cloth. The cloth was covered in black soot and dirt. My white shirt was streaked with black ash.
The Central Line would take me all the way home, but there were so many stops. I wanted to be home already. I felt panic, like anything could happen at any moment. I also felt embarrassed and didn't want to unnerve anyone around me so I put my head down.
I closed my eyes. There in the darkness was the image of the woman in Cairo who was murdered right in front of me. I opened my eyes and looked down at my black rucksack, but I could still see her screaming face being slammed into a glass door by a group of men. And there I was, yet again, unable to do anything about it. Her face smashed against the window and slid down to the ground. Fists, feet, machetes and clubs came down on her head.
The train left Liverpool Street towards Bethnal Green. The train wheels began screeching along the track. The noise was deafening through the open carriage window. These screeching wheels became screams of agony, people dying all around me. It was the woman beaten to death in front of me, the old man in the mosque who stared at me as he died. It was the young boy being carried away from Mohamed Mahmoud Street, screaming as someone cupped their hand over the huge wound on the back of his head.
I closed my eyes and tried to ignore the images in my mind, gripping the arm rest hard. Dead Egyptians then became terrorist victims wrapped in emergency silver foil blankets near Westminster Bridge, something I had covered earlier this year.
The screams stopped as the train pulled into Mile End station. I picked up my kit and rushed out of that train as fast as I could.
All through that journey I tried not to think about the fact that I lived in a tower block, on the seventh floor. The same floor that the woman had thrown herself from earlier that morning, with no one there to catch her. I decided not to go home.
That evening I met with a good friend. We drank beer and I talked for hours about what I had seen, what the survivors had told me and what I had felt on my way home.
It took me several days to look at the footage of the fire again and I knew I needed a break. All weekend I battled heavy waves of emotion and a foreboding that something horrible was about to happen.
One week after the fire, I went back to the Grenfell Tower site. I retraced my steps and filmed from some of the same positions that I had a week earlier. The burning rooms were replaced by dark and hollow shells – occasionally a firefighter appeared in a charred window frame. A week later it looked even more like a giant burned out tombstone.
I interviewed several people at the various memorial sites, but most of the time I just sat and talked with people at the Tower. People who lived there, people who had lost friends or loved ones. Some asked me if I had been there. I simply said yes and there was an immediate understanding in their eyes.
On Walmer Road, east of the block, I ran into a young boy, nine or ten-years-old. He was in the street only in jogging bottoms and blue socks, no shoes. He told me blankly that three of his school friends had died.
All I could do was put my right hand over my heart and say, "I'm so sorry."