Resources for Tip Sheets, Featured Articles, Immigrants & Refugees
3 results found
How can journalists start thinking about aftermath when there is no end in sight?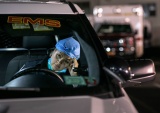 Tips and tools to report safely and effectively during the coronavirus pandemic, updated regularly following Dart Center webinars.
Following our workshop, "Covering Immigrants & Refugees," the Dart Center caught up with speakers Cindy Carcamo, Michael Matza, Gary Pierre-Pierre, and Maria Sacchetti, who spoke about linguistic issues, identity protection, and how the immigration beat has changed, while sharing invaluable tips for working journalists.