Resources for Featured Articles, Immigrants & Refugees, Children & Youth
3 results found
How can journalists start thinking about aftermath when there is no end in sight?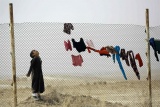 May 9, 2019
The Dart Center is hosting a four-day journalism training workshop focused on children and the international refugee crisis.
An article depicting the unhappy life of a Siberian boy whose violent death is told against the larger story of his birth parents, the orphanage that briefly shelters him, and his abusive adoptive parents in America. Originally published in the Star-Ledger (Newark, NJ), on October 28, 2001.