Resources for Disaster, Self-Care & Peer Support, Interviewing
3 results found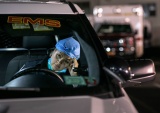 Tips and tools to report safely and effectively during the coronavirus pandemic, updated regularly following Dart Center webinars.
What has become known as the "Black Saturday Bushfires" is Australia's worse natural disaster to date. On Feb. 7, 2009, temperatures of 46 degrees Celsius and winds of 100 km per hour created explosive firestorms with 1500 times the energy of the nuclear bomb dropped on Hiroshima.
March 30, 2009
Joe Strupp and Doug Cosper discuss the problems faced by journalists in extreme situations, with emphasis on the challenges faced at the World Trade Center after 9/11.