Resources for Disaster, Interviewing, PTSD & Mental Health
3 results found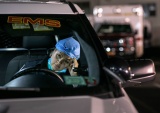 Tips and tools to report safely and effectively during the coronavirus pandemic, updated regularly following Dart Center webinars.

January 29, 2013
A report from the Substance Abuse and Mental Health Services Administration on how to interact with children and young adults in the aftermath of disasters and other traumatic experiences. 
Nearly every journalist in the course of their career will interview people who have experienced significant trauma. But how many receive any training for the task? This article describes how role-playing traumatic incidents might give student journalists valuable insight and hone crucial interviewing skills.