Resources for PTSD & Mental Health, Aftermath & Anniversaries, Children & Youth
3 results found
How can journalists start thinking about aftermath when there is no end in sight?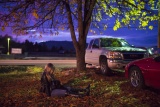 This searing, intimate feature tells the story of Cheyeanne Fitzgerald, the youngest survivor of the Umpqua Community College shooting in Roseburg Oregon, as she struggles against myriad challenges in the massacre's aftermath. Judges described "A Survivor's Story" as an "eye-opening," "brutally honest" portrait of the intense difficulties and complexities of trauma and recovery. Originally published in the Washington Post in December, 2015.
A series of articles exploring how communities adapt to and recover from urban trauma.  Originally published as a series in the Long Beach Press-Telegram from August to November, 1993.