Resources for Disaster, Immigrants & Refugees
3 results found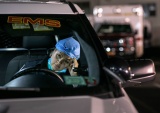 Tips and tools to report safely and effectively during the coronavirus pandemic, updated regularly following Dart Center webinars.
Now that the military has moved in and other state agencies have responded to Hurricane Katrina's aftermath, some would think that all is under control. It isn't.
I arrived on Monday afternoon and spent about a week covering the aftermath of Hurricane Katrina in the outlying areas of New Orleans.