Resources for Tip Sheets, PTSD & Mental Health, Disaster
3 results found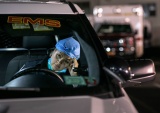 Tips and tools to report safely and effectively during the coronavirus pandemic, updated regularly following Dart Center webinars.
Guidance from an experienced psychiatrist on mental health issues and how they evolve in regions devastated by natural disasters.
A national panel of experts in suicide, behavioral science and the media cautions and advises journalists on how to report this sensitive subject.