Resources for Tip Sheets, Children & Youth, PTSD & Mental Health
3 results found
How can journalists start thinking about aftermath when there is no end in sight?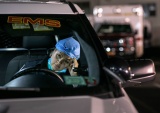 Tips and tools to report safely and effectively during the coronavirus pandemic, updated regularly following Dart Center webinars.
An overview of current research on the short- and long-term impacts of media coverage of tragedy on children, as well as aggravating risk factors and suggestions for future research.