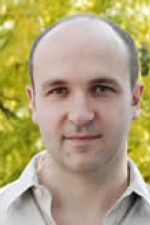 Gavin Rees, a journalist and filmmaker, is the director of Dart Centre Europe. Based in London, he co-ordinates the Dart Centre's activities across Europe. Over the last 13 years he has worked in a variety of broadcast media, producing business and political news for Financial Times Television and CNBC and international news for Japanese networks. He has also worked on drama and documentary films for the BBC, Channel 4, as well as for other broadcasters and a number of independent film companies.
Gavin's interest in how people relate traumatic narratives developed as a result of interviewing survivors of the nuclear attack on Hiroshima for a BBC documentary drama, which won an International Emmy in 2006. Afterwards Gavin took up a post as a research fellow at the Centre for Public Communication in the Media School at Bournemouth University, where he investigated how journalists interview people at the centre of stories which arouse strong emotions. Gavin has also done academic research into the political impact of violence on communities, and holds masters degrees in social anthropology, as well as in contemporary history and politics. Between 1997 and 1999 he was a Daiwa Anglo-Japanese Foundation Scholar. His writing has appeared in the British Journalism Review, the New Statesman, the Guardian and a number of specialist magazines on topics related to film, psychology and the media.
Recent Posts by Gavin Rees
Dart Centre Europe Director Gavin Rees recently wrote for the BBC about the importance of taking account of trauma, not only for the well-being of journalists but the integrity of their work. The BBC hosted a day of workshops aimed at sharing expertise on working in hostiles environments, aimed particularly at freelancers.

A recent lunchtime seminar at Dart Centre Europe brought together Somali journalists and others who cover the war-torn country to explore ways to provide more nuanced coverage.

Notions of stoicism, community and acceptance of suffering are at the marrow of Japanese cultural identity. Its people will draw on those reserves as they face the challenges ahead.

No country is better prepared for earthquakes than Japan. But as the death toll rises from the massive quake and damaged nuclear plants bring more peril, journalists will play a key role in how people make sense of the disaster.