Covering Children and the Syrian Refugee Crisis
January 20-23, 2019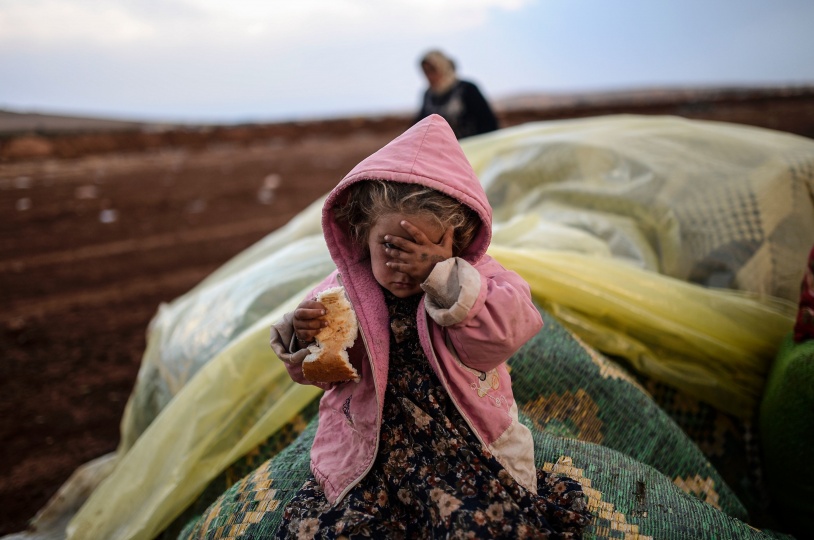 Arabic text below - النص العربي أدناه
Recent conflicts in Syria and Iraq have created the largest refugee crisis since World War II. This ongoing upheaval presents a major challenge to reporters in the region and to the global press corps – including how to cover the crucial impact of war, violence, and displacement on vast numbers of babies and toddlers. Too often reporting has overlooked the consequences of the refugee crisis for young children's brain development, emotional and cognitive growth, academic potential, and economic trajectory, as well as the policies that promote resilience and growth in the face of violence, stress and upheaval.
To prepare local, regional, and international reporters to cover refugee children and families with greater knowledge, depth and skills, the Dart Center for Journalism and Trauma, a project of Columbia Journalism School, will host a journalism training workshop in Amman, Jordan, with a special focus on the Syrian refugee crisis and response.
This workshop, to be held January 20-23, 2019 at the Columbia Global Center in Amman, is designed for local, regional and international reporters already covering the Syrian refugee crisis as either part of a broader beat or as a standalone issue.
The four-day workshop will bring journalists together with internationally recognized policy experts, scientists and practitioners working on early childhood development in a refugee context, to discuss the effects of trauma on developing brains and effective interventions designed to mitigate harmful effects. The workshop is designed for in-depth exploration of the issues as well as journalist-to-journalist discussions of craft, ethics, source development and networking among journalists and experts. The program will offer guidance and best practices for telling compelling stories about a seemingly intractable crisis, whether for local news platforms in the Mideast or international media.
Featured speakers include: Her Royal Highness Princess Rym Ali of Jordan, Journalist & Founder, Jordan Media Institute; Mohammad Abo-Hilal, MD, Psychiatrist and Founder, Bright Future for Mental Health; Katie Murphy, Senior Technical Advisor, Early Childhood Development, International Rescue Committee; Ghalia Ghawi, Research and Program Development Officer, Queen Rania Foundation; Stacy Drury, MD, PhD, Associate Professor of Psychiatry and Behavioral Sciences and Vice Chair of Research, Department of Pediatrics, Tulane University; Khaled Nasser, PhD, Psychologist and Lecturer in Media Studies, American University of Beirut; Marcia Brophy, PhD, International Medical Corps, Save the Children;  Katie Murphy, Senior Technical Advisor, Early Childhood Development, International Rescue Committee; Rana Dajani, PhD, Founder and Director, We Love Reading; Bruce Shapiro, Contributing Editor, The Nation and Executive Director, Dart Center for Journalism and Trauma; Muna Abbas, Head of Mission, Plan International Jordan; Manar Shukri, Technical Program Leader, Sesame Seeds Project, International Rescue Committee; Ismail Einashe, Freelance Journalist; Tanya Habjouqa, photojournalist, NOOR Images; and Sarah Stillman, Staff Writer, The New Yorker and Director, Global Migration Project at Columbia Graduate School of Journalism.
The workshop will be conducted in both English and Arabic using simultaneous translation. All participants must be fluent in one of these two languages.
Twenty journalists, 10 from Jordan and neighboring countries, and 10 from other parts of the world, will be selected to participate. Participants will be identified through both an open application process and by nomination. Roundtrip travel, hotel lodging, ground transportation and most meals will be provided.
The application deadline has passed.
The Amman workshop is part of "The Early Childhood Reporting Initiative: Covering Trauma, Resilience and the Developing Brain,"a multi-year Dart Center training program to improve news coverage of early childhood development around the world.
This three-year initiative has been underwritten by the Bernard van Leer Foundation (Netherlands), the Jacobs Foundation (Switzerland), the Maria Cecilia Souto Vidigal Foundation (Brazil), and The Two Lilies Fund (United States.)
----
دعوة للتقديم : ورشة حول تغطية الأطفال وأزمة اللاجئين السوريين
مركز دارت يقبل الآن طلبات التقديم على ورشة تدريب صحفية لمدة أربعة أيام في مدينة عمان في الأردن. تركز الورشة على أزمة اللاجئين السوريين والرد حولها. 

الصراعات الأخيرة في سوريا والعراق ولدت أضخم أزمة لجوء منذ الحرب العالمية الثانية. عدم الاستقرار المستمر يقدم تحدي كبير للصحفيين في المنطقة و للصحافة العالمية - بما فيها كيف يتم تغطية آثار الحرب, والعنف والتهجير على العدد الهائل من الأطفال والرضع. و في كثير من الأحيان تهمل التغطية الاعلامية عواقب أزمة اللجوء على التطور الدماغي للأطفال الصغار, و نموهم العاطفي والإدراكي, وإمكاناتهم الأكاديمية ومسارهم الاقتصادي, بالإضافة الى تغطية السياسات التي تشجع هذه الأطفال على الصمود والتطور رغم العنف والتوتر والاضطرابات حولهم.
من أجل إعداد الصحفيين المحليين والعاملين في المنطقة ودوليا عن كيفية تغطية الأطفال والأسر اللاجئة مع قدر أكبر من المعرفة والعمق والمهارات,مركز دارت للصحافة والصدمات يتقبل الآن التقديمات على ورشة عمل صحفية تدريبية في مدينة عمان في الأردن, مع التركيز بشكل خاص على أزمة اللاجئين السوريين والرد حولها. مركز دارت للصحافة والصدمات هو مشروع تابع لكلية الصحافة في جامعة كولومبيا.
تقام ورشة العمل في 20-23 كانون الثاني في مركز كولومبيا العالمي في عمان. هذه الورشة مصممة للمراسلين المحليين والإقليميين والدوليين العاملين على تغطية أزمة اللجوء السورية كجزء من عملهم أو كموضوع مستقل.
خلال هذه الأربعة أيام, ستقوم الورشة بجمع الصحفيين مع خبراء السياسات والعلماء والممارسين المعترف بهم دولياً الذين يعملون على تنمية الطفولة المبكرة في سياق اللاجئين ، لمناقشة آثار الصدمة على التطور والنمو الدماغي والتدخلات الفعالة المصممة للتخفيف من الآثار الضارة للصدمة. هذه الورشة مصممة للاستكشاف عن عمق هذه القضايا, بالاضافة الى مناقشة الصحفيين بعضهم البعض عن الحرفة وأداب المهنة , وتطوير المصادر والتشبيك بين الصحفيين والخبراء. هذا البرنامج سيوفر الإرشادات حول أفضل الممارسات لمشاركة القصص العميقة والجاذبة للانتباه  حول أزمة تبدو مستعصية ، سواء لمنصات الأخبار المحلية في الشرق الأوسط أو وسائل الإعلام الدولية.
ستقام هذه الورشة في اللغتين العربية والانكليزية باستخدام الترجمة الفورية. يجب أن يكون جميع المشاركين يتكلمون في إحدى هذه اللغات بطلاقة.
سيتم اختيار عشرة صحفيين من الأردن والدول المجاورة, وعشرة صحفيين من غير مناطق في العالم للمشاركة في الورشة. سيتم تحديد المشاركين عن طريق عملية التقديم بالإضافة إلى الترشيح. يتم تغطية السفر من وإلى عمان الإقامة في الفندق والمواصلات بالإضافة إلى معظم وجبات الطعام.
موعد التقديم النهائي 1 تشرين الأول  (أكتوبر) 2018  في تمام الساعة  5:00 مساءً بتوقيت شرق الولايات المتحدة.
سيتم إبلاغ المتقدمين بقرار بحلول 23 تشرين الأول (أكتوبر) 2018
للتأهيل, يجب على المتقدمين أن:
- لديهم ثلاث سنوات على الأقل من الخبرة المهنية في الصحافة
- العمل حاليًا كمراسلين أو محررين أو مدراء أخبار أو مصورين أو منتجين للطباعة أو البث أو وسائل الإعلام عبر الإنترنت ، سواء كموظفين أو عاملين بشكل مستقل, مع التركيز على أزمة اللاجئين السوريين.
- الطلاقة أما في اللغة العربية أو الانكليزية
- تم لديهم نشر أو بث ثلاث قصص على الأقل حول القضايا المرتبطة باللاجئين من الأزمة السورية
ورشة عمان جزء من "مبادرة الصحافة حول الطفولة المبكرة: تغطية الصدمات النفسية والقدرة على التحمل ونمو الدماغ", وهو برنامج تدريب متعدد السنوات لمركز دارت من أجل تحسين التغطية الإعلامية عن الطفولة المبكرة في جميع أنحاء العالم.
هذه المبادرة لثلاثة سنوات تم تأمينها عن طريق مؤسسة برنارد لير (هولندا), مؤسسة جاكوب (سويسرا) , مؤسسة ماريا سيسيليا سوتو فيديغال (البرازيل) وصندوق تو ليليز (الولايات المتحدة الأمريكية.)