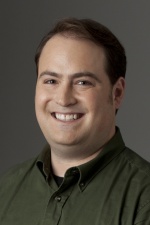 Andy Carvin (andycarvin.com, @acarvin) leads NPR's social media strategy and is NPR's primary voice on Twitter and Facebook, where NPR became the first news organization to reach one million fans. He also advises NPR staff on how to better engage the NPR audience in editorial activities to enhance the quality and diversity of NPR's journalism.
Prior to joining NPR in 2006, Carvin was the director and editor of the Digital Divide Network, an online community of educators, community activists, policymakers and business leaders working to bridge the digital divide. For three years, Carvin blogged about the impact of internet culture on education at the PBS blog learning.now. During natural disasters and other crises, Carvin has used his social integration skills to mobilize online volunteers. On September 11, 2001, he created SEPT11INFO, a news forum for the public to share information and help refute rumors in the wake of the 9/11 attacks. Following the tsunami in 2004, Carvin served as a contributing editor to TsunamiHelp, one of the leading sources of tsunami-related citizen journalism. More recently, he worked with CrisisCommons, to help with their development of shared technology solutions to improve emergency management and humanitarian activities in response to the 2010 earthquake in Haiti.
Carvin was named one of 100 leading technology innovators in Washington, D.C., in 2009 by Washingtonian magazine. In 2005, MIT Technology Review magazine included Carvin on TR35, an annual list of 35 of the world's leading high-tech innovators under the age of 35.