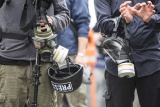 Journalists covering the recent earthquake in Turkey and war-ravaged Syria are witnessing widespread devastation and destruction, where tangled piles of metal and concrete are spread across a region beset by Syria's 12-year civil war and refugee crisis.
Working in frigid temperatures and confronting escalating dangers, journalists are documenting history from the frontline of the disaster. 
There are many other areas around the world, particularly in humanitarian crisis and conflict zones, where it is dangerous, even life-threatening, to practice journalism. The war in Ukraine provides another recent illustration of the vulnerability of journalists covering crisis situations. While it is impossible to mitigate all of the risks journalists on the frontline will be exposed to, there are certain things they can do to prepare for assignments in unstable and unpredictable environments.
This tip sheet from Dart Centre Asia Pacific provides ten tips for journalists and media workers that have been developed in conversation with experts who have responded to conflicts, disasters, and humanitarian disasters around the globe.