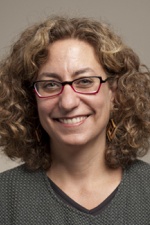 Karen Brown has been a reporter at New England Public Radio since 1998, focusing primarily on health and mental health issues. She also freelances for NPR, The New York Times, The Boston Globe, NOVA Next, and other national outlets. Brown has produced several radio documentaries that address the effects of trauma, including "Life After Stress: The Biology of Trauma and Resilience," "Never Forget: Holocaust Survivors Contend With New Memories of Past Trauma," and "Love, War, and PTSD: Anna and Peter Mohan." She was a 2015 Dart Center Ochberg Fellow, a 2012-13 MIT-Knight Fellow in Science Journalism and a 2004-5 Rosalynn Carter Fellow in Mental Health Journalism. She received a Master of Journalism from the University of California at Berkeley in 1996.
Recent Posts by Karen Brown
Get consent. Be transparent. Rethink your definition of "family." Be flexible. Give children agency. Be precise and avoid cliché's. Ask sensitive questions. Beware of simplistic binaries. Find the paper trail.

Everyone has a right to dignity. Use creative approaches. Photograph objects. Maintain confidentiality. Work with reporters you trust. Think about how you'd want your own story told. Don't be afraid of taking a beautiful shot. Remember why you're there.

To help journalists and news organizations around the world improve their reporting on early childhood experience and brain development, the Dart Center organized a reporting institute for 45 journalists from 26 countries March 9-12, 2017 at Columbia Journalism School in New York City. Today, the Bernard van Leer Foundation launches Early Childhood Matters, its journal showcasing advances in early childhood development, which includes this report written by Karen Brown, senior reporter at New England Public Radio and a consultant on the project.

Terms and Definitions compiled by Karen Brown and courtesy of Ann Masten, Ordinary Magic; Aisha Yousafzai; Brainfacts.org/Society for Neuroscience; Lisa Guernsey; Rana Dajani; Harvard University Center On The Developing Child; National Center for Biotechnology Information/National Institutes of Health; Wiley Online Dictionary; Linda Richter/World Health Organization; National Academies Press; UNICEF/2016 Lancet ECD report; Wikipedia.