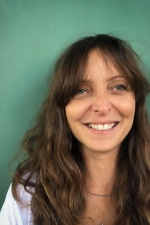 Sima Diab is a Syrian-American photographer based between Cairo, Egypt and Beirut, Lebanon. Her photographic work focuses on environmental and social conditions in the Arab diaspora and Arab world including refugee and migration, climate change and water scarcity. She has lived and worked across the Middle East in Damascus, Dubai, Beirut and Baghdad until setting up base between Cairo and Beirut in 2007.
Her work has been published in The New York Times, M Magazine Le Monde , The Guardian, BuzzfeedNews, LA Times, The Financial Times, NRC Handelsblad, The Daily Telegraph, The Globe and Mail, Foreign Policy among others. Diab also works extensively with NGO and aid organizations like Save the Children, the UN agenices, SmileTrain and others.
Diab received the 2016 James Foley Award for Conflict Reporting, was a selected winner for American Photography Best of Photography 2015 AP32. She is a 2015 grant recipient of the 2015 Arab Documentary Photography Program from AFAC/Prince Claus Fund and the Magnum Foundation.
Diab is a member of the Frontline Freelance Register and the Overseas Press Club.
Recent Posts by Sima Diab
Everyone has a right to dignity. Use creative approaches. Photograph objects. Maintain confidentiality. Work with reporters you trust. Think about how you'd want your own story told. Don't be afraid of taking a beautiful shot. Remember why you're there.