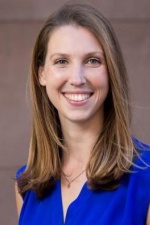 Sarah Stillman, a staff writer for The New Yorker, directs the Global Migration Project at Columbia University's Graduate School of Journalism. She was recently awarded a MacArthur Fellowship. Stillman has won a National Magazine Award and Overseas Press Club Award for her reporting from Iraq and Afghanistan on labor abuses and human trafficking on U.S. military bases there. Her reporting on the high-risk use of young people as confidential informants in the war on drugs received a George Polk Award and the Molly National Journalism Prize. She has written on topics ranging from civil forfeiture to amateur drone-builders, Mexico's drug cartels to Bangladesh's garment factory workers. Her recent work has been honored with the Michael Kelly Award for the "fearless pursuit and expression of truth," the Overseas Press Club's Joe & Laurie Dine Award for International Human Rights Reporting, and the Hillman Prize for Magazine Journalism.
Before joining The New Yorker, Stillman wrote about America's wars overseas and the challenges facing soldiers at home for the Washington Post, The Nation, newrepublic.com, Slate.com, and theatlantic.com. She co-taught a seminar at Yale on the Iraq war, and also ran a creative-writing workshop for four years at the Cheshire Correctional Institution, a maximum-security men's prison in Connecticut.
Recent Posts by Sarah Stillman
Get consent. Be transparent. Rethink your definition of "family." Be flexible. Give children agency. Be precise and avoid cliché's. Ask sensitive questions. Beware of simplistic binaries. Find the paper trail.