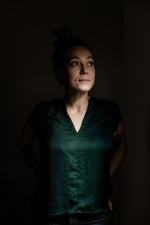 Through photography and video, Zahara Gómez Lucini explores stories of violence and memory across Latin America. Her work has been featured in Le Monde, Travel + Leisure, and Accent, and it has been exhibited around the world. She seeks collaborative and empathic ways of telling stories, which is why she created The Memory Recipe Book alongside Las Rastreadoras. Follow her on Instagram at @zaharafoto.
Recent Posts by Zahara Gómez Lucini
On December 1st, the 2022 Dart Awards honorees participated in a roundtable discussion about their craft, and approach to reporting complex stories.

The judges described A Feast for Lost Souls as a "deeply moving piece" that "stirs our collective empathy" and "gives voice to the unspeakable." They praised writer Annelise Jolley and photographer Zahara Gómez Lucini for "letting their subjects grieve and breathe in their own time" and for providing the reader with a "real connection to their pain." They applauded the team's "exquisite attention to even the smallest of details," and for respectfully shining a light on these "resilient, brilliant women" who possess "so much agency in the face of such devastation." Originally published by The Atavist on November 30, 2021.