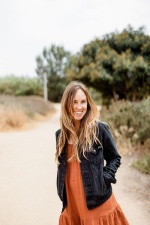 Annelise Jolley is a journalist and essayist who writes about food, ecology, borders, and faith. Her work has appeared in National Geographic, The Millions, The Sunday Long Read, EcoTheo Review, and Hidden Compass, and was noted in The Best American Travel Writing 2019. She has an MFA in creative nonfiction from Seattle Pacific University. Follow her on Twitter at @annelisejolley, or visit annelisejolley.com to learn more about her work.
Recent Posts by Annelise Jolley
Dart Award winner, Annelise Jolley, offers advice on covering trauma.

The judges described A Feast for Lost Souls as a "deeply moving piece" that "stirs our collective empathy" and "gives voice to the unspeakable." They praised writer Annelise Jolley and photographer Zahara Gómez Lucini for "letting their subjects grieve and breathe in their own time" and for providing the reader with a "real connection to their pain." They applauded the team's "exquisite attention to even the smallest of details," and for respectfully shining a light on these "resilient, brilliant women" who possess "so much agency in the face of such devastation." Originally published by The Atavist on November 30, 2021.